Fiber Optic Jumpers-Fiber Optic Assemblies


About Us
©2012 American Data Supply
40 Gigabit Fiber Patch Cords-40 Gigabit Fiber Patch Cord- 40 Gigabit Fiber Jumpers 40 Gigabit -Fiber Optic Jumpers- Fiber Optic Assemblies- Fiber Optic Patch Cords- Singlemode Fiber Optic Assemblies- Singlmode Jumpers-Single Mode Fiber Optic Patch Cable-Multimode Patch Cords-Single-Mode Jumpers- Corning Fiber Patch Cables
40 Gigabit Fiber Patch Cords, 40 Gigabit Fiber Patch Cord-Sizes available from 3 meters to 300 Meters-Our new 40 Gigabit Fiber Patch Cables and 40 Gigabit Fiber Optic Patch Cable are made by Fiberon and other labs under the strictest guidelines for use in the most demanding data centers and bandwidth environments. Please call us at (866) 342-3721 (866) FIBER-21 for the latest pricing and availability. Our 40 gigabit fiber jumpers will provide the bandwidth and throughput required for many data center facilities and colocations + ISP's that house the latest gigabit switches that need the tranport medium the 40 gigabit fiber jumpers can deliver. Please call us for the standard lengths and custom 40 gigabit fiber jumpers you require.One of the choices data centers must consider when migrating to 40/100G Ethernet is whether to use fiber or copper cabling. Based on what I've seen, fiber will be the primary cabling type. The IEEE 802.3ba standard for 40/100G Ethernet states a maximum distance of 7M to run 40/100G, and that will be using "active" cables. (An active cable is a cable with a transceiver hard-wired to it.) This limitation rules out copper as a primary medium of transport.Cost is, of course, key factor here – which makes multi-mode fiber an attractive option. Single-mode fiber is cheaper, but the transceivers are very expensive. Overall, a multi-mode link is projected to be about half the cost of a single-mode. This cost delta is based largely on the expensive lasers required for single-mode transmission. The link distances for multi-mode fiber running 40/100G Ethernet is 100M using OM3 fiber, and 150M using OM4. Since roughly 90% of data center link distances are within the multi-mode distance limitation, the 40 gigabit fiber solution looks ideal.
Because of this, it is evident that multi-mode fiber will be the predominant cabling of choice for these higher network speeds. Single-mode will be used only when necessary, and copper could potentially be utilized in specialized areas where short link distances occur. Another consideration for copper: copper transceivers will utilize more power.Choosing your cabling infrastructure is a critical decision for any data center team, but there is a wealth of information out there ), and we would suggest doing a little research until you feel comfortable with your decision. Please give us a call at 866-342-3721 to get the latest pricing.
History of 40 Gigabit Fiber Cable/100 Gigabit Fiber CableTransport:
100 Gigabit Ethernet (or 100GbE) and 40 Gigabit Ethernet (or 40GbE) are high-speed computer network standards developed by the Institute of Electrical and Electronics Engineers (IEEE).[1] They support sending Ethernet frames at 40 and 100 gigabits per second over multiple 10 Gbit/s or 25 Gbit/s lanes. Previously, the fastest published Ethernet standard was 10 Gigabit Ethernet. They were first studied in November 2007, proposed as IEEE 802.3ba in 2008, and ratified in June 2012. Another variant was added in March 2011.The purpose of this project is to extend the 802.3 protocol to operating speeds of 40 Gb/s and 100 Gb/s in order to provide a significant increase in bandwidth while maintaining maximum compatibility with the installed base of 802.3 interfaces, previous investment in research and development, and principles of network operation and management. The project is to provide for the interconnection of equipment satisfying the distance requirements of the intended applications.
The 40/100 Gigabit Ethernet standards encompass a number of different Ethernet physical layer (PHY) specifications. A networking device may support different PHY types by means of pluggable modules. Optical modules are not standardized by any official standards body but are in multi-source agreements (MSAs). One agreement that supports 40 and 100 Gigabit Ethernet is the C Form-factor Pluggable (CFP) MSA which was adopted for distances of 100+ meters. QSFP and CXP connector modules support shorter distances.
The standard supported only full-duplex operationOther electrical objectives include:
Preserve the 802.3 / Ethernet frame format utilizing the 802.3 MAC
Preserve minimum and maximum FrameSize of current 802.3 standard
Support a bit error ratio (BER) better than or equal to 10-12 at the MAC/PLS service interface
Provide appropriate support for OTN
Support MAC data rates of 40 and 100 Gbit/s

Provide Physical Layer specifications (PHY) for operation over single-mode optical fiber (SMF), laser optimized multi-mode optical fiber (MMF) OM3 and OM4, copper cable assembly, and backplane

.
This product is a high data rate parallel active optical cable (AOC), to overcome the bandwidth limitation of traditional copper cable.
QSFP (Quad SFP) connectors provide four channels of data in one pluggable interface.

Each channel is capable of transferring data at 10Gbps and supports a total of 40Gbps as specified for QSFP+. These interconnects have three times the density of SFP+ interconnects(MSA). It has been designed to meet the harshest external operating conditions including temperature, humidity and EMI interference.
40G Ethernet
Infiniband QDR
4G/8G/10G Fiber Channel
High Performance Computing Clusters
High End Servers
Metro Network Switch/Cross Connect
Specifications
| Parameters | Unit | Value |
| --- | --- | --- |
| Number of Lanes | | 4 Tx & 4 Rx |
| Date Rate, each Lane | Gb/s | 10.5 |
| Maximum Aggregate Data Rate | Gb/s | 42.0 |
| Bit Error Ratio | GHz | <10 -12 |
| Interface | | Serial, I2C-based (defined by the QSFP MSA) |
| Power Consumption, each terminal | W | 0.8 |
| Operation Temperature | °C | 0~+70 |
| Storage Temperature | °C | -40~+85 |
| Relative Humidity (non-condensation) | % | 0~ ≥85 |
• Specifications may change without notice. Display Product Photos Shown are samples for viewing, not actual products.
FIBER OPTIC Cable ASSEMBLIES- Fiber Optic Patch Cord PRICING BELOW- We Stock Indoor Outdoor Fiber Optic Jumpers- 10 Gigabit Aqua Fiber Assemblies- PVS and Plenum Jumpers along with Custom Made Fiber Optic Assemblies-Indoor Outdoor Cables Click on any of the fiber jumpers below to get pricing.
| | | | | | | | | | |
| --- | --- | --- | --- | --- | --- | --- | --- | --- | --- |
| Singlemode Assemblies | | | | | | | | | |
| Multimode Assemblies-62.5 MICRON | | | | | | | | | |
| Multimode Assemblies-50 MIC | | | | | | | | | |
| 1O Gigabit Aqua Assemblies | | | | | | | | | |
| Bend Insensitve Assemblies | | | | | | | | | |
| | | | | |
| --- | --- | --- | --- | --- |
| | | | | We haveThousands Of Multimode & Singlemode Cables -Please Call (866) Fiber-21 For An Immediate Quote |

American Data Supply stocks Some of the Largest Inventories of Fiber Optic Assemblies In the USA
American Data Supply stocks thousands of singlemode fiber optic jumpers, singlemode fiber optic assemblies and multimode fiber optic assemblies and multimod fiber optic jumpers in most types including ST, LC, SC singlemode patch cables along with a complete assortment of multimode fiber optic patch cords including LC multimode, SC multimode jumpers, and ST multimode jumpers and adapters. We stock one of the largest inventories of singlemode fiber optic assemblies and multimode assemblies in the United States.Our singlemode jumpers, single mode patch cables and single mode assemblies come are available in a variety of sizes or lengths up to 5000 feet.
Besideas one of the largest off the shelf stock fiber optic jumper suppliers- American Data Supply welcomes all your custom fiber cable requirements including HYBRID, MPO-MTP fiber optic cables and cassettes, Military grade , mil spec cable,including armored, steel armored fiber assemblies, plenum rated fiber jumpers and the new multi-pair 10 gigabit aqua fiber optic assemblies. Call us at (866) 342-3721 or email us a no obligation quote today.
Please Note the Fiber Optic Jumper Pricing Below is duplex- We can provide MULTI-PAIR Fiber Jumpers as well.Please click on anyone of the fiber optic assemblies types below and you will get pricing from 1meter to 1000 meters. We welcome customer fiber jumpers of all kinds from the military to research.
| | | | | | | | | | |
| --- | --- | --- | --- | --- | --- | --- | --- | --- | --- |
| Singlemode Assemblies | | | | | | | | | |
| Multimode Assemblies-62.5 MIC | | | | | | | | | |
| Multimode Assemblies-50 MIC | | | | | | | | | |
| 1O Gigabit Aqua Assemblies | | | | | | | | | |
| Bend Insensitve Assemblies | | | | | | | | | |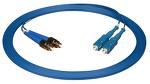 Bend Insensitve Fiber Assemblies
Mode Conditioning Cable From $ 49.95 & Up
We have one of the largest fiber optic custom fiber optic assemblies selections as well at competitive prices. Please call for lead times.To ensure the products' performance, our manufacturing process utilizes high quality connectors with ceramic ferrules (Or Pbronze-if requested), and OFNR riser or higher graded fiber cables. Our extensive range of fiber cable is available in 900um, 1.6mm and 3mm jacketed fiber wires terminated with state-of-the-art connectors such as ST, SC, FC, MTRJ and LC types to meet your standard or custom configurations. We offer the finest quality fiber optic assemblies from several manufacturers including OFS, Corning, Emerson, 3M, ADC,Telect and more- American Data Supply now offers 10 gig fiber optic assemblies and 10 gigabit fiber optic jumpers in both multimode and singlemode. We stock one of the largest arrays of singlemode fiber optic assemblies and multimode fiber optic jumpers in the USA. We can ship most fiber optic jumpers and fiber optic assemblies the same day.
Our large stock covers a complete range of fiber optic patchcords and pigtails in a variety of lengths, colours and connector configurations. including PVC, Plenum, Aqua, Bendinsensitive,ruggedized, Milspec, MULTIFIBER and custom. Our fiber optic patch cable jumpers and assemblies are manufactured in an ISO 9001-2000 certified factories using only the highest quality components. Each fiber optic patch cable jumper is fully tested, to Telcordia standards, for insertion loss and back reflection prior to shipment. Singlemode fiber optic cables are also tested for APEX, radius and undercut . Corning Fiber Cable Assemblies are also available at additional prices.
Call American Data Supply At (866) FIBER-21 or (866) 342-3721- Don't Gamble With Quality- Buy American

10 Gigabit Fiber Optic Assemblies- 10 Gigabit Fiber Optic Jumpers-MPO patch cords are 12-strand multi-fiber patch cords. Designed with precision molded MT ferrules, our female MPO assemblies are made with precise housings ensuring perfect fiber alignment during mating with MPO cassettes. Its high density design allows for use in compact applications, saving significant amounts of time and overall cost- More Info
| | | | | |
| --- | --- | --- | --- | --- |
| | | | | |
| Fiber Optic MPO Cassettes-Info | LC MPO Cassettes-Info | SC Fiber Optic Cassettes-Info | | |
We have instock most on the fiber optic assemblies and fiber optic patch cables listed below. American Data Supply provides the highest level of fiber optic patch cords connectivity for all your fiber interconnect applications. Manufactured and tested to the tightest specifications, Bour patch cords exceed Telcordia GR-326 requirements. Our precision zirconia ferrules and environmentally rugged connectors and cable assemblies ensure lasting, repeatable connections.Our fiber optic patch cables are optically tested and visually inspected to ensure that fiber optic return loss, insertion loss, and end-face geometry requirements are satisfied. Our proprietary fiber optic connector polishing processes and fiber optic cable assembly techniques provide minimal back reflection and ultra low insertion loss. All American Data Supply supplier facilities worldwide are ISO 9000 registered.
American Data Supply also carries military grade fiber optic assemblies. These military grade fiber optic assemblies use M28876-27 Connectors offer rugged military and industrial multifiber optical connectors for shipboard, indoor and outdoor requirements. These connectors are designed to perform in a wide range of environmental conditions. Plugs and receptacles have several key options to prevent configuration problems in systems using multiple connectors. The M28876 series products are available with cadmium-plated aluminum and stainless steel. For less critical environments, an aluminum with cadmium plate over electroless nickel may be used. Stainless steel may be an excellent solution for applications where contact with salt spray and other corrosive elements is possible. The M28876 series of connectors uses the M29504/14 & /15 terminals.
| | |
| --- | --- |
| | SC-SC DUPLEX SINGLEMODE FIBER OPTIC PATCH CABLES - Available in MULTI-PAIR COUNTS -UP T0 144 Count Fibers |
| | | |
| --- | --- | --- |
| Part Number | SC-SC Singlemode Fiber Optic Assemblies | PriceEach |
ATSVCC2P201M
SC-SC DUPLEX SINGLEMODE FIBER OPTIC ASSEMBLIES, 1 METER-Ask For "Internet Special" - 25 pcs or more @ $ 12.99 each)
$14.99
ATSVCC2P202M
SC-SC DUPLEX SINGLEMODE FIBER OPTIC ASSEMBLIES, 2 METERS
$18.10
ATSVCC2P203M
SC-SC DUPLEX SINGLEMODE FIBER OPTIC ASSEMBLIES, 3 METERS
$18.28
ATSVCC2P204M
SC-SC DUPLEX SINGLEMODE FIBER OPTIC ASSEMBLIES, 4 METERS
$19.28
ATSVCC2P205M
SC-SC DUPLEX SINGLEMODE FIBER OPTIC ASSEMBLIES, 5 METERS
$19.17
ATSVCC2P206M
SC-SC DUPLEX SINGLEMODE FIBER OPTIC ASSEMBLIES, 6 METERS
$21.38
ATSVCC2P207M
SC-SC DUPLEX SINGLEMODE FIBER OPTIC ASSEMBLIES, 7 METERS
$22.28
ATSVCC2P208M
SC-SC DUPLEX SINGLEMODE FIBER OPTIC ASSEMBLIES, 8 METERS
$22.38
ATSVCC2P209M
SC-SC DUPLEX SINGLEMODE FIBER OPTIC ASSEMBLIES, 9 METERS
$24.28
ATSVCC2P210M
SC-SC DUPLEX SINGLEMODE FIBER OPTIC ASSEMBLIES, 10 METERS
$24.78
ATSVCC2P211M
SC-SC DUPLEX SINGLEMODE FIBER OPTIC ASSEMBLIES, 11 METERS

Call

ATSVCC2P212M
SC-SC DUPLEX SINGLEMODE FIBER OPTIC ASSEMBLIES, 12 METERS

Call

ATSVCC2P213M
SC-SC DUPLEX SINGLEMODE FIBER OPTIC ASSEMBLIES, 13 METERS

Call

ATSVCC2P214M
SC-SC DUPLEX SINGLEMODE FIBER OPTIC ASSEMBLIES, 14 METERS

Call

ATSVCC2P215M
SC-SC DUPLEX SINGLEMODE FIBER OPTIC ASSEMBLIES, 15 METERS
$25.38
CALL FOR PRICES
American Data Supply Carries SC SC Duplex Singlmode Fiber Optic Patch Cables Up To 5,000 Feet
ATSVCC2P216M

SC-SC DUPLEX SINGLEMODE FIBER OPTIC ASSEMBLIES, 1

6

METERS

Call

ATSVCC2P217M

SC-SC DUPLEX SINGLEMODE FIBER OPTIC ASSEMBLIES, 17 METERS

Call

ATSVCC2P218M

SC-SC DUPLEX SINGLEMODE FIBER OPTIC ASSEMBLIES, 18 METERS

Call

ATSVCC2P219M

SC-SC DUPLEX SINGLEMODE FIBER OPTIC ASSEMBLIES, 19 METERS

Call

ATSVCC2P220M
SC-SC DUPLEX SINGLEMODE FIBER OPTIC ASSEMBLIES, 20 METERS
Call
ATSVCC2P221M
SC-SC DUPLEX SINGLEMODE FIBER OPTIC ASSEMBLIES, 21 METERS
Call
ATSVCC2P222M
SC-SC DUPLEX SINGLEMODE FIBER OPTIC ASSEMBLIES, 22 METERS
Call
ATSVCC2P223M
SC-SC DUPLEX SINGLEMODE FIBER OPTIC ASSEMBLIES, 23 METERS
Call
ATSVCC2P224M
SC-SC DUPLEX SINGLEMODE FIBER OPTIC ASSEMBLIES, 24 METERS
Call
Custom Cables Please Call (866) FIBER-21- (866) 342-3721
ATSVCC2P225M
SC-SC DUPLEX SINGLEMODE FIBER OPTIC ASSEMBLIES, 25 METERS
Call
ATSVCC2P226M
SC-SC DUPLEX SINGLEMODE FIBER OPTIC ASSEMBLIES, 26 METERS
Call
ATSVCC2P227M
SC-SC DUPLEX SINGLEMODE FIBER OPTIC ASSEMBLIES, 27 METERS
Call
ATSVCC2P228M
SC-SC DUPLEX SINGLEMODE FIBER OPTIC ASSEMBLIES, 28 METERS
Call
ATSVCC2P229M
SC-SC DUPLEX SINGLEMODE FIBER OPTIC ASSEMBLIES, 29 METERS
Call
ATSVCC2P230M
SC-SC DUPLEX SINGLEMODE FIBER OPTIC ASSEMBLIES, 30 METERS
Call
ATSVCC2P235M
SC-SC DUPLEX SINGLEMODE FIBER OPTIC ASSEMBLIES, 35METERS
Call
ATSVCC2P240M
SC-SC DUPLEX SINGLEMODE FIBER OPTIC ASSEMBLIES, 40 METERS
Call
ATSVCC2P245M
SC-SC DUPLEX SINGLEMODE FIBER OPTIC ASSEMBLIES, 45 METERS
Call
ATSVCC2P250M
SC-SC DUPLEX SINGLEMODE FIBER OPTIC ASSEMBLIES, 50 METERS
Call
ATSVCC2P255M
SC-SC DUPLEX SINGLEMODE FIBER OPTIC ASSEMBLIES, 55 METERS
Call
ATSVCC2P260M
SC-SC DUPLEX SINGLEMODE FIBER OPTIC ASSEMBLIES, 60 METERS
Call
ATSVCC2P265M
SC-SC DUPLEX SINGLEMODE FIBER OPTIC ASSEMBLIES, 65 METERS
Call
ATSVCC2P270M
SC-SC DUPLEX SINGLEMODE FIBER OPTIC ASSEMBLIES, 70 METERS
Call
ATSVCC2P275M
SC-SC DUPLEX SINGLEMODE FIBER OPTIC ASSEMBLIES, 75 METERS
Call
ATSVCC2P280M
SC-SC DUPLEX SINGLEMODE FIBER OPTIC ASSEMBLIES, 80 METERS
Call
ATSVCC2P285M
SC-SC DUPLEX SINGLEMODE FIBER OPTIC ASSEMBLIES, 85 METERS
Call
ATSVCC2P290M
SC-SC DUPLEX SINGLEMODE FIBER OPTIC ASSEMBLIES, 90 METERS
Call
ATSVCC2P295M
SC-SC DUPLEX SINGLEMODE FIBER OPTIC ASSEMBLIES, 95 METERS
Call
ATSVCC2P100
SC-SC DUPLEX SINGLEMODE FIBER OPTIC ASSEMBLIES, 100 METERS
Call
ATSVCC2P125
SC-SC DUPLEX SINGLEMODE FIBER OPTIC ASSEMBLIES, 125 METERS
Call
ATSVCC2P150
SC-SC DUPLEX SINGLEMODE FIBER OPTIC ASSEMBLIES, 150 METERS
Call
ATSVCC2P175
SC-SC DUPLEX SINGLEMODE FIBER OPTIC ASSEMBLIES, 175 METERS
Call
ATSVCC2P200
SC-SC DUPLEX SINGLEMODE FIBER OPTIC ASSEMBLIES, 200 METERS
Call
ATSVCC2P225
SC-SC DUPLEX SINGLEMODE FIBER OPTIC ASSEMBLIES, 225 METERS
Call
ATSVCC2P250
SC-SC DUPLEX SINGLEMODE FIBER OPTIC ASSEMBLIES, 250 METERS
Call
ATSVCC2P275
SC-SC DUPLEX SINGLEMODE FIBER OPTIC PATCH CABLE 275 METERS
Call
ATSVCC2P300
SC-SC DUPLEX SINGLEMODE FIBER OPTIC ASSEMBLIES, 300 METERS
Call
ATSVCC2P325
SC-SC DUPLEX SINGLEMODE FIBER OPTIC ASSEMBLIES, 325 METERS
Call
ATSVCC2P350
SC-SC DUPLEX SINGLEMODE FIBER OPTIC ASSEMBLIES, 350 METERS
Call
ATSVCC2P375
SC-SC DUPLEX SINGLEMODE FIBER OPTIC ASSEMBLIES, 375 METERS
Call
ATSVCC2P400
SC-SC DUPLEX SINGLEMODE FIBER OPTIC ASSEMBLIES, 400METERS
Call
ATSVCC2P500
SC-SC DUPLEX SINGLEMODE FIBER OPTIC ASSEMBLIES, 500 METERS
Call
ATSVCC2P600
SC-SC DUPLEX SINGLEMODE FIBER OPTIC ASSEMBLIES, 600 METERS
Call
ATSVCC2P700
SC-SC DUPLEX SINGLEMODE FIBER OPTIC ASSEMBLIES, 700 METERS
Call
ATSVCC2P800
SC-SC DUPLEX SINGLEMODE FIBER OPTIC ASSEMBLIES, 800 METERS
Call
ATSVCC2P900
SC-SC DUPLEX SINGLEMODE FIBER OPTIC ASSEMBLIES, 900 METERS
Call
ATSVCC2P1000
SC-SC DUPLEX SINGLEMODE FIBER OPTIC ASSEMBLIES, 1000 METERS
Call
American Data Supply stocks and CARRIES SC-SC Duplex Singlemode Fiber Optic Patch Cables Up To 5000 Feet
,
| | |
| --- | --- |
| | |
ST-ST Patch Cables

American Data Supply Carries ST ST Duplex Singlmode Fiber Optic Patch Cables Up To 5,000 Feet

ATSVAA2P201M
ST-ST DUPLEX SINGLEMODE FIBER OPTIC ASSEMBLIES, 1 METER
$14.99
ATSVAA2P202M
ST-ST DUPLEX SINGLEMODE FIBER OPTIC ASSEMBLIES, 2 METERS
$15.65
ATSVAA2P203M
ST-ST DUPLEX SINGLEMODE FIBER OPTIC ASSEMBLIES, 3 METERS
$16.28
ATSVAA2P204M
ST-ST DUPLEX SINGLEMODE FIBER OPTIC ASSEMBLIES, 4 METERS
$16.58
ATSVAA2P205M
ST-ST DUPLEX SINGLEMODE FIBER OPTIC ASSEMBLIES, 5 METERS
$16.98
ATSVAA2P206M
ST-ST DUPLEX SINGLEMODE FIBER OPTIC ASSEMBLIES, 6 METERS
$18.88
ATSVAA2P207M
ST-ST DUPLEX SINGLEMODE FIBER OPTIC ASSEMBLIES, 7 METERS
$19.88
ATSVAA2P208M
ST-ST DUPLEX SINGLEMODE FIBER OPTIC ASSEMBLIES, 8 METERS
$19.98
ATSVAA2P209M
ST-ST DUPLEX SINGLEMODE FIBER OPTIC ASSEMBLIES, 9 METERS
$20.88
ATSVAA2P210M
ST-ST DUPLEX SINGLEMODE FIBER OPTIC ASSEMBLIES, 10 METERS
$22.98
ATSVAA2P215M
ST-ST DUPLEX SINGLEMODE FIBER OPTIC ASSEMBLIES, 15 METERS
$25.88
CALL FOR PRICES
American Data Supply Carries ST ST Duplex Singlmode Fiber Optic Patch Cables Up To 5,000 Feet
ATSVAA2P220M
ST-ST DUPLEX SINGLEMODE FIBER OPTIC ASSEMBLIES, 20 METERS

Call

ATSVAA2P225M
ST-ST DUPLEX SINGLEMODE FIBER OPTIC ASSEMBLIES, 25 METERS

Call

ATSVAA2P230M
ST-ST DUPLEX SINGLEMODE FIBER OPTIC ASSEMBLIES, 30 METERS

Call

ATSVAA2P235M
ST-ST DUPLEX SINGLEMODE FIBER OPTIC ASSEMBLIES, 35 METERS

Call

ATSVAA2P240M
ST-ST DUPLEX SINGLEMODE FIBER OPTIC ASSEMBLIES, 40 METERS

Call

ATSVAA2P245M
ST-ST DUPLEX SINGLEMODE FIBER OPTIC ASSEMBLIES, 45 METERS

Call

ATSVAA2P250M
ST-ST DUPLEX SINGLEMODE FIBER OPTIC ASSEMBLIES, 50 METERS

Call

ATSVAA2P255M
ST-ST DUPLEX SINGLEMODE FIBER OPTIC ASSEMBLIES, 55 METERS

Call

ATSVAA2P260M
ST-ST DUPLEX SINGLEMODE FIBER OPTIC ASSEMBLIES, 60 METERS

Call

ATSVAA2P265M
ST-ST DUPLEX SINGLEMODE FIBER OPTIC ASSEMBLIES, 65 METERS

Call

ATSVAA2P270M
ST-ST DUPLEX SINGLEMODE FIBER OPTIC ASSEMBLIES, 70 METERS

Call

ATSVAA2P275M
ST-ST DUPLEX SINGLEMODE FIBER OPTIC ASSEMBLIES, 75 METERS -

Call

ATSVAA2P280M
ST-ST DUPLEX SINGLEMODE FIBER OPTIC ASSEMBLIES, 80 METERS

Call

ATSVAA2P285M
ST-ST DUPLEX SINGLEMODE FIBER OPTIC ASSEMBLIES, 85 METERS

Call

ATSVAA2P290M
ST-ST DUPLEX SINGLEMODE FIBER OPTIC ASSEMBLIES, 90 METERS

Call

ATSVAA2P295M

ST-ST DUPLEX SINGLEMODE FIBER OPTIC ASSEMBLIES, 95 METERS

Call

ATSVAA2P100
ST-ST DUPLEX SINGLEMODE FIBER OPTIC ASSEMBLIES, 100 METERS

Call

ATSVAA2P125
ST-ST DUPLEX SINGLEMODE FIBER OPTIC ASSEMBLIES, 125 METERS

Call

ATSVAA2P150
ST-ST DUPLEX SINGLEMODE FIBER OPTIC ASSEMBLIES, 150 METERS

Call

ATSVAA2P175
ST-ST DUPLEX SINGLEMODE FIBER OPTIC ASSEMBLIES, 175 METERS

Call

ATSVAA2P200
ST-ST DUPLEX SINGLEMODE FIBER OPTIC ASSEMBLIES, 200 METERS

Call

ATSVAA2P225
ST-ST DUPLEX SINGLEMODE FIBER OPTIC ASSEMBLIES, 225 METERS

Call

ATSVAA2P250
ST-ST DUPLEX SINGLEMODE FIBER OPTIC ASSEMBLIES, 250 METERS

Call

ATSVAA2P275
ST-ST DUPLEX SINGLEMODE FIBER OPTIC ASSEMBLIES, 275 METERS

Call

ATSVAA2P300
ST-ST DUPLEX SINGLEMODE FIBER OPTIC ASSEMBLIES, 300 METERS

Call

ATSVAA2P325
ST-ST DUPLEX SINGLEMODE FIBER OPTIC ASSEMBLIES, 325 METERS

Call

ATSVAA2P350
ST-ST DUPLEX SINGLEMODE FIBER OPTIC ASSEMBLIES, 350 METERS

Call

ATSVAA2P375
ST-ST DUPLEX SINGLEMODE FIBER OPTIC ASSEMBLIES, 375 METERS

Call

ATSVAA2P400
ST-ST DUPLEX SINGLEMODE FIBER OPTIC ASSEMBLIES, 400 METERS

Call

ATSVAA2P425
ST-ST DUPLEX SINGLEMODE FIBER OPTIC ASSEMBLIES, 425 METERS

Call

ATSVAA2P450
ST-ST DUPLEX SINGLEMODE FIBER OPTIC ASSEMBLIES, 450 METERS

Call

ATSVAA2P475
ST-ST DUPLEX SINGLEMODE FIBER OPTIC ASSEMBLIES, 475 METERS

Call

ATSVAA2P500
ST-ST DUPLEX SINGLEMODE FIBER OPTIC ASSEMBLIES, 500 METERS

Call

ATSVAA2P600
ST-ST DUPLEX SINGLEMODE FIBER OPTIC ASSEMBLIES, 600 METERS

Call

ATSVAA2P700
ST-ST DUPLEX SINGLEMODE FIBER OPTIC ASSEMBLIES, 700 METERS

Call

ATSVAA2P800
ST-ST DUPLEX SINGLEMODE FIBER OPTIC ASSEMBLIES, 800 METERS

Call

ATSVAA2P900
ST-ST DUPLEX SINGLEMODE FIBER OPTIC ASSEMBLIES, 900 METERS

Call

ATSVAA2P1000
ST-ST DUPLEX SINGLEMODE FIBER OPTIC ASSEMBLIES, 1000 METERS

Call

American Data Supply Carries ST ST Duplex Singlmode Fiber Optic Patch Cables Up To 5,000 Feet
| | |
| --- | --- |
| | FC-FC DUPLEX SINGLEMODE FIBER OPTIC ASSEMBLIES-Available in FC/PC/UPC/APC |
FC-FC Patch Cables

American Data Supply Carries FC FC Duplex Singlmode Fiber Optic Patch Cables Up To 5,000 Feet

ATSFCFC2P201M
FC-FC DUPLEX SINGLEMODE FIBER OPTIC ASSEMBLIES, 1 METERS -Available in FC/PC/UPC/APC

Call

ATSFCFC2P202M
FC-FC DUPLEX SINGLEMODE FIBER OPTIC ASSEMBLIES, 2 METERS -Available in FC/PC/UPC/APC

Call

ATSFCFC2P203M
FC-FC DUPLEX SINGLEMODE FIBER OPTIC ASSEMBLIES, 3 METERS -Available in FC/PC/UPC/APC

Call

ATSFCFC2P204M
FC-FC DUPLEX SINGLEMODE FIBER OPTIC ASSEMBLIES, 4 METERS -Available in FC/PC/UPC/APC

Call

ATSFCFC2P205M
FC-FC DUPLEX SINGLEMODE FIBER OPTIC ASSEMBLIES, 5 METERS -Available in FC/PC/UPC/APC

Call

ATSFCFC2P206M
FC-FC DUPLEX SINGLEMODE FIBER OPTIC ASSEMBLIES, 6 METERS -Available in FC/PC/UPC/APC

Call

ATSFCFC2P207M
FC-FC DUPLEX SINGLEMODE FIBER OPTIC ASSEMBLIES, 7 METERS -Available in FC/PC/UPC/APC

Call

ATSFCFC2P208M
FC-FC DUPLEX SINGLEMODE FIBER OPTIC ASSEMBLIES, 8 METERS -Available in FC/PC/UPC/APC

Call

ATSFCFC2P209M
FC-FC DUPLEX SINGLEMODE FIBER OPTIC ASSEMBLIES, 9 METERS -Available in FC/PC/UPC/APC

Call

ATSFCFC2P210M
FC-FC DUPLEX SINGLEMODE FIBER OPTIC ASSEMBLIES, 10 METERS -Available in FC/PC/UPC/APC

Call

ATSFCFC2P215M
FC-FC DUPLEX SINGLEMODE FIBER OPTIC ASSEMBLIES, 15 METERS -Available in FC/PC/UPC/APC

Call

CALL FOR PRICES
American Data Supply Carries ST ST Duplex Singlmode Fiber Optic Patch Cables Up To 5,000 Feet
ATSFCFC2P220M
FC-FC DUPLEX SINGLEMODE FIBER OPTIC ASSEMBLIES, 20 METERS -Available in FC/PC/UPC/APC

Call

ATSFCFC2P225M
FC-FC DUPLEX SINGLEMODE FIBER OPTIC ASSEMBLIES, 25 METERS -Available in FC/PC/UPC/APC

Call

ATSFCFC2P230M
FC-FC DUPLEX SINGLEMODE FIBER OPTIC ASSEMBLIES, 30 METERS -Available in FC/PC/UPC/APC

Call

ATSFCFC2P235M
FC-FC DUPLEX SINGLEMODE FIBER OPTIC ASSEMBLIES, 35 METERS -Available in FC/PC/UPC/APC

Call

ATSFCFC2P240M
FC-FC DUPLEX SINGLEMODE FIBER OPTIC ASSEMBLIES, 40 METERS -Available in FC/PC/UPC/APC

Call

ATSFCFC2P245M
FC-FC DUPLEX SINGLEMODE FIBER OPTIC ASSEMBLIES, 45 METERS -Available in FC/PC/UPC/APC

Call

ATSFCFC2P250M
FC-FC DUPLEX SINGLEMODE FIBER OPTIC ASSEMBLIES, 50 METERS -Available in FC/PC/UPC/APC

Call

ATSFCFC2P255M
FC-FC DUPLEX SINGLEMODE FIBER OPTIC ASSEMBLIES, 55 METERS -Available in FC/PC/UPC/APC

Call

ATSFCFC2P260M
FC-FC DUPLEX SINGLEMODE FIBER OPTIC ASSEMBLIES, 60 METERS -Available in FC/PC/UPC/APC

Call

ATSFCFC2P265M
FC-FC DUPLEX SINGLEMODE FIBER OPTIC ASSEMBLIES, 65 METERS -Available in FC/PC/UPC/APC

Call

ATSFCFC2P270M
FC-FC DUPLEX SINGLEMODE FIBER OPTIC ASSEMBLIES, 70 METERS -Available in FC/PC/UPC/APC

Call

ATSFCFC2P275M
FC-FC DUPLEX SINGLEMODE FIBER OPTIC ASSEMBLIES, 75 METERS -Available in FC/PC/UPC/APC

Call

ATSFCFC2P280M
FC-FC DUPLEX SINGLEMODE FIBER OPTIC ASSEMBLIES, 80 METERS -Available in FC/PC/UPC/APC

Call

ATSFCFC2P285M
FC-FC DUPLEX SINGLEMODE FIBER OPTIC ASSEMBLIES, 85 METERS -Available in FC/PC/UPC/APC

Call

ATSFCFC2P290M
FC-FC DUPLEX SINGLEMODE FIBER OPTIC ASSEMBLIES, 90 METERS -Available in FC/PC/UPC/APC

Call

ATSFCFC2P295M

FC-FC DUPLEX SINGLEMODE FIBER OPTIC ASSEMBLIES, 95 METERS -Available in FC/PC/UPC/APC

Call

ATSFCFC2P100
FC-FC DUPLEX SINGLEMODE FIBER OPTIC ASSEMBLIES, 100 METERS -Available in FC/PC/UPC/APC

Call

ATSFCFC2P125
FC-FC DUPLEX SINGLEMODE FIBER OPTIC ASSEMBLIES, 125 METERS -Available in FC/PC/UPC/APC

Call

ATSFCFC2P150
FC-FC DUPLEX SINGLEMODE FIBER OPTIC ASSEMBLIES, 150 METERS -Available in FC/PC/UPC/APC

Call

ATSFCFC2P175
FC-FC DUPLEX SINGLEMODE FIBER OPTIC ASSEMBLIES, 175 METERS -Available in FC/PC/UPC/APC

Call

ATSFCFC2P200
FC-FC DUPLEX SINGLEMODE FIBER OPTIC ASSEMBLIES, 200 METERS -Available in FC/PC/UPC/APC

Call

ATSFCFC2P225
FC-FC DUPLEX SINGLEMODE FIBER OPTIC ASSEMBLIES, 225 METERS -Available in FC/PC/UPC/APC

Call

ATSFCFC2P250
FC-FC DUPLEX SINGLEMODE FIBER OPTIC ASSEMBLIES, 250 METERS -Available in FC/PC/UPC/APC

Call

ATSFCFC2P275
FC-FC DUPLEX SINGLEMODE FIBER OPTIC ASSEMBLIES, 275 METERS -Available in FC/PC/UPC/APC

Call

ATSFCFC2P300
FC-FC DUPLEX SINGLEMODE FIBER OPTIC ASSEMBLIES, 300 METERS -Available in FC/PC/UPC/APC

Call

ATSFCFC2P325
FC-FC DUPLEX SINGLEMODE FIBER OPTIC ASSEMBLIES, 325 METERS -Available in FC/PC/UPC/APC

Call

ATSFCFC2P350
FC-FC DUPLEX SINGLEMODE FIBER OPTIC ASSEMBLIES, 350 METERS -Available in FC/PC/UPC/APC

Call

ATSFCFC2P375
FC-FC DUPLEX SINGLEMODE FIBER OPTIC ASSEMBLIES, 375 METERS -Available in FC/PC/UPC/APC

Call

ATSFCFC2P400
FC-FC DUPLEX SINGLEMODE FIBER OPTIC ASSEMBLIES, 400 METERS -Available in FC/PC/UPC/APC

Call

ATSFCFC2P425
FC-FC DUPLEX SINGLEMODE FIBER OPTIC ASSEMBLIES, 425 METERS -Available in FC/PC/UPC/APC

Call

ATSFCFC2P450
FC-FC DUPLEX SINGLEMODE FIBER OPTIC ASSEMBLIES, 450 METERS -Available in FC/PC/UPC/APC

Call

ATSFCFC2P475
FC-FC DUPLEX SINGLEMODE FIBER OPTIC ASSEMBLIES, 475 METERS -Available in FC/PC/UPC/APC

Call

ATSFCFC2P500
FC-FC DUPLEX SINGLEMODE FIBER OPTIC ASSEMBLIES, 500 METERS -Available in FC/PC/UPC/APC

Call

ATSFCFC2P600
FC-FC DUPLEX SINGLEMODE FIBER OPTIC ASSEMBLIES, 600 METERS -Available in FC/PC/UPC/APC

Call

ATSFCFC2P700
FC-FC DUPLEX SINGLEMODE FIBER OPTIC ASSEMBLIES, 700 METERS -Available in FC/PC/UPC/APC

Call

ATSFCFC2P800
FC-FC DUPLEX SINGLEMODE FIBER OPTIC ASSEMBLIES, 800 METERS -Available in FC/PC/UPC/APC

Call

ATSFCFC2P900
FC-FC DUPLEX SINGLEMODE FIBER OPTIC ASSEMBLIES, 900 METERS -Available in FC/PC/UPC/APC

Call

ATSFCFC2P1000
FC-FC DUPLEX SINGLEMODE FIBER OPTIC ASSEMBLIES, 1000 METERS -Available in FC/PC/UPC/APC

Call

American Data Supply Carries FC FC Duplex Singlmode Fiber Optic Patch Cables Up To 5,000 Feet

| | |
| --- | --- |
| | FC-ST DUPLEX SINGLEMODE FIBER OPTIC PATCH CABLES--Available in FC/PC/UPC/APC |
FC-ST Patch Cables

American Data Supply Carries FC ST Duplex Singlmode Fiber Optic Patch Cables Up To 5,000 Feet

ATSFCST2P201M
FC-ST DUPLEX SINGLEMODE FIBER OPTIC ASSEMBLIES, 1 METERS -Available in FC/PC/UPC/APC

Call

Order
ATSFCST2P202M
FC-ST DUPLEX SINGLEMODE FIBER OPTIC ASSEMBLIES, 2 METERS -Available in FC/PC/UPC/APC

Call

ATSFCST2P203M
FC-ST DUPLEX SINGLEMODE FIBER OPTIC ASSEMBLIES, 3 METERS -Available in FC/PC/UPC/APC

Call

ATSFCST2P204M
FC-ST DUPLEX SINGLEMODE FIBER OPTIC ASSEMBLIES, 4 METERS -Available in FC/PC/UPC/APC

Call

ATSFCST2P205M
FC-ST DUPLEX SINGLEMODE FIBER OPTIC ASSEMBLIES, 5 METERS -Available in FC/PC/UPC/APC

Call

ATSFCST2P206M
FC-ST DUPLEX SINGLEMODE FIBER OPTIC ASSEMBLIES, 6 METERS -Available in FC/PC/UPC/APC

Call

ATSFCST2P207M
FC-ST DUPLEX SINGLEMODE FIBER OPTIC ASSEMBLIES, 7 METERS -Available in FC/PC/UPC/APC

Call

ATSFCST2P208M
FC-ST DUPLEX SINGLEMODE FIBER OPTIC ASSEMBLIES, 8 METERS -Available in FC/PC/UPC/APC

Call

ATSFCST2P209M
FC-ST DUPLEX SINGLEMODE FIBER OPTIC ASSEMBLIES, 9 METERS -Available in FC/PC/UPC/APC

Call

ATSFCST2P210M
FC-ST DUPLEX SINGLEMODE FIBER OPTIC ASSEMBLIES, 10 METERS -Available in FC/PC/UPC/APC

Call

ATSFCST2P215M
FC-ST DUPLEX SINGLEMODE FIBER OPTIC ASSEMBLIES, 15 METERS -Available in FC/PC/UPC/APC

Call

CALL FOR PRICES
American Data Supply Carries ST ST Duplex Singlmode Fiber Optic Patch Cables Up To 5,000 Feet
ATSFCST2P220M
FC-ST DUPLEX SINGLEMODE FIBER OPTIC ASSEMBLIES, 20 METERS -Available in FC/PC/UPC/APC

Call

ATSFCST2P225M
FC-ST DUPLEX SINGLEMODE FIBER OPTIC ASSEMBLIES, 25 METERS -Available in FC/PC/UPC/APC

Call

ATSFCST2P230M
FC-ST DUPLEX SINGLEMODE FIBER OPTIC ASSEMBLIES, 30 METERS -Available in FC/PC/UPC/APC

Call

ATSFCST2P235M
FC-ST DUPLEX SINGLEMODE FIBER OPTIC ASSEMBLIES, 35 METERS -Available in FC/PC/UPC/APC

Call

ATSFCST2P240M
FC-ST DUPLEX SINGLEMODE FIBER OPTIC ASSEMBLIES, 40 METERS -Available in FC/PC/UPC/APC

Call

ATSFCST2P245M
FC-ST DUPLEX SINGLEMODE FIBER OPTIC ASSEMBLIES, 45 METERS -Available in FC/PC/UPC/APC

Call

ATSFCST2P250M
FC-ST DUPLEX SINGLEMODE FIBER OPTIC ASSEMBLIES, 50 METERS -Available in FC/PC/UPC/APC

Call

ATSFCST2P255M
FC-ST DUPLEX SINGLEMODE FIBER OPTIC ASSEMBLIES, 55 METERS -Available in FC/PC/UPC/APC

Call

ATSFCST2P260M
FC-ST DUPLEX SINGLEMODE FIBER OPTIC ASSEMBLIES, 60 METERS -Available in FC/PC/UPC/APC

Call

ATSFCST2P265M
FC-ST DUPLEX SINGLEMODE FIBER OPTIC ASSEMBLIES, 65 METERS -Available in FC/PC/UPC/APC

Call

ATSFCST2P270M
FC-ST DUPLEX SINGLEMODE FIBER OPTIC ASSEMBLIES, 70 METERS -Available in FC/PC/UPC/APC

Call

ATSFCST2P275M
FC-ST DUPLEX SINGLEMODE FIBER OPTIC ASSEMBLIES, 75 METERS -Available in FC/PC/UPC/APC

Call

ATSFCST2P280M
FC-ST DUPLEX SINGLEMODE FIBER OPTIC ASSEMBLIES, 80 METERS -Available in FC/PC/UPC/APC

Call

ATSFCST2P285M
FC-ST DUPLEX SINGLEMODE FIBER OPTIC ASSEMBLIES, 85 METERS -Available in FC/PC/UPC/APC

Call

ATSFCST2P290M
FC-ST DUPLEX SINGLEMODE FIBER OPTIC ASSEMBLIES, 90 METERS -Available in FC/PC/UPC/APC

Call

ATSFCST2P295M

FC-ST DUPLEX SINGLEMODE FIBER OPTIC ASSEMBLIES, 95 METERS -Available in FC/PC/UPC/APC

Call

ATSFCST2P100
FC-ST DUPLEX SINGLEMODE FIBER OPTIC ASSEMBLIES, 100 METERS -Available in FC/PC/UPC/APC

Call

ATSFCST2P125
FC-ST DUPLEX SINGLEMODE FIBER OPTIC ASSEMBLIES, 125 METERS -Available in FC/PC/UPC/APC

Call

ATSFCST2P150
FC-ST DUPLEX SINGLEMODE FIBER OPTIC ASSEMBLIES, 150 METERS -Available in FC/PC/UPC/APC

Call

ATSFCST2P175
FC-ST DUPLEX SINGLEMODE FIBER OPTIC ASSEMBLIES, 175 METERS -Available in FC/PC/UPC/APC

Call

ATSFCST2P200
FC-ST DUPLEX SINGLEMODE FIBER OPTIC ASSEMBLIES, 200 METERS -Available in FC/PC/UPC/APC

Call

ATSFCST2P225
FC-ST DUPLEX SINGLEMODE FIBER OPTIC ASSEMBLIES, 225 METERS -Available in FC/PC/UPC/APC

Call

ATSFCST2P250
FC-ST DUPLEX SINGLEMODE FIBER OPTIC ASSEMBLIES, 250 METERS -Available in FC/PC/UPC/APC

Call

ATSFCST2P275
FC-ST DUPLEX SINGLEMODE FIBER OPTIC ASSEMBLIES, 275 METERS -Available in FC/PC/UPC/APC

Call

ATSFCST2P300
FC-ST DUPLEX SINGLEMODE FIBER OPTIC ASSEMBLIES, 300 METERS -Available in FC/PC/UPC/APC

Call

ATSFCST2P325
FC-ST DUPLEX SINGLEMODE FIBER OPTIC ASSEMBLIES, 325 METERS -Available in FC/PC/UPC/APC

Call

ATSFCST2P350
FC-ST DUPLEX SINGLEMODE FIBER OPTIC ASSEMBLIES, 350 METERS -Available in FC/PC/UPC/APC

Call

ATSFCST2P375
FC-ST DUPLEX SINGLEMODE FIBER OPTIC ASSEMBLIES, 375 METERS -Available in FC/PC/UPC/APC

Call

ATSFCST2P400
FC-ST DUPLEX SINGLEMODE FIBER OPTIC ASSEMBLIES, 400 METERS -Available in FC/PC/UPC/APC

Call

ATSFCST2P425
FC-ST DUPLEX SINGLEMODE FIBER OPTIC ASSEMBLIES, 425 METERS -Available in FC/PC/UPC/APC

Call

ATSFCST2P450
FC-ST DUPLEX SINGLEMODE FIBER OPTIC ASSEMBLIES, 450 METERS -Available in FC/PC/UPC/APC

Call

ATSFCST2P475
FC-ST DUPLEX SINGLEMODE FIBER OPTIC ASSEMBLIES, 475 METERS -Available in FC/PC/UPC/APC

Call

ATSFCST2P500
FC-ST DUPLEX SINGLEMODE FIBER OPTIC ASSEMBLIES, 500 METERS -Available in FC/PC/UPC/APC

Call

ATSFCST2P600
FC-ST DUPLEX SINGLEMODE FIBER OPTIC ASSEMBLIES, 600 METERS -Available in FC/PC/UPC/APC

Call

ATSFCST2P700
FC-ST DUPLEX SINGLEMODE FIBER OPTIC ASSEMBLIES, 700 METERS -Available in FC/PC/UPC/APC

Call

ATSFCST2P800
FC-ST DUPLEX SINGLEMODE FIBER OPTIC ASSEMBLIES, 800 METERS -Available in FC/PC/UPC/APC

Call

ATSFCST2P900
FC-ST DUPLEX SINGLEMODE FIBER OPTIC ASSEMBLIES, 900 METERS -Available in FC/PC/UPC/APC

Call

ATSFCST2P1000
FC-ST DUPLEX SINGLEMODE FIBER OPTIC ASSEMBLIES, 1000 METERS -Available in FC/PC/UPC/APC

Call

American Data Supply Carries FC FC Duplex Singlmode Fiber Optic Patch Cables Up To 5,000 Feet
| | |
| --- | --- |
| | FC-SC DUPLEX SINGLEMODE FIBER OPTIC ASSEMBLIES-Available in FC/PC/UPC/APC |
| | | |
| --- | --- | --- |
| FC-SC Patch Cables | American Data Supply Carries FC ST Duplex Singlmode Fiber Optic Patch Cables Up To 5,000 Feet | |
| ATSFCSC2P201M | FC-SC DUPLEX SINGLEMODE FIBER OPTIC ASSEMBLIES, 1 METERS -Available in FC/PC/UPC/APC | |
| ATSFCSC2P202M | FC-SC DUPLEX SINGLEMODE FIBER OPTIC ASSEMBLIES, 2 METERS -Available in FC/PC/UPC/APC | |
| ATSFCSC2P203M | FC-SC DUPLEX SINGLEMODE FIBER OPTIC ASSEMBLIES, 3 METERS -Available in FC/PC/UPC/APC | |
| ATSFCSC2P204M | FC-SC DUPLEX SINGLEMODE FIBER OPTIC ASSEMBLIES, 4 METERS -Available in FC/PC/UPC/APC | |
| ATSFCSC2P205M | FC-SC DUPLEX SINGLEMODE FIBER OPTIC ASSEMBLIES, 5 METERS -Available in FC/PC/UPC/APC | |
| ATSFCSC2P206M | FC-SC DUPLEX SINGLEMODE FIBER OPTIC ASSEMBLIES, 6 METERS -Available in FC/PC/UPC/APC | |
| ATSFCSC2P207M | FC-SC DUPLEX SINGLEMODE FIBER OPTIC ASSEMBLIES, 7 METERS -Available in FC/PC/UPC/APC | |
| ATSFCSC2P208M | FC-SC DUPLEX SINGLEMODE FIBER OPTIC ASSEMBLIES, 8 METERS -Available in FC/PC/UPC/APC | |
| ATSFCSC2P209M | FC-SC DUPLEX SINGLEMODE FIBER OPTIC ASSEMBLIES, 9 METERS -Available in FC/PC/UPC/APC | |
| ATSFCSC2P210M | FC-SC DUPLEX SINGLEMODE FIBER OPTIC ASSEMBLIES, 10 METERS -Available in FC/PC/UPC/APC | |
| ATSFCSC2P215M | FC-SC DUPLEX SINGLEMODE FIBER OPTIC ASSEMBLIES, 15 METERS -Available in FC/PC/UPC/APC | |
| CALL FOR PRICES | American Data Supply Carries ST ST Duplex Singlmode Fiber Optic Patch Cables Up To 5,000 Feet | |
| ATSFCSC2P220M | FC-SC DUPLEX SINGLEMODE FIBER OPTIC ASSEMBLIES, 20 METERS -Available in FC/PC/UPC/APC | Call |
| ATSFCSC2P225M | FC-SC DUPLEX SINGLEMODE FIBER OPTIC ASSEMBLIES, 25 METERS -Available in FC/PC/UPC/APC | Call |
| ATSFCSC2P230M | FC-SC DUPLEX SINGLEMODE FIBER OPTIC ASSEMBLIES, 30 METERS -Available in FC/PC/UPC/APC | Call |
| ATSFCSC2P235M | FC-SC DUPLEX SINGLEMODE FIBER OPTIC ASSEMBLIES, 35 METERS -Available in FC/PC/UPC/APC | Call |
| ATSFCSC2P240M | FC-SC DUPLEX SINGLEMODE FIBER OPTIC ASSEMBLIES, 40 METERS -Available in FC/PC/UPC/APC | Call |
| ATSFCSC2P245M | FC-SC DUPLEX SINGLEMODE FIBER OPTIC ASSEMBLIES, 45 METERS -Available in FC/PC/UPC/APC | Call |
| ATSFCSC2P250M | FC-SC DUPLEX SINGLEMODE FIBER OPTIC ASSEMBLIES, 50 METERS -Available in FC/PC/UPC/APC | Call |
| ATSFCSC2P255M | FC-SC DUPLEX SINGLEMODE FIBER OPTIC ASSEMBLIES, 55 METERS -Available in FC/PC/UPC/APC | Call |
| ATSFCSC2P260M | FC-SC DUPLEX SINGLEMODE FIBER OPTIC ASSEMBLIES, 60 METERS -Available in FC/PC/UPC/APC | Call |
| ATSFCSC2P265M | FC-SC DUPLEX SINGLEMODE FIBER OPTIC ASSEMBLIES, 65 METERS -Available in FC/PC/UPC/APC | Call |
| ATSFCSC2P270M | FC-SC DUPLEX SINGLEMODE FIBER OPTIC ASSEMBLIES, 70 METERS -Available in FC/PC/UPC/APC | Call |
| ATSFCSC2P275M | FC-SC DUPLEX SINGLEMODE FIBER OPTIC ASSEMBLIES, 75 METERS -Available in FC/PC/UPC/APC | Call |
| ATSFCSC2P280M | FC-SC DUPLEX SINGLEMODE FIBER OPTIC ASSEMBLIES, 80 METERS -Available in FC/PC/UPC/APC | Call |
| ATSFCSC2P285M | FC-SC DUPLEX SINGLEMODE FIBER OPTIC ASSEMBLIES, 85 METERS -Available in FC/PC/UPC/APC | Call |
| ATSFCSC2P290M | FC-SC DUPLEX SINGLEMODE FIBER OPTIC ASSEMBLIES, 90 METERS -Available in FC/PC/UPC/APC | Call |
| ATSFCSC2P295M | FC-SC DUPLEX SINGLEMODE FIBER OPTIC ASSEMBLIES, 95 METERS -Available in FC/PC/UPC/APC | Call |
| ATSFCSC2P100 | FC-SC DUPLEX SINGLEMODE FIBER OPTIC ASSEMBLIES, 100 METERS -Available in FC/PC/UPC/APC | Call |
| ATSFCSC2P125 | FC-SC DUPLEX SINGLEMODE FIBER OPTIC ASSEMBLIES, 125 METERS -Available in FC/PC/UPC/APC | Call |
| ATSFCSC2P150 | FC-SC DUPLEX SINGLEMODE FIBER OPTIC ASSEMBLIES, 150 METERS -Available in FC/PC/UPC/APC | Call |
| ATSFCSC2P175 | FC-SC DUPLEX SINGLEMODE FIBER OPTIC ASSEMBLIES, 175 METERS -Available in FC/PC/UPC/APC | Call |
| ATSFCSC2P200 | FC-SC DUPLEX SINGLEMODE FIBER OPTIC ASSEMBLIES, 200 METERS -Available in FC/PC/UPC/APC | Call |
| ATSFCSC2P225 | FC-SC DUPLEX SINGLEMODE FIBER OPTIC ASSEMBLIES, 225 METERS -Available in FC/PC/UPC/APC | Call |
| ATSFCSC2P250 | FC-SC DUPLEX SINGLEMODE FIBER OPTIC ASSEMBLIES, 250 METERS -Available in FC/PC/UPC/APC | Call |
| ATSFCSC2P275 | FC-SC DUPLEX SINGLEMODE FIBER OPTIC ASSEMBLIES, 275 METERS -Available in FC/PC/UPC/APC | Call |
| ATSFCSC2P300 | FC-SC DUPLEX SINGLEMODE FIBER OPTIC ASSEMBLIES, 300 METERS -Available in FC/PC/UPC/APC | Call |
| ATSFCSC2P325 | FC-SC DUPLEX SINGLEMODE FIBER OPTIC ASSEMBLIES, 325 METERS -Available in FC/PC/UPC/APC | Call |
| ATSFCSC2P350 | FC-SC DUPLEX SINGLEMODE FIBER OPTIC ASSEMBLIES, 350 METERS -Available in FC/PC/UPC/APC | Call |
| ATSFCSC2P375 | FC-SC DUPLEX SINGLEMODE FIBER OPTIC ASSEMBLIES, 375 METERS -Available in FC/PC/UPC/APC | Call |
| ATSFCSC2P400 | FC-SC DUPLEX SINGLEMODE FIBER OPTIC ASSEMBLIES, 400 METERS -Available in FC/PC/UPC/APC | Call |
| ATSFCSC2P425 | FC-SC DUPLEX SINGLEMODE FIBER OPTIC ASSEMBLIES, 425 METERS -Available in FC/PC/UPC/APC | Call |
| ATSFCSC2P450 | FC-SC DUPLEX SINGLEMODE FIBER OPTIC ASSEMBLIES, 450 METERS -Available in FC/PC/UPC/APC | Call |
| ATSFCSC2P475 | FC-SC DUPLEX SINGLEMODE FIBER OPTIC ASSEMBLIES, 475 METERS -Available in FC/PC/UPC/APC | Call |
| ATSFCSC2P500 | FC-SC DUPLEX SINGLEMODE FIBER OPTIC ASSEMBLIES, 500 METERS -Available in FC/PC/UPC/APC | Call |
| ATSFCSC2P600 | FC-SC DUPLEX SINGLEMODE FIBER OPTIC ASSEMBLIES, 600 METERS -Available in FC/PC/UPC/APC | Call |
| ATSFCSC2P700 | FC-SC DUPLEX SINGLEMODE FIBER OPTIC ASSEMBLIES, 700 METERS -Available in FC/PC/UPC/APC | Call |
| ATSFCSC2P800 | FC-SC DUPLEX SINGLEMODE FIBER OPTIC ASSEMBLIES, 800 METERS -Available in FC/PC/UPC/APC | Call |
| ATSFCSC2P900 | FC-SC DUPLEX SINGLEMODE FIBER OPTIC ASSEMBLIES, 900 METERS -Available in FC/PC/UPC/APC | Call |
| ATSFCSC2P1000 | FC-SC DUPLEX SINGLEMODE FIBER OPTIC ASSEMBLIES, 1000 METERS -Available in FC/PC/UPC/APC | Call |
| | American Data Supply Carries FC FC Duplex Singlmode Fiber Optic Patch Cables Up To 5,000 Feet | |
| | |
| --- | --- |
| | |
| | | | |
| --- | --- | --- | --- |
| ST-SC Patch Cables | American Data Supply Carries ST SC Duplex Singlmode Fiber Optic Patch Cables Up To 5,000 Feet | | |
| ATSVAC2P201M | ST-SC DUPLEX SINGLEMODE FIBER OPTIC ASSEMBLIES, 1 METER | $15.28 | |
| ATSVAC2P202M | ST-SC DUPLEX SINGLEMODE FIBER OPTIC ASSEMBLIES, 2 METERS | $15.88 | |
| ATSVAC2P203M | ST-SC DUPLEX SINGLEMODE FIBER OPTIC ASSEMBLIES, 3 METERS | $15.98 | |
| ATSVAC2P204M | ST-SC DUPLEX SINGLEMODE FIBER OPTIC ASSEMBLIES, 4 METERS | $17.88 | |
| ATSVAC2P205M | ST-SC DUPLEX SINGLEMODE FIBER OPTIC ASSEMBLIES, 5 METERS | $18.88 | |
| ATSVAC2P206M | ST-SC DUPLEX SINGLEMODE FIBER OPTIC ASSEMBLIES, 6 METERS | $19.98 | |
| ATSVAC2P207M | ST-SC DUPLEX SINGLEMODE FIBER OPTIC ASSEMBLIES, 7 METERS | $21.88 | |
| ATSVAC2P208M | ST-SC DUPLEX SINGLEMODE FIBER OPTIC ASSEMBLIES, 8 METERS | $21.98 | |
| ATSVAC2P209M | ST-SC DUPLEX SINGLEMODE FIBER OPTIC ASSEMBLIES, 9 METERS | $25.88 | |
| ATSVAC2P210M | ST-SC DUPLEX SINGLEMODE FIBER OPTIC ASSEMBLIES, 10 METERS | $27.88 | |
| ATSVAC2P215M | ST-SC DUPLEX SINGLEMODE FIBER OPTIC ASSEMBLIES, 15 METERS | $28.98 | |
| ATSVAC2P230M | ST-SC DUPLEX SINGLEMODE FIBER OPTIC PATCH CABLE,30 METERS | $39.98 | |
| ST-SC Patch Cables | American Data Supply Carries ST SC Duplex Singlmode Fiber Optic Patch Cables Up To 5,000 Feet | Call | |
| ATSVAC2P235M | ST-SC DUPLEX SINGLEMODE FIBER OPTIC ASSEMBLIES, 35 METERS | Call | |
| ATSVAC2P240M | ST-SC DUPLEX SINGLEMODE FIBER OPTIC ASSEMBLIES, 40 METERS | Call | |
| ATSVAC2P245M | ST-SC DUPLEX SINGLEMODE FIBER OPTIC PATCH CABLE,45 METERS | Call | |
| ATSVAC2P250M | ST-SC DUPLEX SINGLEMODE FIBER OPTIC ASSEMBLIES, 50 METERS | Call | |
| ATSVAC2P255M | ST-SC DUPLEX SINGLEMODE FIBER OPTIC ASSEMBLIES, 55 METERS | Call | |
| ATSVAC2P260M | ST-SC DUPLEX SINGLEMODE FIBER OPTIC ASSEMBLIES, 60 METERS | Call | |
| ATSVAC2P265M | ST-SC DUPLEX SINGLEMODE FIBER OPTIC ASSEMBLIES, 65 METERS | Call | |
| ATSVAC2P270M | ST-SC DUPLEX SINGLEMODE FIBER OPTIC ASSEMBLIES, 70 METERS | Call | |
| ATSVAC2P275M | ST-SC DUPLEX SINGLEMODE FIBER OPTIC ASSEMBLIES, 75 METERS | Call | |
| ATSVAC2P280M | ST-SC DUPLEX SINGLEMODE FIBER OPTIC ASSEMBLIES, 80 METERS | Call | |
| CALL FOR PRICES | American Data Supply Carries ST SC Duplex Singlmode Fiber Optic Patch Cables Up To 5,000 Feet | Call | |
| ATSVAC2P285M | ST-SC DUPLEX SINGLEMODE FIBER OPTIC ASSEMBLIES, 85 METERS | Call | |
| ATSVAC2P290M | ST-SCDUPLEX SINGLEMODE FIBER OPTIC ASSEMBLIES, 90 METERS | Call | |
| ATSVAC2P295M | ST-SC DUPLEX SINGLEMODE FIBER OPTIC ASSEMBLIES, 95 METERS | Call | |
| ATSVAC2P100 | ST-SC DUPLEX SINGLEMODE FIBER OPTIC ASSEMBLIES, 100 METERS | Call | |
| ATSVAC2P125 | ST-SC DUPLEX SINGLEMODE FIBER OPTIC ASSEMBLIES, 125 METERS | Call | |
| ATSVAC2P150 | ST-SC DUPLEX SINGLEMODE FIBER OPTIC ASSEMBLIES, 150 METERS | Call | |
| ATSVAC2P175 | ST-SC DUPLEX SINGLEMODE FIBER OPTIC ASSEMBLIES, 175 METERS | Call | |
| ATSVAC2P200 | ST-SC DUPLEX SINGLEMODE FIBER OPTIC ASSEMBLIES, 200 METERS | Call | |
| ATSVAC2P225 | ST-SC DUPLEX SINGLEMODE FIBER OPTIC ASSEMBLIES, 225 METERS | Call | |
| ATSVAC2P250 | ST-SC DUPLEX SINGLEMODE FIBER OPTIC ASSEMBLIES, 250 METERS | Call | |
| ATSVAC2P275 | ST-SC DUPLEX SINGLEMODE FIBER OPTIC ASSEMBLIES, 275 METERS | Call | |
| ATSVAC2P300 | ST-SC DUPLEX SINGLEMODE FIBER OPTIC ASSEMBLIES, 300 METERS | Call | |
| ATSVAC2P325 | ST-SC DUPLEX SINGLEMODE FIBER OPTIC ASSEMBLIES, 325 METERS | Call | |
| ATSVAC2P350 | ST-SC DUPLEX SINGLEMODE FIBER OPTIC ASSEMBLIES, 350 METERS | Call | |
| ATSVAC2P375 | ST-SCDUPLEX SINGLEMODE FIBER OPTIC ASSEMBLIES, 375 METERS | Call | |
| ATSVAC2P400 | ST-SC DUPLEX SINGLEMODE FIBER OPTIC ASSEMBLIES, 400 METERS | Call | |
| ATSVAC2P425 | ST-SC DUPLEX SINGLEMODE FIBER OPTIC ASSEMBLIES, 425 METERS | Call | |
| ATSVAC2P450 | ST-SC DUPLEX SINGLEMODE FIBER OPTIC ASSEMBLIES, 450 METERS | Call | |
| ATSVAC2P475 | ST-SCDUPLEX SINGLEMODE FIBER OPTIC ASSEMBLIES, 475 METERS | Call | |
| ATSVAC2P500 | ST-SC DUPLEX SINGLEMODE FIBER OPTIC ASSEMBLIES, 500 METERS | Call | |
| ATSVAC2P600 | ST-SC DUPLEX SINGLEMODE FIBER OPTIC ASSEMBLIES, 600 METERS | Call | |
| ATSVAC2P700 | ST-SC DUPLEX SINGLEMODE FIBER OPTIC ASSEMBLIES, 700 METERS | Call | |
| ATSVAC2P800 | ST-SC DUPLEX SINGLEMODE FIBER OPTIC ASSEMBLIES, 800 METERS | Call | |
| ATSVAC2P900 | ST-SC DUPLEX SINGLEMODE FIBER OPTIC ASSEMBLIES, 900 METERS | Call | |
| ATSVAC2P1000 | ST-SC DUPLEX SINGLEMODE FIBER OPTIC ASSEMBLIES, 1000 METERS | Call | |
| | American Data Supply Carries ST SC Duplex Singlmode Fiber Optic Patch Cables Up To 5,000 Feet | | |
| | |
| --- | --- |
| | LC-LC DUPLEX SINGLEMODE FIBER OPTIC ASSEMBLIES |
| | | | |
| --- | --- | --- | --- |
| LC-LC Patch Cables | American Data Supply Carries LC-LC Duplex Singlmode Fiber Optic Patch Cables Up To 5,000 Feet | | |
| ATSV662P201M | LC-LC DUPLEX SINGLEMODE FIBER OPTIC ASSEMBLIES, 1 METER | $30.30 | |
| ATSV662P202M | LC-LC DUPLEX SINGLEMODE FIBER OPTIC ASSEMBLIES, 2 METERS | $30.88 | |
| ATSV662P203M | LC-LC DUPLEX SINGLEMODE FIBER OPTIC ASSEMBLIES, 3 METERS | $31.88 | |
| ATSV662P204M | LC-LC DUPLEX SINGLEMODE FIBER OPTIC ASSEMBLIES, 4 METERS | $32.58 | |
| ATSV662P205M | LC-LC DUPLEX SINGLEMODE FIBER OPTIC ASSEMBLIES, 5 METERS | $32.98 | |
| ATSV662P206M | LC-LC DUPLEX SINGLEMODE FIBER OPTIC ASSEMBLIES, 6 METERS | $33.28 | |
| ATSV662P207M | LC-LC DUPLEX SINGLEMODE FIBER OPTIC ASSEMBLIES, 7 METERS | $34.28 | |
| ATSV662P208M | LC-LC DUPLEX SINGLEMODE FIBER OPTIC ASSEMBLIES, 8 METERS | $37.28 | |
| ATSV662P209M | LC-LC DUPLEX SINGLEMODE FIBER OPTIC ASSEMBLIES, 9 METERS | $37.88 | |
| ATSV662P210M | LC-LC DUPLEX SINGLEMODE FIBER OPTIC ASSEMBLIES, 10 METERS | $37.98 | |
| ATSV662P215M | LC-LC DUPLEX SINGLEMODE FIBER OPTIC ASSEMBLIES, 15 METERS | $38.98 | |
| ATSV662P220M | LC-LC DUPLEX SINGLEMODE FIBER OPTIC ASSEMBLIES, 20 METERS | $41.98 | |
| LC-LC Patch Cables | American Data Supply Carries LC LC Duplex Singlmode Fiber Optic Patch Cables Up To 5,000 Feet | Call | |
| ATSV662P225M | LC-LC DUPLEX SINGLEMODE FIBER OPTIC ASSEMBLIES, 25 METERS | Call | |
| ATSV662P230M | LC-LC DUPLEX SINGLEMODE FIBER OPTIC ASSEMBLIES, 30 METERS | Call | |
| ATSV662P235M | LC-LC DUPLEX SINGLEMODE FIBER OPTIC ASSEMBLIES, 35 METERS | Call | |
| ATSV662P240M | LC-LC DUPLEX SINGLEMODE FIBER OPTIC ASSEMBLIES, 40METERS | Call | |
| ATSV662P245M | LC-LC DUPLEX SINGLEMODE FIBER OPTIC PATCH CABLE 45 METERS | Call | |
| ATSV662P250M | LC-LC DUPLEX SINGLEMODE FIBER OPTIC ASSEMBLIES, 50 METERS | Call | |
| ATSV662P255M | LC-LC DUPLEX SINGLEMODE FIBER OPTIC ASSEMBLIES, 55 METERS | Call | |
| ATSV662P256M | LC-LC DUPLEX SINGLEMODE FIBER OPTIC ASSEMBLIES, 60 METERS | Call | |
| ATSV662P215M | LC-LC DUPLEX SINGLEMODE FIBER OPTIC ASSEMBLIES, 65 METERS | Call | |
| ATSV662P220M | LC-LC DUPLEX SINGLEMODE FIBER OPTIC ASSEMBLIES, 70METERS | Call | |
| CALL FOR PRICES | American Data Supply Carries LC LC Duplex Singlmode Fiber Optic Patch Cables Up To 5,000 Feet | Call | |
| ATSV662P203M | LC-LC DUPLEX SINGLEMODE FIBER OPTIC ASSEMBLIES, 75 METERS | Call | |
| ATSV662P204M | LC-LC DUPLEX SINGLEMODE FIBER OPTIC ASSEMBLIES, 80 METERS | Call | |
| ATSV662P205M | LC-LC DUPLEX SINGLEMODE FIBER OPTIC ASSEMBLIES, 85 METERS | Call | |
| ATSV662P206M | LC-LC DUPLEX SINGLEMODE FIBER OPTIC ASSEMBLIES, 90 METERS | Call | |
| ATSV662P207M | LC-LC DUPLEX SINGLEMODE FIBER OPTIC ASSEMBLIES, 95 METERS | Call | |
| ATSV662P100 | LC-LC DUPLEX SINGLEMODE FIBER OPTIC ASSEMBLIES, 100 METERS | Call | |
| ATSV662P125 | LC-LC DUPLEX SINGLEMODE FIBER OPTIC ASSEMBLIES, 125 METERS | Call | |
| ATSV662P150 | LC-LC DUPLEX SINGLEMODE FIBER OPTIC ASSEMBLIES, 150 METERS | Call | |
| ATSV662P175 | LC-LC DUPLEX SINGLEMODE FIBER OPTIC ASSEMBLIES, 175 METERS | Call | |
| ATSV662P200 | LC-LC DUPLEX SINGLEMODE FIBER OPTIC ASSEMBLIES, 200 METERS | Call | |
| CALL FOR PRICES | American Data Supply Carries LC LC Duplex Singlmode Fiber Optic Patch Cables Up To 5,000 Feet | Call | |
| ATSV662P225 | LC-LC DUPLEX SINGLEMODE FIBER OPTIC ASSEMBLIES, 225 METERS | Call | |
| ATSV662P250 | LC-LC DUPLEX SINGLEMODE FIBER OPTIC ASSEMBLIES, 250 METERS | Call | |
| ATSV662P275 | LC-LC DUPLEX SINGLEMODE FIBER OPTIC ASSEMBLIES, 275 METERS | Call | |
| ATSV662P300 | LC-LC DUPLEX SINGLEMODE FIBER OPTIC ASSEMBLIES, 300 METERS | Call | |
| ATSV662P325 | LC-LC DUPLEX SINGLEMODE FIBER OPTIC ASSEMBLIES, 325 METERS | Call | |
| ATSV662P350 | LC-LC DUPLEX SINGLEMODE FIBER OPTIC ASSEMBLIES, 350 METERS | Call | |
| ATSV662P375 | LC-LC DUPLEX SINGLEMODE FIBER OPTIC ASSEMBLIES, 375 METERS | Call | |
| ATSV662P400 | LC-LC DUPLEX SINGLEMODE FIBER OPTIC ASSEMBLIES, 400 METERS | Call | |
| ATSV662P425 | LC-LC DUPLEX SINGLEMODE FIBER OPTIC ASSEMBLIES, 425METERS | Call | |
| ATSV662P450 | LC-LC DUPLEX SINGLEMODE FIBER OPTIC ASSEMBLIES, 450 METERS | Call | |
| ATSV662P475 | LC-LC DUPLEX SINGLEMODE FIBER OPTIC ASSEMBLIES, 475 METERS | Call | |
| ATSV662P500 | LC-LC DUPLEX SINGLEMODE FIBER OPTIC ASSEMBLIES, 500 METERS | Call | |
| ATSV662P600 | LC-LC DUPLEX SINGLEMODE FIBER OPTIC ASSEMBLIES, 600 METERS | Call | |
| ATSV662P700 | LC-LC DUPLEX SINGLEMODE FIBER OPTIC ASSEMBLIES, 700 METERS | Call | |
| ATSV662P800 | LC-LC DUPLEX SINGLEMODE FIBER OPTIC ASSEMBLIES, 800 METERS | Call | |
| ATSV662P900 | LC-LC DUPLEX SINGLEMODE FIBER OPTIC ASSEMBLIES, 900 METERS | Call | |
| ATSV662P1000 | LC-LC DUPLEX SINGLEMODE FIBER OPTIC ASSEMBLIES, 1000 METERS | Call | |
| | American Data Supply Carries LC-LC Duplex Singlmode Fiber Optic Patch Cables Up To 5,000 Feet | | |
| | |
| --- | --- |
| | LC-SC DUPLEX SINGLEMODE FIBER OPTIC ASSEMBLIES |
| | | | |
| --- | --- | --- | --- |
| LC-SC Patch Cables | American Data Supply Carries LC-SC Duplex Singlmode Fiber Optic Patch Cables Up To 5,000 Feet | Price | Order |
| ATSV62P101M | LC-SC DUPLEX SINGLEMODE FIBER OPTIC ASSEMBLIES, 1 METER | $25.98 | |
| ATSV62P102M | LC-SC DUPLEX SINGLEMODE FIBER OPTIC ASSEMBLIES, 2 METERS | $26.28 | |
| ATSV62P103M | LC-SC DUPLEX SINGLEMODE FIBER OPTIC ASSEMBLIES, 3 METERS | $26.48 | |
| ATSV62P104M | LC-SC DUPLEX SINGLEMODE FIBER OPTIC ASSEMBLIES, 4 METERS | $27.08 | |
| ATSV62P105M | LC-SC DUPLEX SINGLEMODE FIBER OPTIC ASSEMBLIES, 5 METERS | $27.27 | |
| ATSV62P106M | LC-SC DUPLEX SINGLEMODE FIBER OPTIC ASSEMBLIES, 6 METERS | $28.38 | |
| ATSV62P107M | LC-SC DUPLEX SINGLEMODE FIBER OPTIC ASSEMBLIES, 7 METERS | $28.88 | |
| ATSV62P108M | LC-SC DUPLEX SINGLEMODE FIBER OPTIC ASSEMBLIES, 8 METERS | $28.98 | |
| ATSV62P109M | LC-SC DUPLEX SINGLEMODE FIBER OPTIC ASSEMBLIES, 9 METERS | $29.98 | |
| ATSV62P110M | LC-SC DUPLEX SINGLEMODE FIBER OPTIC ASSEMBLIES, 10 METERS | $31.88 | |
| ATSV62P115M | LC-SC DUPLEX SINGLEMODE FIBER OPTIC PATCH CABLE,15 METERS | $34.88 | |
| ATSV62P130M | LC-SC DUPLEX SINGLEMODE FIBER OPTIC ASSEMBLIES, 30 METERS | $37.38 | |
| | | | |
| LC-SC Patch Cables | American Data Supply Carries LC SC Duplex Singlmode Fiber Optic Patch Cables Up To 5,000 Feet | Call | |
| ATSV62P135M | LC-SC DUPLEX SINGLEMODE FIBER OPTIC ASSEMBLIES, 35 METER | Call | |
| ATSV62P140M | LC-SC DUPLEX SINGLEMODE FIBER OPTIC ASSEMBLIES, 40 METERS | Call | |
| ATSV62P145M | LC-SC DUPLEX SINGLEMODE FIBER OPTIC ASSEMBLIES, 45 METERS | Call | |
| ATSV62P150M | LC-SC DUPLEX SINGLEMODE FIBER OPTIC ASSEMBLIES, 50 METERS | Call | |
| ATSV62P155M | LC-SC DUPLEX SINGLEMODE FIBER OPTIC ASSEMBLIES, 55 METERS | Call | |
| ATSV62P160M | LC-SC DUPLEX SINGLEMODE FIBER OPTIC ASSEMBLIES, 60 METERS | Call | |
| ATSV62P165M | LC-SC DUPLEX SINGLEMODE FIBER OPTIC ASSEMBLIES, 65 METERS | Call | |
| ATSV62P170M | LC-SC DUPLEX SINGLEMODE FIBER OPTIC ASSEMBLIES, 70 METERS | Call | |
| ATSV62P175M | LC-SC DUPLEX SINGLEMODE FIBER OPTIC ASSEMBLIES, 75 METERS | Call | |
| ATSV62P180M | LC-SC DUPLEX SINGLEMODE FIBER OPTIC PATCH CABLE,80 METERS | Call | |
| ATSV62P185M | LC-SC DUPLEX SINGLEMODE FIBER OPTIC PATCH CABLE,85METERS | Call | |
| ATSV62P190M | LC-SC DUPLEX SINGLEMODE FIBER OPTIC ASSEMBLIES, 90 METERS | Call | |
| ATSV662P204M | American Data Supply Carries LC SC Duplex Singlmode Fiber Optic Patch Cables Up To 5,000 Feet | Call | |
| ATSV62P100 | LC-LC DUPLEX SINGLEMODE FIBER OPTIC ASSEMBLIES, 100 METERS | Call | |
| ATSV62P125 | LC-SC DUPLEX SINGLEMODE FIBER OPTIC PATCH CABLE,125 METER | Call | |
| ATSV62P150 | LC-SC DUPLEX SINGLEMODE FIBER OPTIC PATCH CABLE,150 METERS | Call | |
| ATSV62P175 | LC-SC DUPLEX SINGLEMODE FIBER OPTIC ASSEMBLIES, 175 METERS | Call | |
| ATSV62P200 | LC-SC DUPLEX SINGLEMODE FIBER OPTIC ASSEMBLIES, 200 METERS | Call | |
| ATSV62P225 | LC-SC DUPLEX SINGLEMODE FIBER OPTIC ASSEMBLIES, 225 METERS | Call | |
| ATSV62P250 | LC-SC DUPLEX SINGLEMODE FIBER OPTIC PATCH CABLE,250METERS | Call | |
| ATSV62P275 | LC-SC DUPLEX SINGLEMODE FIBER OPTIC ASSEMBLIES, 275METERS | Call | |
| ATSV62P300 | LC-SC DUPLEX SINGLEMODE FIBER OPTIC ASSEMBLIES, 300 METERS | Call | |
| ATSV62P325 | LC-SC DUPLEX SINGLEMODE FIBER OPTIC ASSEMBLIES, 325 METERS | Call | |
| ATSV62P350 | LC-SC DUPLEX SINGLEMODE FIBER OPTIC ASSEMBLIES, 350 METERS | Call | |
| ATSV62P375 | LC-SC DUPLEX SINGLEMODE FIBER OPTIC PATCH CABLE,375 METERS | Call | |
| ATSV62P400 | LC-SC DUPLEX SINGLEMODE FIBER OPTIC ASSEMBLIES, 400 METERS | Call | |
| | American Data Supply Carries LC SCDuplex Singlmode Fiber Optic Patch Cables Up To 5,000 Feet | Call | |
| ATSV62P425 | LC-SC DUPLEX SINGLEMODE FIBER OPTIC ASSEMBLIES, 425 METERS | Call | |
| ATSV62P450 | LC-SCDUPLEX SINGLEMODE FIBER OPTIC ASSEMBLIES, 450 METERS | Call | |
| ATSV62P475 | LC-SC DUPLEX SINGLEMODE FIBER OPTIC ASSEMBLIES, 475 METERS | Call | |
| ATSV62P500 | LC-SC DUPLEX SINGLEMODE FIBER OPTIC ASSEMBLIES, 500 METERS | Call | |
| ATSV62P525 | LC-SC DUPLEX SINGLEMODE FIBER OPTIC ASSEMBLIES, 525 METERS | Call | |
| ATSV62P550 | LC-SC DUPLEX SINGLEMODE FIBER OPTIC ASSEMBLIES, 550 METERS | Call | |
| ATSV62P575 | LC-SC DUPLEX SINGLEMODE FIBER OPTIC ASSEMBLIES, 575 METERS | Call | |
| ATSV62P600 | LC-SC DUPLEX SINGLEMODE FIBER OPTIC ASSEMBLIES, 600 METERS | Call | |
| ATSV62P700 | LC-SC DUPLEX SINGLEMODE FIBER OPTIC ASSEMBLIES, 700 METERS | Call | |
| ATSV62P800 | LC-SC DUPLEX SINGLEMODE FIBER OPTIC ASSEMBLIES, 800 METERS | Call | |
| ATSV62P900 | LC-SC DUPLEX SINGLEMODE FIBER OPTIC ASSEMBLIES, 900 METERS | Call | |
| ATSV62P1000 | LC-SC DUPLEX SINGLEMODE FIBER OPTIC ASSEMBLIES, 1000 METERS | Call | |
| | American Data Supply Carries LC-SC Duplex Singlmode Fiber Optic Patch Cables Up To 5,000 Feet | | |
| | |
| --- | --- |
| | LC-ST DUPLEX SINGLEMODE FIBER OPTIC ASSEMBLIES |
| | | | |
| --- | --- | --- | --- |
| LC-ST Patch Cables | American Data Supply Carries LC-ST Duplex Singlmode Fiber Optic Patch Cables Up To 5,000 Feet | Price | Order |
| ATSV6A2P201M | LC-ST DUPLEX SINGLEMODE FIBER OPTIC PATCH CABLES,1 METER | $24.88 | |
| ATSV6A2P202M | LC-ST DUPLEX SINGLEMODE FIBER OPTIC PATCH CABLES, 2 METERS | $24.98 | |
| ATSV6A2P203M | LC-ST DUPLEX SINGLEMODE FIBER OPTIC PATCH CABLES, 3 METERS | $25.08 | |
| ATSV6A2P204M | LC-ST DUPLEX SINGLEMODE FIBER OPTIC PATCH CABLES, 4 METERS | $25.98 | |
| ATSV6A2P205M | LC-ST DUPLEX SINGLEMODE FIBER OPTIC PATCH CABLES, 5 METERS | $26.68 | |
| ATSV6A2P206M | LC-ST DUPLEX SINGLEMODE FIBER OPTIC PATCH CABLES, 6 METERS | $27.28 | |
| ATSV6A2P207M | LC-ST DUPLEX SINGLEMODE FIBER OPTIC PATCH CABLES, 7 METERS | $28.78 | |
| ATSV6A2P208M | LC-ST DUPLEX SINGLEMODE FIBER OPTIC PATCH CABLES, 8 METERS | $28.98 | |
| ATSV6A2P209M | LC-ST DUPLEX SINGLEMODE FIBER OPTIC PATCH CABLES, 9 METERS | $29.99 | |
| ATSV6A2P210M | LC-ST DUPLEX SINGLEMODE FIBER OPTIC PATCH CABLES, 10 METERS | $30.10 | |
| ATSV6A2P215M | LC-ST DUPLEX SINGLEMODE FIBER OPTIC PATCH CABLES, 15 METERS | $33.38 | |
| ATSV6A2P220M | LC-ST DUPLEX SINGLEMODE FIBER OPTIC PATCH CABLES, 20 METERS | $35.08 | |
| | | | |
| LC-STPatch Cables | American Data Supply Carries LC ST Duplex Singlmode Fiber Optic Patch Cables Up To 5,000 Feet | Call | |
| ATSV6A2P135M | LC-ST DUPLEX SINGLEMODE FIBER OPTIC PATCH CABLES, 35 METER | Call | |
| ATSV6A2P140M | LC-ST DUPLEX SINGLEMODE FIBER OPTIC PATCH CABLES, 40 METERS | Call | |
| ATSV6A2P145M | LC-ST DUPLEX SINGLEMODE FIBER OPTIC PATCH CABLES, 45 METERS | Call | |
| ATSV6A2P150M | LC-ST DUPLEX SINGLEMODE FIBER OPTIC PATCH CABLES, 50 METERS | Call | |
| ATSV6A2P155M | LC-ST DUPLEX SINGLEMODE FIBER OPTIC PATCH CABLES, 55 METERS | Call | |
| ATSV6A2P160M | LC-ST DUPLEX SINGLEMODE FIBER OPTIC PATCH CABLES, 60 METERS | Call | |
| ATSV6A2P165M | LC-ST DUPLEX SINGLEMODE FIBER OPTIC PATCH CABLES, 65 METERS | Call | |
| ATSV6A2P170M | LC-ST DUPLEX SINGLEMODE FIBER OPTIC PATCH CABLES, 70 METERS | Call | |
| ATSV6A2P175M | LC-ST DUPLEX SINGLEMODE FIBER OPTIC PATCH CABLES, 75 METERS | Call | |
| ATSV6A2P180M | LC-ST DUPLEX SINGLEMODE FIBER OPTIC PATCH CABLES,80 METERS | Call | |
| ATSV6A2P185M | LC-ST DUPLEX SINGLEMODE FIBER OPTIC PATCH CABLES, 85METERS | Call | |
| ATSV6A2P190M | LC-ST DUPLEX SINGLEMODE FIBER OPTIC PATCH CABLES, 90 METERS | Call | |
| ATSV662P204M | American Data Supply Carries LC ST Duplex Singlmode Fiber Optic Patch Cables Up To 5,000 Feet | Call | |
| ATSV6A2P100 | LC-ST DUPLEX SINGLEMODE FIBER OPTIC PATCH CABLES, 100 METERS | Call | |
| ATSV6A2P125 | LC-ST DUPLEX SINGLEMODE FIBER OPTIC PATCH CABLES,125 METER | Call | |
| ATSV6A2P150 | LC-ST DUPLEX SINGLEMODE FIBER OPTIC PATCH CABLES150 METERS | Call | |
| ATSV6A2P175 | LC-ST DUPLEX SINGLEMODE FIBER OPTIC PATCH CABLES, 175 METERS | Call | |
| ATSV6A2P200 | LC-ST DUPLEX SINGLEMODE FIBER OPTIC PATCH CABLES, 200 METERS | Call | |
| ATSV6A2P225 | LC-ST DUPLEX SINGLEMODE FIBER OPTIC PATCH CABLES, 225 METERS | Call | |
| ATSV6A2P250 | LC-ST DUPLEX SINGLEMODE FIBER OPTIC PATCH CABLES,250METERS | Call | |
| ATSV6A2P275 | LC-ST DUPLEX SINGLEMODE FIBER OPTIC PATCH CABLES, 275METERS | Call | |
| ATSV6A2P300 | LC-ST DUPLEX SINGLEMODE FIBER OPTIC PATCH CABLES, 300 METERS | Call | |
| ATSV6A2P325 | LC-ST DUPLEX SINGLEMODE FIBER OPTIC PATCH CABLES, 325 METERS | Call | |
| ATSV6A2P350 | LC-ST DUPLEX SINGLEMODE FIBER OPTIC PATCH CABLES, 350 METERS | Call | |
| ATSV6A2P375 | LC-ST DUPLEX SINGLEMODE FIBER OPTIC PATCH CABLES,375 METERS | Call | |
| ATSV6A2P400 | LC-ST DUPLEX SINGLEMODE FIBER OPTIC PATCH CABLES, 400 METERS | Call | |
| | American Data Supply Carries LC ST Duplex Singlmode Fiber Optic Patch Cables Up To 5,000 Feet | Call | |
| ATSV6A2P425 | LC-SC DUPLEX SINGLEMODE FIBER OPTIC ASSEMBLIES, 425 METERS | Call | |
| ATSV6A2P450 | LC-SC DUPLEX SINGLEMODE FIBER OPTIC ASSEMBLIES, 450 METERS | Call | |
| ATSV6A2P475 | LC-SC DUPLEX SINGLEMODE FIBER OPTIC ASSEMBLIES, 475 METERS | Call | |
| ATSV6A2P500 | LC-SCDUPLEX SINGLEMODE FIBER OPTIC ASSEMBLIES, 500 METERS | Call | |
| ATSV6A2P525 | LC-SC DUPLEX SINGLEMODE FIBER OPTIC ASSEMBLIES, 525 METERS | Call | |
| ATSV6A2P550 | LC-SC DUPLEX SINGLEMODE FIBER OPTIC ASSEMBLIES, 550 METERS | Call | |
| ATSV6A2P575 | LC-SC DUPLEX SINGLEMODE FIBER OPTIC ASSEMBLIES, 575 METERS | Call | |
| ATSV6A2P600 | LC-SC DUPLEX SINGLEMODE FIBER OPTIC ASSEMBLIES, 600 METERS | Call | |
| ATSV6A2P700 | LC-SC DUPLEX SINGLEMODE FIBER OPTIC ASSEMBLIES, 700 METERS | Call | |
| ATSV6A2P800 | LC-SC DUPLEX SINGLEMODE FIBER OPTIC ASSEMBLIES, 800 METERS | Call | |
| ATSV6A2P900 | LC-SC DUPLEX SINGLEMODE FIBER OPTIC ASSEMBLIES, 900 METERS | Call | |
| ATSV6A2P1000 | LC-SC DUPLEX SINGLEMODE FIBER OPTIC ASSEMBLIES, 1000 METERS | Call | |
| | American Data Supply Carries LC-ST Duplex Singlmode Fiber Optic Patch Cables Up To 5,000 Feet | | |
| | |
| --- | --- |
| | LC-LC Duplex 62.5 Multimode Fiber Optic Assemblies |
| | | | |
| --- | --- | --- | --- |
| LC-ST Patch Cables | American Data Supply Carries LC-LC Duplex Multimode Fiber Optic Patch Cables Up To 5,000 Feet | Price | Order |
| ATSV662P101M | LC- LC DUPLEX MULTIMODE 62.5 MULTIMODE FIBER OPTIC ASSEMBLIES, 1 METER | $18.88 | |
| ATSV662P102M | LC- LC DUPLEX MULTIMODE 62.5 MULTIMODE FIBER OPTIC ASSEMBLIES, 2 METERS | $18.98 | |
| ATSV662P103M | LC- LC DUPLEX MULTIMODE 62.5 MULTIMODE FIBER OPTIC ASSEMBLIES, 3 METERS | $19.98 | |
| ATSV662P104M | LC- LC DUPLEX MULTIMODE 62.5 MULTIMODE FIBER OPTIC ASSEMBLIES, 4 METERS | $21.88 | |
| ATSV662P105M | LC- LC DUPLEX MULTIMODE 62.5 MULTIMODE FIBER OPTIC ASSEMBLIES, 5 METERS | $23.88 | |
| ATSV662P106M | LC- LC DUPLEX MULTIMODE 62.5 MULTIMODE FIBER OPTIC ASSEMBLIES, 6 METERS | $23.98 | |
| ATSV662P107M | LC- LC DUPLEX MULTIMODE 62.5 MULTIMODE FIBER OPTIC ASSEMBLIES, 7 METERS | $24.78 | |
| ATSV662P108M | LC- LC DUPLEX MULTIMODE 62.5 MULTIMODE FIBER OPTIC ASSEMBLIES, 8 METERS | $25.98 | |
| ATSV662P109M | LC- LC DUPLEX MULTIMODE 62.5 MULTIMODE FIBER OPTIC ASSEMBLIES, 9 METERS | $26.98 | |
| ATSV662P110M | LC- LC DUPLEX MULTIMODE 62.5 MULTIMODE FIBER OPTIC ASSEMBLIES, 10 METERS | $27.00 | |
| ATSV662P115M | LC- LC DUPLEX MULTIMODE 62.5 MULTIMODE FIBER OPTIC PATCH CABLE,15 METERS | $29.28 | |
| ATSV662P130M | LC- LC DUPLEX MULTIMODE 62.5 MULTIMODE FIBER OPTIC ASSEMBLIES, 30 METERS | $45.88 | |
| | | | |
| LC-SC Patch Cables | American Data Supply Carries LC ST Duplex MULTIMODE Fiber Optic Patch Cables Up To 5,000 Feet | Call | |
| ATSV662P135M | LC- LC DUPLEX MULTIMODE 62.5 MULTIMODE FIBER OPTIC ASSEMBLIES, 35 METER | Call | |
| ATSV662P140M | LC- LC DUPLEX MULTIMODE 62.5 MULTIMODE FIBER OPTIC ASSEMBLIES, 40 METERS | Call | |
| ATSV662P145M | LC- LC DUPLEX MULTIMODE 62.5 MULTIMODE FIBER OPTIC ASSEMBLIES, 45 METERS | Call | |
| ATSV662P150M | LC- LC DUPLEX MULTIMODE 62.5 MULTIMODE FIBER OPTIC ASSEMBLIES, 50 METERS | Call | |
| ATSV662P155M | LC- LC DUPLEX MULTIMODE 62.5 MULTIMODE FIBER OPTIC ASSEMBLIES, 55 METERS | Call | |
| ATSV662P160M | LC- LC DUPLEX MULTIMODE 62.5 MULTIMODE FIBER OPTIC ASSEMBLIES, 60 METERS | Call | |
| ATSV662P165M | LC- LC DUPLEX MULTIMODE 62.5 MULTIMODE FIBER OPTIC ASSEMBLIES, 65 METERS | Call | |
| ATSV662P170M | LC- LC DUPLEX MULTIMODE 62.5 MULTIMODE FIBER OPTIC ASSEMBLIES, 70 METERS | Call | |
| ATSV662P175M | LC- LC DUPLEX MULTIMODE 62.5 MULTIMODE FIBER OPTIC ASSEMBLIES, 75 METERS | Call | |
| ATSV662P180M | LC- LC DUPLEX MULTIMODE 62.5 MULTIMODE FIBER OPTIC PATCH CABLE,80 METERS | Call | |
| ATSV662P185M | LC- LC DUPLEX MULTIMODE 62.5 MULTIMODE FIBER OPTIC ASSEMBLIES, 85METERS | Call | |
| ATSV662P190M | LC- LC DUPLEX MULTIMODE 62.5 MULTIMODE FIBER OPTIC ASSEMBLIES, 90 METERS | Call | |
| | American Data Supply Carries LC LC Duplex MULTIMODE Fiber Optic Patch Cables Up To 5,000 Feet | Call | |
| ATSV662P100 | LC- LC DUPLEX MULTIMODE 62.5 MULTIMODE FIBER OPTIC PATCH CABLES, 100 METERS | Call | |
| ATSV662P125 | LC- LC DUPLEX MULTIMODE 62.5 MULTIMODE FIBER OPTIC ASSEMBLIES, 125 METER | Call | |
| ATSV662P150 | LC- LC DUPLEX MULTIMODE 62.5 MULTIMODE FIBER OPTIC PATCH CABLE,150 METERS | Call | |
| ATSV662P175 | LC- LC DUPLEX MULTIMODE 62.5 MULTIMODE FIBER OPTIC ASSEMBLIES, 175 METERS | Call | |
| ATSV662P200 | LC- LC DUPLEX MULTIMODE 62.5 MULTIMODE FIBER OPTIC ASSEMBLIES, 200 METERS | Call | |
| ATSV662P225 | LC- LC DUPLEX MULTIMODE 62.5 MULTIMODE FIBER OPTIC ASSEMBLIES, 225 METERS | Call | |
| ATSV662P250 | LC- LC DUPLEX MULTIMODE 62.5 MULTIMODE FIBER OPTIC PATCH CABLE,250METERS | Call | |
| ATSV662P275 | LC- LC DUPLEX MULTIMODE 62.5 MULTIMODE FIBER OPTIC ASSEMBLIES, 275METERS | Call | |
| ATSV662P300 | LC- LC DUPLEX MULTIMODE 62.5 MULTIMODE FIBER OPTIC ASSEMBLIES, 300 METERS | Call | |
| ATSV662P325 | LC- LC DUPLEX MULTIMODE 62.5 MULTIMODE FIBER OPTIC ASSEMBLIES, 325 METERS | Call | |
| ATSV662P350 | LC- LC DUPLEX MULTIMODE 62.5 MULTIMODE FIBER OPTIC ASSEMBLIES, 350 METERS | Call | |
| ATSV662P375 | LC- LC DUPLEX MULTIMODE 62.5 MULTIMODE FIBER OPTIC PATCH CABLE,375 METERS | Call | |
| ATSV662P400 | LC- LC DUPLEX MULTIMODE 62.5 MULTIMODE FIBER OPTIC ASSEMBLIES, 400 METERS | Call | |
| | American Data Supply Carries LC LC Duplex MULTIMODE Fiber Optic Patch Cables Up To 5,000 Feet | Call | |
| ATSV662P425 | LC-LC DUPLEX MULTIMODE 62.5/125 FIBER OPTIC PATCH CABLE OPTIC PATCH CABLE, 425 METERS | Call | |
| ATSV662P450 | LC-LC DUPLEX MULTIMODE 62.5/125 FIBER OPTIC PATCH CABLE OPTIC PATCH CABLE, 450 METERS | Call | |
| ATSV662P475 | LC-LC DUPLEX MULTIMODE 62.5/125 FIBER OPTIC PATCH CABLE OPTIC PATCH CABLE, 475 METERS | Call | |
| ATSV662P500 | LC-LC DUPLEX MULTIMODE 62.5/125 FIBER OPTIC PATCH CABLE OPTIC PATCH CABLE, 500 METERS | Call | |
| ATSV662P525 | LC-LC DUPLEX MULTIMODE 62.5/125 FIBER OPTIC PATCH CABLE OPTIC PATCH CABLE, 525 METERS | Call | |
| ATSV662P550 | LC-LC DUPLEX MULTIMODE 62.5/125 FIBER OPTIC PATCH CABLE OPTIC PATCH CABLE, 550 METERS | Call | |
| ATSV662P575 | LC-LC DUPLEX MULTIMODE 62.5/125 FIBER OPTIC PATCH CABLE OPTIC PATCH CABLE, 575 METERS | Call | |
| ATSV662P600 | LC-LC DUPLEX MULTIMODE 62.5/125 FIBER OPTIC PATCH CABLE OPTIC PATCH CABLE, 600 METERS | Call | |
| ATSV662P700 | LC-LC DUPLEX MULTIMODE 62.5/125 FIBER OPTIC PATCH CABLE OPTIC PATCH CABLE, 700 METERS | Call | |
| ATSV662P800 | LC-LC DUPLEX MULTIMODE 62.5/125 FIBER OPTIC PATCH CABLE OPTIC PATCH CABLE, 800 METERS | Call | |
| ATSV662P900 | LC-LC DUPLEX MULTIMODE 62.5/125 FIBER OPTIC PATCH CABLE OPTIC PATCH CABLE, 900 METERS | Call | |
| ATSV662P1000 | LC-LC DUPLEX MULTIMODE 62.5/125 FIBER OPTIC PATCH CABLE OPTIC PATCH CABLE, 1000 METERS | Call | |
| | American Data Supply Carries LC-LC Duplex Multimode Fiber Optic Patch Cables Up To 5,000 Feet | | |
| | |
| --- | --- |
| | LC-SC Duplex 62.5 Multimode Fiber Optic Assemblies |
| | | | |
| --- | --- | --- | --- |
| LC-SC Patch Cables | American Data Supply Carries LC-ST Duplex Singlmode Fiber Optic Patch Cables Up To 5,000 Feet | Price | Order |
| ATSV62P101M | LC-SC DUPLEX 62.5/125 MULTIMODE FIBER OPTIC ASSEMBLIES, 1 METER | $16.88 | |
| ATSV62P102M | LC-SC DUPLEX 62.5/125 MULTIMODE FIBER OPTIC ASSEMBLIES, 2 METERS | $17.88 | |
| ATSV62P103M | LC-SC DUPLEX 62.5/125 MULTIMODE FIBER OPTIC ASSEMBLIES, 3 METERS | $18.88 | |
| ATSV62P104M | LC-SC DUPLEX 62.5/125 MULTIMODE FIBER OPTIC ASSEMBLIES, 4 METERS | $20.88 | |
| ATSV62P105M | LC-SC DUPLEX 62.5/125 MULTIMODE FIBER OPTIC ASSEMBLIES, 5 METERS | $22.88 | |
| ATSV62P106M | LC-SC DUPLEX 62.5/125 MULTIMODE FIBER OPTIC ASSEMBLIES, 6 METERS | $23.88 | |
| ATSV62P107M | LC-SC DUPLEX 62.5/125 MULTIMODE FIBER OPTIC ASSEMBLIES, 7 METERS | $24.88 | |
| ATSV62P108M | LC-SC DUPLEX 62.5/125 MULTIMODE FIBER OPTIC ASSEMBLIES, 8 METERS | $25.88 | |
| ATSV62P109M | LC-SC DUPLEX 62.5/125 MULTIMODE FIBER OPTIC ASSEMBLIES, 9 METERS | $26.88 | |
| ATSV62P110M | LC-SC DUPLEX 62.5/125 MULTIMODE FIBER OPTIC ASSEMBLIES, 10 METERS | $26.98 | |
| ATSV62P115M | LC-SC DUPLEX 62.5/125 MULTIMODE FIBER OPTIC PATCH CABLE,15 METERS | $27.98 | |
| ATSV62P130M | LC-SC DUPLEX 62.5/125 MULTIMODE FIBER OPTIC ASSEMBLIES, 30 METERS | $48.88 | |
| | | | |
| LC-SC Patch Cables | American Data Supply Carries LC SC Duplex Multimode Fiber Optic Patch Cables Up To 5,000 Feet | Call | |
| ATSV62P135M | LC-SC DUPLEX 62.5/125 MULTIMODE FIBER OPTIC ASSEMBLIES, 35 METER | Call | |
| ATSV62P140M | LC-SC DUPLEX 62.5/125 MULTIMODE FIBER OPTIC ASSEMBLIES, 40 METERS | Call | |
| ATSV62P145M | LC-SC DUPLEX 62.5/125 MULTIMODE FIBER OPTIC ASSEMBLIES, 45 METERS | Call | |
| ATSV62P150M | LC-SC DUPLEX 62.5/125 MULTIMODE FIBER OPTIC ASSEMBLIES, 50 METERS | Call | |
| ATSV62P155M | LC-SC DUPLEX 62.5/125 MULTIMODE FIBER OPTIC ASSEMBLIES, 55 METERS | Call | |
| ATSV62P160M | LC-SC DUPLEX 62.5/125 MULTIMODE FIBER OPTIC ASSEMBLIES, 60 METERS | Call | |
| ATSV62P165M | LC-SC DUPLEX 62.5/125 MULTIMODE FIBER OPTIC ASSEMBLIES, 65 METERS | Call | |
| ATSV62P170M | LC-SC DUPLEX 62.5/125 MULTIMODE FIBER OPTIC ASSEMBLIES, 70 METERS | Call | |
| ATSV62P175M | LC-SC DUPLEX 62.5/125 MULTIMODE FIBER OPTIC ASSEMBLIES, 75 METERS | Call | |
| ATSV62P180M | LC-SC DUPLEX 62.5/125 MULTIMODE FIBER OPTIC ASSEMBLIES, 80 METERS | Call | |
| ATSV62P185M | LC-SC DUPLEX 62.5/125 MULTIMODE FIBER OPTIC ASSEMBLIES, 85METERS | Call | |
| ATSV62P190M | LC-SC DUPLEX 62.5/125 MULTIMODE FIBER OPTIC ASSEMBLIES, 90 METERS | Call | |
| | American Data Supply Carries ST SC Duplex Multimode Fiber Optic Patch Cables Up To 5,000 Feet | Call | |
| ATSV62P100 | LC-LC DUPLEX SINGLEMODE FIBER OPTIC ASSEMBLIES, 100 METERS | Call | |
| ATSV62P125 | LC-SC DUPLEX 62.5/125 MULTIMODE FIBER OPTIC PATCH CABLE,125 METER | Call | |
| ATSV62P150 | LC-SC DUPLEX 62.5/125 MULTIMODE FIBER OPTIC PATCH CABLE,150 METERS | Call | |
| ATSV62P175 | LC-SC DUPLEX 62.5/125 MULTIMODE FIBER OPTIC ASSEMBLIES, 175 METERS | Call | |
| ATSV62P200 | LC-SC DUPLEX 62.5/125 MULTIMODE FIBER OPTIC ASSEMBLIES, 200 METERS | Call | |
| ATSV62P225 | LC-SC DUPLEX 62.5/125 MULTIMODE FIBER OPTIC ASSEMBLIES, 225 METERS | Call | |
| ATSV62P250 | LC-SC DUPLEX 62.5/125 MULTIMODE FIBER OPTIC PATCH CABLE,250METERS | Call | |
| ATSV62P275 | LC-SC DUPLEX 62.5/125 MULTIMODE FIBER OPTIC ASSEMBLIES, 275METERS | Call | |
| ATSV62P300 | LC-SC DUPLEX 62.5/125 MULTIMODE FIBER OPTIC ASSEMBLIES, 300 METERS | Call | |
| ATSV62P325 | LC-SC DUPLEX 62.5/125 MULTIMODE FIBER OPTIC ASSEMBLIES, 325 METERS | Call | |
| ATSV62P350 | LC-SC DUPLEX 62.5/125 MULTIMODE FIBER OPTIC ASSEMBLIES, 350 METERS | Call | |
| ATSV62P375 | LC-SC DUPLEX 62.5/125 MULTIMODE FIBER OPTIC PATCH CABLE,375 METERS | Call | |
| ATSV62P400 | LC-SC DUPLEX 62.5/125 MULTIMODE FIBER OPTIC ASSEMBLIES, 400 METERS | Call | |
| | American Data Supply Carries LC SC Duplex Multimode Fiber Optic Patch Cables Up To 5,000 Feet | Call | |
| ATSV62P425 | LC-SC DUPLEX 62.5/125 MULTIMODE FIBER OPTIC ASSEMBLIES, 425 METERS | Call | |
| ATSV62P450 | LC-SC DUPLEX 62.5/125 MULTIMODE FIBER OPTIC ASSEMBLIES, 450 METERS | Call | |
| ATSV62P475 | LC-SC DUPLEX 62.5/125 MULTIMODE FIBER OPTIC ASSEMBLIES, 475 METERS | Call | |
| ATSV62P500 | LC-SC DUPLEX 62.5/125 MULTIMODE FIBER OPTIC ASSEMBLIES, 500 METERS | Call | |
| ATSV62P525 | LC-SC DUPLEX 62.5/125 MULTIMODE FIBER OPTIC ASSEMBLIES, 525 METERS | Call | |
| ATSV62P550 | LC-SC DUPLEX 62.5/125 MULTIMODE FIBER OPTIC ASSEMBLIES, 550 METERS | Call | |
| ATSV62P575 | LC-SC DUPLEX 62.5/125 MULTIMODE FIBER OPTIC ASSEMBLIES, 575 METERS | Call | |
| ATSV62P600 | LC-SC DUPLEX 62.5/125 MULTIMODE FIBER OPTIC ASSEMBLIES, 600 METERS | Call | |
| ATSV62P700 | LC-SC DUPLEX 62.5/125 MULTIMODE FIBER OPTIC ASSEMBLIES, 700 METERS | Call | |
| ATSV62P800 | LC-SC DUPLEX 62.5/125 MULTIMODE FIBER OPTIC ASSEMBLIES, 800 METERS | Call | |
| ATSV62P900 | LC-SC DUPLEX 62.5/125 MULTIMODE FIBER OPTIC ASSEMBLIES, 900 METERS | Call | |
| ATSV62P1000 | LC-SC DUPLEX 62.5/125 MULTIMODE FIBER OPTIC ASSEMBLIES, 1000 METERS | Call | |
| | American Data Supply Carries LC-SC Duplex Multimode Fiber Optic Patch Cables Up To 5,000 Feet | | |
| | |
| --- | --- |
| | LC-ST Duplex Multimode Fiber Optic Patch Assemblies |
| | | | |
| --- | --- | --- | --- |
| LC-ST Patch Cables | American Data Supply Carries LC-ST Duplex Singlmode Fiber Optic Patch Cables Up To 5,000 Feet | Price | Order |
| ATSV62P101M | LC-ST DUPLEX 62.5/125 MULTIMODE FIBER OPTIC CABLE PATCH CABLE, 1 METER | $30.30 | |
| ATSV62P102M | LC-ST DUPLEX 62.5/125 MULTIMODE FIBER OPTIC CABLE PATCH CABLE, 2 METERS | $30.88 | |
| ATSV62P103M | LC-ST DUPLEX 62.5/125 MULTIMODE FIBER OPTIC CABLE PATCH CABLE, 3 METERS | $31.88 | |
| ATSV62P104M | LC-ST DUPLEX 62.5/125 MULTIMODE FIBER OPTIC CABLE PATCH CABLE, 4 METERS | $32.58 | |
| ATSV62P105M | LC-ST DUPLEX 62.5/125 MULTIMODE FIBER OPTIC CABLE PATCH CABLE, 5 METERS | $32.98 | |
| ATSV62P106M | LC-ST DUPLEX 62.5/125 MULTIMODE FIBER OPTIC CABLE PATCH CABLE, 6 METERS | $33.28 | |
| ATSV62P107M | LC-ST DUPLEX 62.5/125 MULTIMODE FIBER OPTIC CABLE PATCH CABLE, 7 METERS | $34.28 | |
| ATSV62P108M | LC-ST DUPLEX 62.5/125 MULTIMODE FIBER OPTIC CABLE PATCH CABLE, 8 METERS | $37.28 | |
| ATSV62P109M | LC-ST DUPLEX 62.5/125 MULTIMODE FIBER OPTIC CABLE PATCH CABLE, 9 METERS | $37.88 | |
| ATSV62P110M | LC-ST DUPLEX 62.5/125 MULTIMODE FIBER OPTIC CABLE PATCH CABLE, 10 METERS | $37.98 | |
| ATSV62P115M | LC-ST DUPLEX 62.5/125 MULTIMODE FIBER OPTIC CABLE PATCH CABLE,15 METERS | $38.98 | |
| ATSV62P130M | LC-ST DUPLEX 62.5/125 MULTIMODE FIBER OPTIC CABLE PATCH CABLE, 30 METERS | $41.98 | |
| | | | |
| LC-ST Patch Cables | American Data Supply Carries LC ST Duplex Multimode Fiber Optic Patch Cables Up To 5,000 Feet | Call | |
| ATSV62P135M | LC-ST DUPLEX 62.5/125 MULTIMODE FIBER OPTIC CABLE PATCH CABLE, 35 METER | Call | |
| ATSV62P140M | LC-ST DUPLEX 62.5/125 MULTIMODE FIBER OPTIC CABLE PATCH CABLE, 40 METERS | Call | |
| ATSV62P145M | LC-ST DUPLEX 62.5/125 MULTIMODE FIBER OPTIC CABLE PATCH CABLE, 45 METERS | Call | |
| ATSV62P150M | LC-ST DUPLEX 62.5/125 MULTIMODE FIBER OPTIC CABLE PATCH CABLE, 50 METERS | Call | |
| ATSV62P155M | LC-ST DUPLEX 62.5/125 MULTIMODE FIBER OPTIC CABLE PATCH CABLE, 55 METERS | Call | |
| ATSV62P160M | LC-ST DUPLEX 62.5/125 MULTIMODE FIBER OPTIC CABLE PATCH CABLE, 60 METERS | Call | |
| ATSV62P165M | LC-ST DUPLEX 62.5/125 MULTIMODE FIBER OPTIC CABLE PATCH CABLE, 65 METERS | Call | |
| ATSV62P170M | LC-ST DUPLEX 62.5/125 MULTIMODE FIBER OPTIC CABLE PATCH CABLE, 70 METERS | Call | |
| ATSV62P175M | LC-ST DUPLEX 62.5/125 MULTIMODE FIBER OPTIC CABLE PATCH CABLE, 75 METERS | Call | |
| ATSV62P180M | LC-ST DUPLEX 62.5/125 MULTIMODE FIBER OPTIC CABLE PATCH CABLE,80 METERS | Call | |
| ATSV62P185M | LC-ST DUPLEX 62.5/125 MULTIMODE FIBER OPTIC CABLE PATCH CABLE,85METERS | Call | |
| ATSV62P190M | LC-ST DUPLEX 62.5/125 MULTIMODE FIBER OPTIC CABLE PATCH CABLE, 90 METERS | Call | |
| | American Data Supply Carries LC ST Duplex Multimode Fiber Optic Patch Cables Up To 5,000 Feet | Call | |
| ATSV62P100 | LC-ST DUPLEX SINGLEMODE FIBER OPTIC ASSEMBLIES, 100 METERS | Call | |
| ATSV62P125 | LC-ST DUPLEX 62.5/125 MULTIMODE FIBER OPTIC CABLE PATCH CABLE,125 METER | Call | |
| ATSV62P150 | LC-ST DUPLEX 62.5/125 MULTIMODE FIBER OPTIC CABLE PATCH CABLE,150 METERS | Call | |
| ATSV62P175 | LC-ST DUPLEX 62.5/125 MULTIMODE FIBER OPTIC CABLE PATCH CABLE, 175 METERS | Call | |
| ATSV62P200 | LC-ST DUPLEX 62.5/125 MULTIMODE FIBER OPTIC CABLE PATCH CABLE, 200 METERS | Call | |
| ATSV62P225 | LC-ST DUPLEX 62.5/125 MULTIMODE FIBER OPTIC CABLE PATCH CABLE, 225 METERS | Call | |
| ATSV62P250 | LC-ST DUPLEX 62.5/125 MULTIMODE FIBER OPTIC CABLE PATCH CABLE,250METERS | Call | |
| ATSV62P275 | LC-ST DUPLEX 62.5/125 MULTIMODE FIBER OPTIC CABLE PATCH CABLE, 275METERS | Call | |
| ATSV62P300 | LC-ST DUPLEX 62.5/125 MULTIMODE FIBER OPTIC CABLE PATCH CABLE, 300 METERS | Call | |
| ATSV62P325 | LC-ST DUPLEX 62.5/125 MULTIMODE FIBER OPTIC CABLE PATCH CABLE, 325 METERS | Call | |
| ATSV62P350 | LC-ST DUPLEX 62.5/125 MULTIMODE FIBER OPTIC CABLE PATCH CABLE, 350 METERS | Call | |
| ATSV62P375 | LC-ST DUPLEX 62.5/125 MULTIMODE FIBER OPTIC CABLE PATCH CABLE,375 METERS | Call | |
| ATSV62P400 | LC-ST DUPLEX 62.5/125 MULTIMODE FIBER OPTIC CABLE PATCH CABLE, 400 METERS | Call | |
| | American Data Supply Carries LC SC Duplex Multimode Fiber Optic Patch Cables Up To 5,000 Feet | Call | |
| ATSV62P425 | LC-ST DUPLEX 62.5/125 MULTIMODE FIBER OPTIC CABLE PATCH CABLE, 425 METERS | Call | |
| ATSV62P450 | LC-ST DUPLEX 62.5/125 MULTIMODE FIBER OPTIC CABLE PATCH CABLE 450 METERS | Call | |
| ATSV62P475 | LC-ST DUPLEX 62.5/125 MULTIMODE FIBER OPTIC CABLE PATCH CABLE, 475 METERS | Call | |
| ATSV62P500 | LC-ST DUPLEX 62.5/125 MULTIMODE FIBER OPTIC CABLE PATCH CABLE, 500 METERS | Call | |
| ATSV62P525 | LC-ST DUPLEX 62.5/125 MULTIMODE FIBER OPTIC CABLE PATCH CABLE, 525 METERS | Call | |
| ATSV62P550 | LC-ST DUPLEX 62.5/125 MULTIMODE FIBER OPTIC CABLE PATCH CABLE, 550 METERS | Call | |
| ATSV62P575 | LC-ST DUPLEX 62.5/125 MULTIMODE FIBER OPTIC CABLE PATCH CABLE, 575 METERS | Call | |
| ATSV62P600 | LC-ST DUPLEX 62.5/125 MULTIMODE FIBER OPTIC CABLE PATCH CABLE, 600 METERS | Call | |
| ATSV62P700 | LC-ST DUPLEX 62.5/125 MULTIMODE FIBER OPTIC CABLE PATCH CABLE, 700 METERS | Call | |
| ATSV62P800 | LC-ST DUPLEX 62.5/125 MULTIMODE FIBER OPTIC CABLE PATCH CABLE, 800 METERS | Call | |
| ATSV62P900 | LC-ST DUPLEX 62.5/125 MULTIMODE FIBER OPTIC CABLE PATCH CABLE, 900 METERS | Call | |
| ATSV62P1000 | LC-ST DUPLEX 62.5/125 MULTIMODE FIBER OPTIC CABLE PATCH CABLE, 1000 METERS | Call | |
| | American Data Supply Carries LC-SC Duplex Multimode Fiber Optic Patch Cables Up To 5,000 Feet | | |
| | |
| --- | --- |
| | MTRJ-MTRJ Duplex Multimode Fiber Optic Assemblies |
| | | | |
| --- | --- | --- | --- |
| MTRJ Patch Cables | American Data Supply Carries MTRJ Duplex Multimode Fiber Optic Patch Cables Up To 5,000 Feet | Price | Order |
| ATSEFMTMT101M | MTRJ-MTRJ DUPLEX 62.5/125 MULTIMODE FIBER OPTIC ASSEMBLIES, 1 METER | $13.88 | |
| ATSEFMTMT102M | MTRJ-MTRJ DUPLEX 62.5/125 MULTIMODE FIBER OPTIC ASSEMBLIES, 2 METERS | $14.88 | |
| ATSEFMTMT103M | MTRJ-MTRJ DUPLEX 62.5/125 MULTIMODE FIBER OPTIC ASSEMBLIES, 3 METERS | $15.28 | |
| ATSEFMTMT104M | MTRJ-MTRJ DUPLEX 62.5/125 MULTIMODE FIBER OPTIC ASSEMBLIES, 4 METERS | $15.48 | |
| ATSEFMTMT105M | MTRJ-MTRJ DUPLEX 62.5/125 MULTIMODE FIBER OPTIC ASSEMBLIES, 5 METERS | $15.58 | |
| ATSEFMTMT106M | MTRJ-MTRJ DUPLEX 62.5/125 MULTIMODE FIBER OPTIC ASSEMBLIES, 6 METERS | $17.28 | |
| ATSEFMTMT107M | MTRJ-MTRJ DUPLEX 62.5/125 MULTIMODE FIBER OPTIC ASSEMBLIES, 7 METERS | $17.29 | |
| ATSEFMTMT108M | MTRJ-MTRJ DUPLEX 62.5/125 MULTIMODE FIBER OPTIC ASSEMBLIES, 8 METERS | $18.28 | |
| ATSEFMTMT109M | MTRJ-MTRJ DUPLEX 62.5/125 MULTIMODE FIBER OPTIC ASSEMBLIES, 9 METERS | $19.88 | |
| ATSEFMTMT110M | MTRJ-MTRJ DUPLEX 62.5/125 MULTIMODE FIBER OPTIC ASSEMBLIES, 10 METERS | $20.88 | |
| ATSEFMTMT115M | MTRJ-MTRJ DUPLEX 62.5/125 MULTIMODE FIBER OPTIC PATCH CABLE,15 METERS | $34.98 | |
| ATSEFMTMT130M | MTRJ-MTRJ DUPLEX 62.5/125 MULTIMODE FIBER OPTIC ASSEMBLIES, 30 METERS | $39.88 | |
| | | | |
| MTRJ Patch Cables | American Data Supply Carries MTRJ-MTRJ Duplex Multimode Fiber Optic Patch Cables Up To 5,000 Feet | Call | |
| ATSEFMTMT135M | MTRJ-MTRJ DUPLEX 62.5/125 MULTIMODE FIBER OPTIC ASSEMBLIES, 35 METER | Call | |
| ATSEFMTMT140M | MTRJ-MTRJ DUPLEX 62.5/125 MULTIMODE FIBER OPTIC ASSEMBLIES, 40 METERS | Call | |
| ATSEFMTMT145M | MTRJ-MTRJ DUPLEX 62.5/125 MULTIMODE FIBER OPTIC ASSEMBLIES, 45 METERS | Call | |
| ATSEFMTMT150M | MTRJ-MTRJ DUPLEX 62.5/125 MULTIMODE FIBER OPTIC ASSEMBLIES, 50 METERS | Call | |
| ATSEFMTMT155M | MTRJ-MTRJ DUPLEX 62.5/125 MULTIMODE FIBER OPTIC ASSEMBLIES, 55 METERS | Call | |
| ATSEFMTMT160M | MTRJ-MTRJ DUPLEX 62.5/125 MULTIMODE FIBER OPTIC ASSEMBLIES, 60 METERS | Call | |
| ATSEFMTMT165M | MTRJ-MTRJ DUPLEX 62.5/125 MULTIMODE FIBER OPTIC ASSEMBLIES, 65 METERS | Call | |
| ATSEFMTMT170M | MTRJ-MTRJ DUPLEX 62.5/125 MULTIMODE FIBER OPTIC ASSEMBLIES, 70 METERS | Call | |
| ATSEFMTMT175M | MTRJ-MTRJ DUPLEX 62.5/125 MULTIMODE FIBER OPTIC ASSEMBLIES, 75 METERS | Call | |
| ATSEFMTMT180M | MTRJ-MTRJ DUPLEX 62.5/125 MULTIMODE FIBER OPTIC PATCH CABLE,80 METERS | Call | |
| ATSEFMTMT185M | MTRJ-MTRJ DUPLEX 62.5/125 MULTIMODE FIBER OPTIC PATCH CABLE,85METERS | Call | |
| ATSEFMTMT190M | MTRJ-MTRJ DUPLEX 62.5/125 MULTIMODE FIBER OPTIC ASSEMBLIES, 90 METERS | Call | |
| ATSV662P204M | American Data Supply Carries MTRJ-MTRJ Duplex Multimode Fiber Optic Patch Cables Up To 5,000 Feet | Call | |
| | |
| --- | --- |
| | MTRJ-SC Duplex Multimode 62.5 Fiber Optic Patch Assemblies |
| | | | |
| --- | --- | --- | --- |
| MTRJ-SC Patch Cables | American Data Supply Carries MTRJ Duplex Multimode Fiber Optic Patch Cables Up To 5,000 Feet | Price | Order |
| ATSEFSCMT101M | MTRJ-SC DUPLEX 62.5/125 MULTIMODE FIBER OPTIC ASSEMBLIES, 1 METER | $13.88 | |
| ATSEFSCMT102M | MTRJ-SC DUPLEX 62.5/125 MULTIMODE FIBER OPTIC ASSEMBLIES, 2 METERS | $14.88 | |
| ATSEFSCMT103M | MTRJ-SC DUPLEX 62.5/125 MULTIMODE FIBER OPTIC ASSEMBLIES, 3 METERS | $14.98 | |
| ATSEFSCMT104M | MTRJ-SC DUPLEX 62.5/125 MULTIMODE FIBER OPTIC ASSEMBLIES, 4 METERS | $15.58 | |
| ATSEFSCMT105M | MTRJ-SC DUPLEX 62.5/125 MULTIMODE FIBER OPTIC ASSEMBLIES, 5 METERS | $17.78 | |
| ATSEFSCMT106M | MTRJ-SC DUPLEX 62.5/125 MULTIMODE FIBER OPTIC ASSEMBLIES, 6 METERS | $17.88 | |
| ATSEFSCMT107M | MTRJ-SC DUPLEX 62.5/125 MULTIMODE FIBER OPTIC ASSEMBLIES, 7 METERS | $18.28 | |
| ATSEFSCMT108M | MTRJ-SC DUPLEX 62.5/125 MULTIMODE FIBER OPTIC ASSEMBLIES, 8 METERS | $19.28 | |
| ATSEFSCMT109M | MTRJ-SC DUPLEX 62.5/125 MULTIMODE FIBER OPTIC ASSEMBLIES, 9 METERS | $20.88 | |
| ATSEFSCMT110M | MTRJ-SC DUPLEX 62.5/125 MULTIMODE FIBER OPTIC ASSEMBLIES, 10 METERS | $21.88 | |
| ATSEFSCMT115M | MTRJ-SC DUPLEX 62.5/125 MULTIMODE FIBER OPTIC PATCH CABLE,15 METERS | $38.98 | |
| ATSEFSCMT130M | MTRJ-SC DUPLEX 62.5/125 MULTIMODE FIBER OPTIC ASSEMBLIES, 30 METERS | $44.88 | |
| | | | |
| MTRJ Patch Cables | American Data Supply Carries MTRJ-MTRJ Duplex Multimode Fiber Optic Patch Cables Up To 5,000 Feet | Call | |
| ATSEFSCMT135M | MTRJ-SC DUPLEX 62.5/125 MULTIMODE FIBER OPTIC ASSEMBLIES, 35 METER | Call | |
| ATSEFSCMT145M | MTRJ-SC DUPLEX 62.5/125 MULTIMODE FIBER OPTIC ASSEMBLIES, 40 METERS | Call | |
| ATSEFSCMT145M | MTRJ-SC DUPLEX 62.5/125 MULTIMODE FIBER OPTIC ASSEMBLIES, 45 METERS | Call | |
| ATSEFSCMT150M | MTRJ-SC DUPLEX 62.5/125 MULTIMODE FIBER OPTIC ASSEMBLIES, 50 METERS | Call | |
| ATSEFSCMT155M | MTRJ-SC DUPLEX 62.5/125 MULTIMODE FIBER OPTIC ASSEMBLIES, 55 METERS | Call | |
| ATSEFSCMT160M | MTRJ-SC DUPLEX 62.5/125 MULTIMODE FIBER OPTIC ASSEMBLIES, 60 METERS | Call | |
| ATSEFSCMT165M | MTRJ-SC DUPLEX 62.5/125 MULTIMODE FIBER OPTIC ASSEMBLIES, 65 METERS | Call | |
| ATSEFSCMT170M | MTRJ-SC DUPLEX 62.5/125 MULTIMODE FIBER OPTIC ASSEMBLIES, 70 METERS | Call | |
| ATSEFSCMT175M | MTRJ-SC DUPLEX 62.5/125 MULTIMODE FIBER OPTIC ASSEMBLIES, 75 METERS | Call | |
| ATSEFSCMT180M | MTRJ-SC DUPLEX 62.5/125 MULTIMODE FIBER OPTIC PATCH CABLE,80 METERS | Call | |
| ATSEFSCMT185M | MTRJ-SC DUPLEX 62.5/125 MULTIMODE FIBER OPTIC PATCH CABLE,85METERS | Call | |
| ATSEFSCMT190M | MTRJ-SC DUPLEX 62.5/125 MULTIMODE FIBER OPTIC ASSEMBLIES, 90 METERS | Call | |
| | American Data Supply Carries MTRJ-MTRJ Duplex Multimode Fiber Optic Patch Cables Up To 5,000 Feet | Call | |
| | |
| --- | --- |
| | MTRJ-ST Duplex Multimode 62.5 Fiber Optic Assemblies |
| | | | |
| --- | --- | --- | --- |
| MTRJ-ST Patch Cables | American Data Supply Carries MTRJ-ST Duplex Multimode Fiber Optic Patch Cables Up To 5,000 Feet | | |
| ATSEFSCMT101M | MTRJ-ST DUPLEX 62.5/125 MULTIMODE FIBER OPTIC ASSEMBLIES, 1 METER | $13.88 | |
| ATSEFSCMT102M | MTRJ-ST DUPLEX 62.5/125 MULTIMODE FIBER OPTIC ASSEMBLIES, 2 METERS | $14.88 | |
| ATSEFSCMT103M | MTRJ-ST DUPLEX 62.5/125 MULTIMODE FIBER OPTIC ASSEMBLIES, 3 METERS | $15.88 | |
| ATSEFSCMT104M | MTRJ-ST DUPLEX 62.5/125 MULTIMODE FIBER OPTIC ASSEMBLIES, 4 METERS | $32.58 | |
| ATSEFSCMT105M | MTRJ-ST DUPLEX 62.5/125 MULTIMODE FIBER OPTIC ASSEMBLIES, 5 METERS | $17.88 | |
| ATSEFSCMT106M | MTRJ-ST DUPLEX 62.5/125 MULTIMODE FIBER OPTIC ASSEMBLIES, 6 METERS | $18.28 | |
| ATSEFSCMT107M | MTRJ-ST DUPLEX 62.5/125 MULTIMODE FIBER OPTIC ASSEMBLIES, 7 METERS | $19.28 | |
| ATSEFSCMT108M | MTRJ-ST DUPLEX 62.5/125 MULTIMODE FIBER OPTIC ASSEMBLIES, 8 METERS | $20.28 | |
| ATSEFSCMT109M | MTRJ-ST DUPLEX 62.5/125 MULTIMODE FIBER OPTIC ASSEMBLIES, 9 METERS | $21.88 | |
| ATSEFSCMT110M | MTRJ-ST DUPLEX 62.5/125 MULTIMODE FIBER OPTIC ASSEMBLIES, 10 METERS | $22.78 | |
| ATSEFSCMT115M | MTRJ-ST DUPLEX 62.5/125 MULTIMODE FIBER OPTIC PATCH CABLE,15 METERS | $27.78 | |
| ATSEFSCMT130M | MTRJ-ST DUPLEX 62.5/125 MULTIMODE FIBER OPTIC ASSEMBLIES, 30 METERS | $42.88 | |
| | | | |
| MTRJ Patch Cables | American Data Supply Carries MTRJ-ST Duplex Multimode Fiber Optic Patch Cables Up To 5,000 Feet | Call | |
| ATSEFSCMT135M | MTRJ-ST DUPLEX 62.5/125 MULTIMODE FIBER OPTIC ASSEMBLIES, 35 METER | Call | |
| ATSEFSCMT140M | MTRJ-ST DUPLEX 62.5/125 MULTIMODE FIBER OPTIC ASSEMBLIES, 40 METERS | Call | |
| ATSEFSCMT145M | MTRJ-ST DUPLEX 62.5/125 MULTIMODE FIBER OPTIC ASSEMBLIES, 45 METERS | Call | |
| ATSEFSCMT150M | MTRJ-ST DUPLEX 62.5/125 MULTIMODE FIBER OPTIC ASSEMBLIES, 50 METERS | Call | |
| ATSEFSCMT155M | MTRJ-ST DUPLEX 62.5/125 MULTIMODE FIBER OPTIC ASSEMBLIES, 55 METERS | Call | |
| ATSEFSCMT160M | MTRJ-ST DUPLEX 62.5/125 MULTIMODE FIBER OPTIC ASSEMBLIES, 60 METERS | Call | |
| ATSEFSCMT165M | MTRJ-ST DUPLEX 62.5/125 MULTIMODE FIBER OPTIC ASSEMBLIES, 65 METERS | Call | |
| ATSEFSCMT170M | MTRJ-ST DUPLEX 62.5/125 MULTIMODE FIBER OPTIC ASSEMBLIES, 70 METERS | Call | |
| ATSEFSCMT175M | MTRJ-ST DUPLEX 62.5/125 MULTIMODE FIBER OPTIC ASSEMBLIES, 75 METERS | Call | |
| ATSEFSCMT180M | MTRJ-ST DUPLEX 62.5/125 MULTIMODE FIBER OPTIC PATCH CABLE,80 METERS | Call | |
| ATSEFSCMT185M | MTRJ-ST DUPLEX 62.5/125 MULTIMODE FIBER OPTIC ASSEMBLIES, 85METERS | Call | |
| ATSEFSCMT190M | MTRJ-ST DUPLEX 62.5/125 MULTIMODE FIBER OPTIC ASSEMBLIES, 90 METERS | Call | |
| | American Data Supply Carries MTRJ-ST Duplex Multimode Fiber Optic Patch Cables Up To 5,000 Feet | Call | |
| | |
| --- | --- |
| | SC-SC Duplex Multimode 62.5 Fiber Optic Assemblies |
| | | | |
| --- | --- | --- | --- |
| SC-SC Patch Cables | American Data Supply Carries SC-SC Duplex Multimode Fiber Optic Patch Cables Up To 5,000 Feet | Price | Order |
| ATSEFSCP101M | SC-SC DUPLEX 62.5/125 MULTIMODE FIBER OPTIC ASSEMBLIES, 1 METER | $10.88 | |
| ATSEFSCP102M | SC-SC DUPLEX 62.5/125 MULTIMODE FIBER OPTIC ASSEMBLIES, 2 METERS | $11.88 | |
| ATSEFSCP103M | SC-SC DUPLEX 62.5/125 MULTIMODE FIBER OPTIC ASSEMBLIES, 3 METERS | $12.88 | |
| ATSEFSCP104M | SC-SC DUPLEX 62.5/125 MULTIMODE FIBER OPTIC ASSEMBLIES, 4 METERS | $14.88 | |
| ATSEFSCP105M | SC-SC DUPLEX 62.5/125 MULTIMODE FIBER OPTIC ASSEMBLIES, 5 METERS | $14.98 | |
| ATSEFSCP106M | SC-SC DUPLEX 62.5/125 MULTIMODE FIBER OPTIC ASSEMBLIES, 6 METERS | $14.98 | |
| ATSEFSCP107M | SC-SC DUPLEX 62.5/125 MULTIMODE FIBER OPTIC ASSEMBLIES, 7 METERS | $15.98 | |
| ATSEFSCP108M | SC-SC DUPLEX 62.5/125 MULTIMODE FIBER OPTIC ASSEMBLIES, 8 METERS | $17.98 | |
| ATSEFSCP109M | SC-SC DUPLEX 62.5/125 MULTIMODE FIBER OPTIC ASSEMBLIES, 9 METERS | $18.88 | |
| ATSEFSCP110M | SC-SC DUPLEX 62.5/125 MULTIMODE FIBER OPTIC ASSEMBLIES, 10 METERS | $18.98 | |
| ATSEFSCP115M | SC-SC DUPLEX 62.5/125 MULTIMODE FIBER OPTIC PATCH CABLE,15 METERS | $23.88 | |
| ATSEFSCP130M | SC-SC DUPLEX 62.5/125 MULTIMODE FIBER OPTIC ASSEMBLIES, 30 METERS | $29.98 | |
| | | | |
| SC-SC Patch Cables | American Data Supply Carries SC-SC Duplex Multimode Fiber Optic Patch Cables Up To 5,000 Feet | Call | |
| ATSEFSCP135M | SC-SC DUPLEX 62.5/125 MULTIMODE FIBER OPTIC ASSEMBLIES, 35 METER | Call | |
| ATSEFSCP140M | SC-SC DUPLEX 62.5/125 MULTIMODE FIBER OPTIC ASSEMBLIES, 40 METERS | Call | |
| ATSEFSCP145M | SC-SC DUPLEX 62.5/125 MULTIMODE FIBER OPTIC ASSEMBLIES, 45 METERS | Call | |
| ATSEFSCP150M | SC-SC DUPLEX 62.5/125 MULTIMODE FIBER OPTIC ASSEMBLIES, 50 METERS | Call | |
| ATSEFSCP155M | SC-SC DUPLEX 62.5/125 MULTIMODE FIBER OPTIC ASSEMBLIES, 55 METERS | Call | |
| ATSEFSCP160M | SC-SC DUPLEX 62.5/125 MULTIMODE FIBER OPTIC ASSEMBLIES, 60 METERS | Call | |
| ATSEFSCP165M | SC-SC DUPLEX 62.5/125 MULTIMODE FIBER OPTIC ASSEMBLIES, 65 METERS | Call | |
| ATSEFSCP170M | SC-SC DUPLEX 62.5/125 MULTIMODE FIBER OPTIC ASSEMBLIES, 70 METERS | Call | |
| ATSEFSCP175M | SC-SC DUPLEX 62.5/125 MULTIMODE FIBER OPTIC ASSEMBLIES, 75 METERS | Call | |
| ATSEFSCP180M | SC-SC DUPLEX 62.5/125 MULTIMODE FIBER OPTIC ASSEMBLIES, 80 METERS | Call | |
| ATSEFSCP185M | SC-SC DUPLEX 62.5/125 MULTIMODE FIBER OPTIC ASSEMBLIES, 85 METERS | Call | |
| ATSEFSCP190M | SC-SC DUPLEX 62.5/125 MULTIMODE FIBER OPTIC ASSEMBLIES, 90 METERS | Call | |
| | American Data Supply Carries SC-SC Duplex Multimode Fiber Optic Patch Cables Up To 5,000 Feet | Call | |
| | |
| --- | --- |
| | ST-ST Duplex Multimode 62.5 Fiber Optic Assemblies |
| | | | |
| --- | --- | --- | --- |
| ST-ST Patch Cables | American Data Supply Carries ST-ST Duplex Multimode Fiber Optic Patch Cables Up To 5,000 Feet | Price | Order |
| ATSEFSTP101M | ST-ST DUPLEX 62.5/125 MULTIMODE FIBER OPTIC ASSEMBLIES, 1 METER | $9.98 | |
| ATSEFSTP102M | ST-ST DUPLEX 62.5/125 MULTIMODE FIBER OPTIC ASSEMBLIES, 2 METERS | $10.88 | |
| ATSEFSTP103M | ST-ST DUPLEX 62.5/125 MULTIMODE FIBER OPTIC ASSEMBLIES, 3 METERS | $10.98 | |
| ATSEFSTP104M | ST-ST DUPLEX 62.5/125 MULTIMODE FIBER OPTIC ASSEMBLIES, 4 METERS | $12.88 | |
| ATSEFSTP105M | ST-ST DUPLEX 62.5/125 MULTIMODE FIBER OPTIC ASSEMBLIES, 5 METERS | $12.98 | |
| ATSEFSTP106M | ST-ST DUPLEX 62.5/125 MULTIMODE FIBER OPTIC ASSEMBLIES, 6 METERS | $13.98 | |
| ATSEFSTP107M | ST-ST DUPLEX 62.5/125 MULTIMODE FIBER OPTIC ASSEMBLIES, 7 METERS | $14.98 | |
| ATSEFSTP108M | ST-ST DUPLEX 62.5/125 MULTIMODE FIBER OPTIC ASSEMBLIES, 8 METERS | $15.98 | |
| ATSEFSTP109M | ST-ST DUPLEX 62.5/125 MULTIMODE FIBER OPTIC ASSEMBLIES, 9 METERS | $16.58 | |
| ATSEFSTP110M | ST-ST DUPLEX 62.5/125 MULTIMODE FIBER OPTIC ASSEMBLIES, 10 METERS | $16.78 | |
| ATSEFSTP115M | ST-ST DUPLEX 62.5/125 MULTIMODE FIBER OPTIC PATCH CABLE,15 METERS | $18.88 | |
| ATSEFSTP130M | ST-ST DUPLEX 62.5/125 MULTIMODE FIBER OPTIC ASSEMBLIES, 30 METERS | $19.98 | |
| | | | |
| ST-ST Patch Cables | American Data Supply Carries ST-ST Duplex Multimode Fiber Optic Patch Cables Up To 5,000 Feet | Call | |
| ATSEFSTP135M | ST-ST DUPLEX 62.5/125 MULTIMODE FIBER OPTIC ASSEMBLIES, 35 METER | Call | |
| ATSEFSTP140M | ST-ST DUPLEX 62.5/125 MULTIMODE FIBER OPTIC ASSEMBLIES, 40 METERS | Call | |
| ATSEFSTP145M | ST-ST DUPLEX 62.5/125 MULTIMODE FIBER OPTIC ASSEMBLIES, 45 METERS | Call | |
| ATSEFSTP150M | ST-ST DUPLEX 62.5/125 MULTIMODE FIBER OPTIC ASSEMBLIES, 50 METERS | Call | |
| ATSEFSTP155M | ST-ST DUPLEX 62.5/125 MULTIMODE FIBER OPTIC ASSEMBLIES, 55 METERS | Call | |
| ATSEFSTP160M | ST-ST DUPLEX 62.5/125 MULTIMODE FIBER OPTIC ASSEMBLIES, 60 METERS | Call | |
| ATSEFSTP165M | ST-ST DUPLEX 62.5/125 MULTIMODE FIBER OPTIC ASSEMBLIES, 65 METERS | Call | |
| ATSEFSTP170M | ST-ST DUPLEX 62.5/125 MULTIMODE FIBER OPTIC ASSEMBLIES, 70 METERS | Call | |
| ATSEFSTP175M | ST-ST DUPLEX 62.5/125 MULTIMODE FIBER OPTIC ASSEMBLIES, 75 METERS | Call | |
| ATSEFSTP180M | ST-ST DUPLEX 62.5/125 MULTIMODE FIBER OPTIC ASSEMBLIES, 80 METERS | Call | |
| ATSEFSTP185M | ST-ST DUPLEX 62.5/125 MULTIMODE FIBER OPTIC ASSEMBLIES, 85 METERS | Call | |
| ATSEFSTP190M | ST-ST DUPLEX 62.5/125 MULTIMODE FIBER OPTIC ASSEMBLIES, 90 METERS | Call | |
| | American Data Supply Carries ST-ST Duplex Multimode Fiber Optic Patch Cables Up To 5,000 Feet | Call | |
| | |
| --- | --- |
| | ST-SC Duplex Multimode 62.5 Fiber Optic Assemblies |
| | | | |
| --- | --- | --- | --- |
| ST-SC Patch Cables | American Data Supply Carries ST-SC Duplex Multimode Fiber Optic Patch Cables Up To 5,000 Feet | Price | Order |
| ATSEFSTSCP101M | ST-SC DUPLEX 62.5/125 MULTIMODE FIBER OPTIC ASSEMBLIES, 1 METER | $10.88 | |
| ATSEFSTSCP102M | ST-SC DUPLEX 62.5/125 MULTIMODE FIBER OPTIC ASSEMBLIES, 2 METERS | $11.88 | |
| ATSEFSTSCP103M | ST-SC DUPLEX 62.5/125 MULTIMODE FIBER OPTIC ASSEMBLIES, 3 METERS | $11.99 | |
| ATSEFSTSCP104M | ST-SC DUPLEX 62.5/125 MULTIMODE FIBER OPTIC ASSEMBLIES, 4 METERS | $13.88 | |
| ATSEFSTSCP105M | ST-SC DUPLEX 62.5/125 MULTIMODE FIBER OPTIC ASSEMBLIES, 5 METERS | $14.88 | |
| ATSEFSTSCP106M | ST-SC DUPLEX 62.5/125 MULTIMODE FIBER OPTIC ASSEMBLIES, 6 METERS | $15.98 | |
| ATSEFSTSCP107M | ST-SC DUPLEX 62.5/125 MULTIMODE FIBER OPTIC ASSEMBLIES, 7 METERS | $16.88 | |
| ATSEFSTSCP108M | ST-SC DUPLEX 62.5/125 MULTIMODE FIBER OPTIC ASSEMBLIES, 8 METERS | $16.98 | |
| ATSEFSTSCP109M | ST-SC DUPLEX 62.5/125 MULTIMODE FIBER OPTIC ASSEMBLIES, 9 METERS | $17.58 | |
| ATSEFSTSCP110M | ST-SC DUPLEX 62.5/125 MULTIMODE FIBER OPTIC ASSEMBLIES, 10 METERS | $19.88 | |
| ATSEFSTSCP115M | ST-SC DUPLEX 62.5/125 MULTIMODE FIBER OPTIC PATCH CABLE,15 METERS | $22.88 | |
| ATSEFSTSCP130M | ST-SC DUPLEX 62.5/125 MULTIMODE FIBER OPTIC ASSEMBLIES, 30 METERS | $31.98 | |
| | | | |
| ST-SC Patch Cables | American Data Supply Carries ST-SCDuplex Multimode Fiber Optic Patch Cables Up To 5,000 Feet | Call | |
| ATSEFSTSCP135M | ST-SC DUPLEX 62.5/125 MULTIMODE FIBER OPTIC ASSEMBLIES, 35 METER | Call | |
| ATSEFSTSCP140M | ST-SC DUPLEX 62.5/125 MULTIMODE FIBER OPTIC ASSEMBLIES, 40 METERS | Call | |
| ATSEFSTSCP145M | ST-SC DUPLEX 62.5/125 MULTIMODE FIBER OPTIC ASSEMBLIES, 45 METERS | Call | |
| ATSEFSTSCP150M | ST-SC DUPLEX 62.5/125 MULTIMODE FIBER OPTIC ASSEMBLIES, 50 METERS | Call | |
| ATSEFSTSCP155M | ST-SC DUPLEX 62.5/125 MULTIMODE FIBER OPTIC ASSEMBLIES, 55 METERS | Call | |
| ATSEFSTSCP160M | ST-SC DUPLEX 62.5/125 MULTIMODE FIBER OPTIC ASSEMBLIES, 60 METERS | Call | |
| ATSEFSTSCP165M | ST-SC DUPLEX 62.5/125 MULTIMODE FIBER OPTIC ASSEMBLIES, 65 METERS | Call | |
| ATSEFSTSCP170M | ST-SC DUPLEX 62.5/125 MULTIMODE FIBER OPTIC ASSEMBLIES, 70 METERS | Call | |
| ATSEFSTSCP175M | ST-SC DUPLEX 62.5/125 MULTIMODE FIBER OPTIC ASSEMBLIES, 75 METERS | Call | |
| ATSEFSTSCP180M | ST-SC DUPLEX 62.5/125 MULTIMODE FIBER OPTIC ASSEMBLIES, 80 METERS | Call | |
| ATSEFSTSCP185M | ST-SC DUPLEX 62.5/125 MULTIMODE FIBER OPTIC ASSEMBLIES, 85METERS | Call | |
| ATSEFSTSCP190M | ST-SC DUPLEX 62.5/125 MULTIMODE FIBER OPTIC ASSEMBLIES, 90 METERS | Call | |
| | American Data Supply Carries ST-SC Duplex Multimode Fiber Optic Patch Cables Up To 5,000 Feet | Call | |
| | |
| --- | --- |
| | MTRJ-MTRJ Duplex Multimode 50 Micron Fiber Optic Patch Cables |
| | | | |
| --- | --- | --- | --- |
| MTRJ-MTRJ Patch Cables | American Data Supply Carries MTRJ Duplex Multimode Fiber Optic Patch Cables Up To 5,000 Feet | Price | Order |
| ATSV62P401M | MTRJ-MTRJ DUPLEX 50/125 MULTIMODE FIBER OPTIC ASSEMBLIES, 1 METER | $13.88 | |
| ATSV62P402M | MTRJ-MTRJ DUPLEX 50/125 MULTIMODE FIBER OPTIC ASSEMBLIES, 2 METERS | $14.88 | |
| ATSV62P403M | MTRJ-MTRJ DUPLEX 50/125 MULTIMODE FIBER OPTIC ASSEMBLIES, 3 METERS | $15.88 | |
| ATSV62P404M | MTRJ-MTRJ DUPLEX 50/125 MULTIMODE FIBER OPTIC ASSEMBLIES, 4 METERS | $17.88 | |
| ATSV62P405M | MTRJ-MTRJ DUPLEX 50/125 MULTIMODE FIBER OPTIC ASSEMBLIES, 5 METERS | $18.98 | |
| ATSV62P406M | MTRJ-MTRJ DUPLEX 50/125 MULTIMODE FIBER OPTIC ASSEMBLIES, 6 METERS | $19.28 | |
| ATSV62P407M | MTRJ-MTRJ DUPLEX 50/125 MULTIMODE FIBER OPTIC ASSEMBLIES, 7 METERS | $19.38 | |
| ATSV62P408M | MTRJ-MTRJ DUPLEX 50/125 MULTIMODE FIBER OPTIC ASSEMBLIES, 8 METERS | $19.78 | |
| ATSV62P409M | MTRJ-MTRJ DUPLEX 50/125 MULTIMODE FIBER OPTIC ASSEMBLIES, 9 METERS | $19.88 | |
| ATSV62P410M | MTRJ-MTRJ DUPLEX 50/125 MULTIMODE FIBER OPTIC ASSEMBLIES, 10 METERS | $20.98 | |
| ATSV62P420M | MTRJ-MTRJ DUPLEX 50/125 MULTIMODE FIBER OPTIC PATCH CABLE,20 METERS | $29.98 | |
| ATSV62P430M | MTRJ-MTRJ DUPLEX 50/125 MULTIMODE FIBER OPTIC ASSEMBLIES, 30 METERS | $34.98 | |
| | | | |
| MTRJ-MTRJ Patch Cables | American Data Supply Carries MTRJ Duplex Multimode Fiber Optic Patch Cables Up To 5,000 Feet | Call | |
| ATSV62P435M | MTRJ-MTRJ DUPLEX 50/125 MULTIMODE FIBER OPTIC ASSEMBLIES, 35 METER | Call | |
| ATSV62P4402M | MTRJ-MTRJ DUPLEX 50/125 MULTIMODE FIBER OPTIC ASSEMBLIES, 40 METERS | Call | |
| ATSV62P445M | MTRJ-MTRJ DUPLEX 50/125 MULTIMODE FIBER OPTIC ASSEMBLIES, 45 METERS | Call | |
| ATSV62P450M | MTRJ-MTRJ DUPLEX 50/125 MULTIMODE FIBER OPTIC ASSEMBLIES, 50 METERS | Call | |
| ATSV62P455M | MTRJ-MTRJ DUPLEX 50/125 MULTIMODE FIBER OPTIC ASSEMBLIES, 55 METERS | Call | |
| ATSV62P460M | MTRJ-MTRJ DUPLEX 50/125 MULTIMODE FIBER OPTIC ASSEMBLIES, 60 METERS | Call | |
| ATSV62P465M | MTRJ-MTRJ DUPLEX 50/125 MULTIMODE FIBER OPTIC ASSEMBLIES, 65 METERS | Call | |
| ATSV62P470M | MTRJ-MTRJ DUPLEX 50/125 MULTIMODE FIBER OPTIC ASSEMBLIES, 70 METERS | Call | |
| ATSV62P475M | MTRJ-MTRJ DUPLEX 50/125 MULTIMODE FIBER OPTIC ASSEMBLIES, 75 METERS | Call | |
| ATSV62P480M | MTRJ-MTRJ DUPLEX 50/125 MULTIMODE FIBER OPTIC ASSEMBLIES, 80 METERS | Call | |
| ATSV62P485M | MTRJ-MTRJ DUPLEX 50/125 MULTIMODE FIBER OPTIC ASSEMBLIES, 85METERS | Call | |
| ATSV62P490M | MTRJ-MTRJ DUPLEX 50/125 MULTIMODE FIBER OPTIC ASSEMBLIES, 90 METERS | Call | |
| | American Data Supply Carries MTRJ Duplex Multimode Fiber Optic Patch Cables Up To 5,000 Feet | Call | |
| | |
| --- | --- |
| | MTRJ-SC Duplex Multimode 50 Micron Fiber Optic Assemblies |
| | | | |
| --- | --- | --- | --- |
| MTRJ-SC Patch Cables | American Data Supply Carries MTRJ-SC Duplex Multimode Fiber Optic Patch Cables Up To 5,000 Feet | Price | Order |
| ATSV3C2P401M | MTRJ-SC DUPLEX 50/125 MULTIMODE FIBER OPTIC ASSEMBLIES, 1 METER | $13.88 | |
| ATSV3C2P402M | MTRJ-SC DUPLEX 50/125 MULTIMODE FIBER OPTIC ASSEMBLIES, 2 METERS | $16.88 | |
| ATSV3C2P403M | MTRJ-SC DUPLEX 50/125 MULTIMODE FIBER OPTIC ASSEMBLIES, 3 METERS | $17.88 | |
| ATSV3C2P404M | MTRJ-SC DUPLEX 50/125 MULTIMODE FIBER OPTIC ASSEMBLIES, 4 METERS | $18.58 | |
| ATSV3C2P405M | MTRJ-SC DUPLEX 50/125 MULTIMODE FIBER OPTIC ASSEMBLIES, 5 METERS | $19.98 | |
| ATSV3C2P406M | MTRJ-SC DUPLEX 50/125 MULTIMODE FIBER OPTIC ASSEMBLIES, 6 METERS | $20.28 | |
| ATSV3C2P407M | MTRJ-SC DUPLEX 50/125 MULTIMODE FIBER OPTIC ASSEMBLIES, 7 METERS | $20.88 | |
| ATSV3C2P408M | MTRJ-SC DUPLEX 50/125 MULTIMODE FIBER OPTIC ASSEMBLIES, 8 METERS | $21.30 | |
| ATSV3C2P409M | MTRJ-SC DUPLEX 50/125 MULTIMODE FIBER OPTIC ASSEMBLIES, 9 METERS | $21.88 | |
| ATSV3C2P4010M | MTRJ-SC DUPLEX 50/125 MULTIMODE FIBER OPTIC ASSEMBLIES, 10 METERS | $22.88 | |
| ATSV3C2P40115M | MTRJ-SC DUPLEX 50/125 MULTIMODE FIBER OPTIC PATCH CABLE,15 METERS | $25.98 | |
| ATSV3C2P40120M | MTRJ-SC DUPLEX 50/125 MULTIMODE FIBER OPTIC ASSEMBLIES, 20 METERS | $30.38 | |
| | | | |
| MTRJ-SC Patch Cables | American Data Supply Carries ST-SCDuplex Multimode Fiber Optic Patch Cables Up To 5,000 Feet | Call | |
| ATSV3C2P40135M | MTRJ-SC DUPLEX 50/125 MULTIMODE FIBER OPTIC ASSEMBLIES, 35 METER | Call | |
| ATSV3C2P40140M | MTRJ-SC DUPLEX 50/125 MULTIMODE FIBER OPTIC ASSEMBLIES, 40 METERS | Call | |
| ATSV3C2P40145M | MTRJ-SC DUPLEX 50/125 MULTIMODE FIBER OPTIC ASSEMBLIES, 45 METERS | Call | |
| ATSV3C2P40155M | MTRJ-SC DUPLEX 50/125 MULTIMODE FIBER OPTIC ASSEMBLIES, 50 METERS | Call | |
| ATSV3C2P40155M | MTRJ-SC DUPLEX 50/125 MULTIMODE FIBER OPTIC ASSEMBLIES, 55 METERS | Call | |
| ATSV3C2P40106M | MTRJ-SC DUPLEX 50/125 MULTIMODE FIBER OPTIC ASSEMBLIES, 60 METERS | Call | |
| ATSV3C2P401065M | MTRJ-SC DUPLEX 50/125 MULTIMODE FIBER OPTIC ASSEMBLIES, 65 METERS | Call | |
| ATSV3C2P401070M | MTRJ-SC DUPLEX 50/125 MULTIMODE FIBER OPTIC ASSEMBLIES, 70 METERS | Call | |
| ATSV3C2P401075M | MTRJ-SC DUPLEX 50/125 MULTIMODE FIBER OPTIC ASSEMBLIES, 75 METERS | Call | |
| ATSV3C2P401080M | MTRJ-SC DUPLEX 50/125 MULTIMODE FIBER OPTIC ASSEMBLIES, 80 METERS | Call | |
| ATSV3C2P401085M | MTRJ-SC DUPLEX 50/125 MULTIMODE FIBER OPTIC ASSEMBLIES, 85METERS | Call | |
| ATSV3C2P401090M | MTRJ-SC DUPLEX 50/125 MULTIMODE FIBER OPTIC ASSEMBLIES, 90 METERS | Call | |
| | American Data Supply Carries ST-SC Duplex Multimode Fiber Optic Patch Cables Up To 5,000 Feet | Call | |
| | |
| --- | --- |
| | MTRJ-ST Duplex Multimode 50 Micron Fiber Optic Assemblies |
| | | | |
| --- | --- | --- | --- |
| MTRJ-ST Patch Cables | American Data Supply Carries MTRJ-ST Duplex Multimode Fiber Optic Patch Cables Up To 5,000 Feet | Price | Order |
| ATSV3A2P101M | MTRJ-ST DUPLEX 50/125 MULTIMODE FIBER OPTIC ASSEMBLIES, 1 METER | $30.30 | |
| ATSV3A2P102M | MTRJ-ST DUPLEX 50/125 MULTIMODE FIBER OPTIC ASSEMBLIES, 2 METERS | $30.88 | |
| ATSV3A2P103M | MTRJ-ST DUPLEX 50/125 MULTIMODE FIBER OPTIC ASSEMBLIES, 3 METERS | $31.88 | |
| ATSV3A2P104M | MTRJ-ST DUPLEX 50/125 MULTIMODE FIBER OPTIC ASSEMBLIES, 4 METERS | $32.58 | |
| ATSV3A2P105M | MTRJ-ST DUPLEX 50/125 MULTIMODE FIBER OPTIC ASSEMBLIES, 5 METERS | $32.98 | |
| ATSV3A2P106M | MTRJ-ST DUPLEX 50/125 MULTIMODE FIBER OPTIC ASSEMBLIES, 6 METERS | $33.28 | |
| ATSV3A2P107M | MTRJ-ST DUPLEX 50/125 MULTIMODE FIBER OPTIC ASSEMBLIES, 7 METERS | $34.28 | |
| ATSV3A2P108M | MTRJ-ST DUPLEX 50/125 MULTIMODE FIBER OPTIC ASSEMBLIES, 8 METERS | $37.28 | |
| ATSV3A2P109M | MTRJ-ST DUPLEX 50/125 MULTIMODE FIBER OPTIC ASSEMBLIES, 9 METERS | $37.88 | |
| ATSV3A2P110M | MTRJ-ST DUPLEX 50/125 MULTIMODE FIBER OPTIC ASSEMBLIES, 10 METERS | $37.98 | |
| ATSV3A2P115M | MTRJ-ST DUPLEX 50/125 MULTIMODE FIBER OPTIC PATCH CABLE,15 METERS | $38.98 | |
| ATSV3A2P130M | MTRJ-ST DUPLEX 50/125 MULTIMODE FIBER OPTIC ASSEMBLIES, 30 METERS | $41.98 | |
| | | | |
| MTRJ-ST Patch Cables | American Data Supply Carries MTRJ -ST Duplex Multimode Fiber Optic Patch Cables Up To 5,000 Feet | Call | |
| ATSV3A2P135M | MTRJ-ST DUPLEX 50/125 MULTIMODE FIBER OPTIC ASSEMBLIES, 35 METER | Call | |
| ATSV3A2P140M | MTRJ-ST DUPLEX 50/125 MULTIMODE FIBER OPTIC ASSEMBLIES, 40 METERS | Call | |
| ATSV3A2P145M | MTRJ-ST DUPLEX 50/125 MULTIMODE FIBER OPTIC ASSEMBLIES, 45 METERS | Call | |
| ATSV3A2P150M | MTRJ-ST DUPLEX 50/125 MULTIMODE FIBER OPTIC ASSEMBLIES, 50 METERS | Call | |
| ATSV3A2P155M | MTRJ-ST DUPLEX 50/125 MULTIMODE FIBER OPTIC ASSEMBLIES, 55 METERS | Call | |
| ATSV3A2P160M | MTRJ-ST DUPLEX 50/125 MULTIMODE FIBER OPTIC ASSEMBLIES, 60 METERS | Call | |
| ATSV3A2P165M | MTRJ-ST DUPLEX 50/125 MULTIMODE FIBER OPTIC ASSEMBLIES, 65 METERS | Call | |
| ATSV3A2P170M | MTRJ-ST DUPLEX 50/125 MULTIMODE FIBER OPTIC ASSEMBLIES, 70 METERS | Call | |
| ATSV3A2P175M | MTRJ-ST DUPLEX 50/125 MULTIMODE FIBER OPTIC ASSEMBLIES, 75 METERS | Call | |
| ATSV3A2P180M | MTRJ-ST DUPLEX 50/125 MULTIMODE FIBER OPTIC ASSEMBLIES, 80 METERS | Call | |
| ATSV3A2P185M | MTRJ-ST DUPLEX 50/125 MULTIMODE FIBER OPTIC ASSEMBLIES, 85METERS | Call | |
| ATSV3A2P190M | MTRJ-ST DUPLEX 50/125 MULTIMODE FIBER OPTIC ASSEMBLIES, 90 METERS | Call | |
| | American Data Supply Carries MTRJ -SC Duplex Multimode Fiber Optic Patch Cables Up To 5,000 Feet | Call | |
| | |
| --- | --- |
| | SC-SC Duplex Multimode 50 Micron Fiber Optic Assemblies |
| | | | |
| --- | --- | --- | --- |
| SC-SC Patch Cables | American Data Supply Carries SC-SC Duplex Multimode Fiber Optic Patch Cables Up To 5,000 Feet | Price | Order |
| ATSVCC2P101M | SC-SC DUPLEX 50/125 MULTIMODE FIBER OPTIC ASSEMBLIES, 1 METER | $12.88 | |
| ATSVCC2P102M | SC-SC DUPLEX 50/125 MULTIMODE FIBER OPTIC ASSEMBLIES, 2 METERS | $14.88 | |
| ATSVCC2P103M | SC-SC DUPLEX 50/125 MULTIMODE FIBER OPTIC ASSEMBLIES, 3 METERS | $14.98 | |
| ATSVCC2P104M | SC-SC DUPLEX 50/125 MULTIMODE FIBER OPTIC ASSEMBLIES, 4 METERS | $16.88 | |
| ATSVCC2P105M | SC-SC DUPLEX 50/125 MULTIMODE FIBER OPTIC ASSEMBLIES, 5 METERS | $17.88 | |
| ATSVCC2P106M | SC-SC DUPLEX 50/125 MULTIMODE FIBER OPTIC ASSEMBLIES, 6 METERS | $18.58 | |
| ATSVCC2P107M | SC-SC DUPLEX 50/125 MULTIMODE FIBER OPTIC ASSEMBLIES, 7 METERS | $19.98 | |
| ATSVCC2P108M | SC-SC DUPLEX 50/125 MULTIMODE FIBER OPTIC ASSEMBLIES, 8 METERS | $20.88 | |
| ATSVCC2P109M | SC-SC DUPLEX 50/125 MULTIMODE FIBER OPTIC ASSEMBLIES, 9 METERS | $20.98 | |
| ATSVCC2P110M | SC-SC DUPLEX 50/125 MULTIMODE FIBER OPTIC ASSEMBLIES, 10 METERS | $21.88 | |
| ATSVCC2P115M | SC-SC DUPLEX 50/125 MULTIMODE FIBER OPTIC PATCH CABLE,15 METERS | $25.88 | |
| ATSVCC2P130M | SC-SC DUPLEX 50/125 MULTIMODE FIBER OPTIC ASSEMBLIES, 30 METERS | $31.98 | |
| | | | |
| SC-SC Patch Cables | American Data Supply Carries SC-SC Duplex Multimode Fiber Optic Patch Cables Up To 5,000 Feet | Call | |
| ATSVCC2P135M | SC-SC DUPLEX 50/125 MULTIMODE FIBER OPTIC ASSEMBLIES, 35 METER | Call | |
| ATSVCC2P140M | SC-SC DUPLEX 50/125 MULTIMODE FIBER OPTIC ASSEMBLIES, 40 METERS | Call | |
| ATSVCC2P145M | SC-SC DUPLEX 50/125 MULTIMODE FIBER OPTIC ASSEMBLIES, 45 METERS | Call | |
| ATSVCC2P150M | SC-SC DUPLEX 50/125 MULTIMODE FIBER OPTIC ASSEMBLIES, 50 METERS | Call | |
| ATSVCC2P155M | SC-SC DUPLEX 50/125 MULTIMODE FIBER OPTIC ASSEMBLIES, 55 METERS | Call | |
| ATSVCC2P160M | SC-SC DUPLEX 50/125 MULTIMODE FIBER OPTIC ASSEMBLIES, 60 METERS | Call | |
| ATSVCC2P165M | SC-SC DUPLEX 50/125 MULTIMODE FIBER OPTIC ASSEMBLIES, 65 METERS | Call | |
| ATSVCC2P170M | SC-SC DUPLEX 50/125 MULTIMODE FIBER OPTIC ASSEMBLIES, 70 METERS | Call | |
| ATSVCC2P175M | SC-SC DUPLEX 50/125 MULTIMODE FIBER OPTIC ASSEMBLIES, 75 METERS | Call | |
| ATSVCC2P180M | SC-SC DUPLEX 50/125 MULTIMODE FIBER OPTIC ASSEMBLIES, 80 METERS | Call | |
| ATSVCC2P185M | SC-SC DUPLEX 50/125 MULTIMODE FIBER OPTIC ASSEMBLIES, 85METERS | Call | |
| ATSVCC2P190M | SC-SC DUPLEX 50/125 MULTIMODE FIBER OPTIC ASSEMBLIES, 90 METERS | Call | |
| | American Data Supply Carries SC -SC Duplex Multimode Fiber Optic Patch Cables Up To 5,000 Feet | Call | |
| | |
| --- | --- |
| | ST-ST Duplex Multimode 50 Micron Fiber Optic Assemblies |
ST-ST Patch Cables

American Data Supply Carries ST-ST Duplex Multimode Fiber Optic Patch Cables Up To 5,000 Feet

Price
Order
ATSVAA2P101M
ST-ST DUPLEX 50/125 MULTIMODE FIBER OPTIC ASSEMBLIES, 1 METER
$10.88
ATSVAA2P102M
ST-ST DUPLEX 50/125 MULTIMODE FIBER OPTIC ASSEMBLIES, 2 METERS
$11.88
ATSVAA2P103M
ST-ST DUPLEX 50/125 MULTIMODE FIBER OPTIC ASSEMBLIES, 3 METERS
$12.88
ATSVAA2P104M
ST-ST DUPLEX 50/125 MULTIMODE FIBER OPTIC ASSEMBLIES, 4 METERS
$13.88
ATSVAA2P105M
ST-ST DUPLEX 50/125 MULTIMODE FIBER OPTIC ASSEMBLIES, 5 METERS
$13.98
ATSVAA2P106M
ST-ST DUPLEX 50/125 MULTIMODE FIBER OPTIC ASSEMBLIES, 6 METERS
$15.88
ATSVAA2P107M
ST-ST DUPLEX 50/125 MULTIMODE FIBER OPTIC ASSEMBLIES, 7 METERS
$16.88
ATSVAA2P108M
ST-ST DUPLEX 50/125 MULTIMODE FIBER OPTIC ASSEMBLIES, 8 METERS
$18.88
ATSVAA2P109M
ST-ST DUPLEX 50/125 MULTIMODE FIBER OPTIC ASSEMBLIES, 9 METERS
$18.98
ATSVAA2P110M
ST-ST DUPLEX 50/125 MULTIMODE FIBER OPTIC ASSEMBLIES, 10 METERS
$19.00
ATSVAA2P115M
ST-ST DUPLEX 50/125 MULTIMODE FIBER OPTIC PATCH CABLE,15 METERS
$22.88
ATSVAA2P130M
ST-ST DUPLEX 50/125 MULTIMODE FIBER OPTIC ASSEMBLIES, 30 METERS
$25.98
ST-ST Patch Cables

American Data Supply Carries ST-ST Duplex Multimode Fiber Optic Patch Cables Up To 5,000 Feet

Call

ATSVAA2P135M
ST-ST DUPLEX 50/125 MULTIMODE FIBER OPTIC ASSEMBLIES, 35 METER

Call

ATSVAA2P140M
ST-ST DUPLEX 50/125 MULTIMODE FIBER OPTIC ASSEMBLIES, 40 METERS

Call

ATSVAA2P145M
ST-ST DUPLEX 50/125 MULTIMODE FIBER OPTIC ASSEMBLIES, 45 METERS

Call

ATSVAA2P150M
ST-ST DUPLEX 50/125 MULTIMODE FIBER OPTIC ASSEMBLIES, 50 METERS

Call

ATSVAA2P155M
ST-ST DUPLEX 50/125 MULTIMODE FIBER OPTIC ASSEMBLIES, 55 METERS

Call

ATSVAA2P160M
ST-ST DUPLEX 50/125 MULTIMODE FIBER OPTIC ASSEMBLIES, 60 METERS

Call

ATSVAA2P165M
ST-ST DUPLEX 50/125 MULTIMODE FIBER OPTIC ASSEMBLIES, 65 METERS

Call

ATSVAA2P170M
ST-ST DUPLEX 50/125 MULTIMODE FIBER OPTIC ASSEMBLIES, 70 METERS

Call

ATSVAA2P175M
ST-ST DUPLEX 50/125 MULTIMODE FIBER OPTIC ASSEMBLIES, 75 METERS

Call

ATSVAA2P180M
ST-ST DUPLEX 50/125 MULTIMODE FIBER OPTIC ASSEMBLIES, 80 METERS

Call

ATSVA