Kewaunee's TekRak provides you with the industry's most cost effective storage solution. Its patent-pending design greatly reduces installation time and cost. Structurally sound, the TekRak system protects vital network equipment from seismic vibrations without requiring costly additional support framework. Whether you are building a new facility or renovating an existing space, TekRak systems are adaptable to your network storage needs and requirements.

Cost effective rack system compared to conventional racks

Rack design allows remarkable ease and speed of installation

Structural integrity of the rack provides an extraordinary 2000 pound load capacity

19" and 23" Rack Mount are EIA compliant.

Easily adaptable to your requirements

Flexibility to access cabling from all around Rack System

Clean, neat and organized appearance accomplished with standard available accessories

Multiple standard colors available, custom colors upon request

Listed to UL Standard 1863


Kewaunee Enclosures offer the best match for your specialized network applications. They adapt to your style and changing needs with a wide variety of door styles and configurations. There's even a choice of shelving, side panel, rail, and fan options. Kewaunee Enclosures deliver storage the way you want it, with no compromises.

Kewaunee's 500 Series Enclosures combine extra heavy-duty construction with a wealth of options that adapt to your growing needs. There's no need to settle with "almost there" configurations — the 500 Series gives you exactly what you're looking for and more.


Back to home page
Data Cabinets-Data Cabinet- Distribution Racks-Server Racks- Network Racks- Server Racks- Water Cooled DataCabinets-Data Rack Enclosures-Network Racks- Relay Racks- Cable Management Racks-Equipment Racks- Rack Systems
Water cooled data cabinets (more info
See Cabinet In EARTHQUAKE TEST!! - Click Here
We also carry the new
water cooled data cabinets (more info) for the greatest demands in heat dispensing data requirements in the industry.We are recognized around the globe as strong reliable partner in the areas of telecommunications and data communications, server network and technology, medical technology and, of course, security, and traffic control technology. Our data cabinet solutions include custom data cabinets as well as command centers and LAN stations. The Knürr product diversity and quality has been setting traditionally recognized high standards for several decades. Our standardised and customer-specific solutions are reflections of our innovative engineering know-how, which characterizes and provides the impetus for progress in these markets. Perfect solutions incorporating mechanical, electronic and thermal components qualify us as one of the global market leaders for highly developed, modular rack and enclosure systems for indoor and outdoor applications.
The global presence, the innovative and aesthetic design, a mature platform of standard products and the recognized high degree of integration competence, supplemented by outstanding time-to-market results.
American Data Supply as a national data cabinet distributor with an extensive selection of manufacturerss allows you the flexibility to choose from a wide variety of dat cabinet originals and equivalents.For example one dAmerican Data Supply cabinet or rack may not be in stock yet equivalent data enclosuresfrom another manufacturer will have equivalent engineered cabinet available for a competitive price. We have in stock a complete line of data cabinets, data enclosures, server racks, distribution racks, open bay racks, relay racks, LAN racks, enclosures, fiber optic enclosures, Zone 4 Racks, zone 4 data cabinets and seismic cabinets for data centers, communication closets, and communications centers are ready to ship the same day. We also have Zone 4 data cabinets and zone 4 realay racks for earthquake enclosures preparedness and national security. The zone 4 seismic data cabinets are a new line of proven technology from Knurr, Hoffman, Great Lakes, Newton, B-Line, & Xmark designed specifically for Zone 4 earthquake requirements. We carry zone 4 racks manufactured by ESW (formerly Encore), Quest, Great Lakes, Great Lakes,Synergy, Xmark and others for Zone 4 data cabinet earthquake applications and zone 4 enclosure environments. These zone 4 racks or zone 4 enclosures are built out of 10 gauge steel and this steel welded Channel rack has been designed for the Bell System and has been tested and approved to Pacific Bell Static Seismic Test PBS-000-102PT.
Seismic Cabinets.ets.
We've created standard, modified, and custom-built enclosures for thousands of customers across a diverse range of industries. From the clean-room to the factory floor, Great Lakes enclosures protect sensitive equipment from dust, dirt, oil, water, corrosion and other contaminants.
American Data Supply offers Newton Data Cabinets, Great Lakes Data cabinets, Quest Data Cabinets, ESW Data Cabinets, Cooper Data Cabinets, B-Line Data Cabinets, Quest Data Cabinets, and cabinets from other manufacturers by request.
Ladder Racks- More Info Cable Management Racks combine the features of a high quality relay rack, as well as effective cable routing and raceway facilities, all in one complete unit. All aluminum cable management rack allows for the mounting of a wide variety of 19 inch wide patch panels, hubs, switches, and related rack mount equipment. The rack is supplied with cable hangers, cable ties and generous provisions for organizing incoming cables for termination with effective patch cord management on the front. Racks are shipped with all assembly required plus an accessory pack that includes 20 cable ties, 16 cable hangers, 40 cuphead mounting screws, and grommeting for cable routing cutouts.
| | | |
| --- | --- | --- |
| Cable Management Racks & Accessories- more info | Zone 4 Data Cabinets- Data Racks | Ladder Racks- More Info |
American Data Supply offers Newton Data Cabinets, Hoffman Data cabinets, Quest Data Cabinets, ESW Data Cabinets, Cooper Data Cabinets, B-Line Data Cabinets, Quest Data Cabinets, and cabinets from other manufacturers by request
LAN Rack Accessories- Keyboard trays-Shelves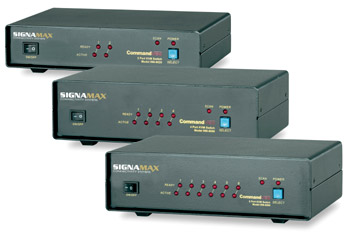 KVM Switches
We carry cable management racks, Wallmount Rack and wallmount rack solutions for applications ranging from data centers, server rooms, to all office envrironments. Not only will American Data Supply will meet or beat all US based pricing- but will assist you in designing your network at NO EXTRA CHARGE. Call us for details at (866) 342-3721.
Wall Mount Racks and LAN Stations from ICC,Signamax, Great Lakes,Ortronics,Kendall Howard and more.
Encore- ESW Data Cabinets
Advantage Series Data Cabinet
Cabinets built for the future of your data communications network.

Zone 4 rated Data CabinetsSurvive the Big One
The MAG VII has been tested to withstand seismic stress equal to 7.1 on the Richter Scale

Cablelogic Data Cabinet
Easily manage and access your cabling with CableLogic Enclosure Frames.

Wallbox Data Cabinet
The entire wallbox is able to swing away from the wall, offering convenient access to equipment.

NEMA Data Cabinet
Constructed of either aluminum or stainless steel and are designed to protect against the elements.
Call our offices today for pricing details
West Coast Sales: 866-650-DATA
East Coast Sales: 866-650-3282