Acterna MTS- 8000 OTDR- Optical Time Domain Reflectometer
The Acterna 8000 OTDR & Loss Test Set Plug-in Modules for the MTS-8000 Tester

For testing all types of networks from short to very long haul

. The Acterna MTS-8000 OTDR is designed specifically for installing and maintaining single mode fibers and fiber optic networks.The Acterna MTS-8000 OTDR tester allow for complete optical testing from 850nm multimode to 1625nm singlemode- it also allows for loss testing with light source and power meter for insertion loss and power-through measurements.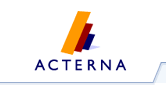 A field-scalable, optical test platform offering installation and maintenance. This combination provides the best in both physical layer testing and CWDM/DWDM system turn-up.

Handheld, lightweight, and cost-effective solution for physical layer fiber testing
Fully loaded configuration weighs less than 3.5kg/7.7lbs with rugged design that exceeds Telcordia requirements for durability and transport
Industry reference platform with over 11,000 units deployed in the field worldwide
Complete CWDM/DWDM test solution
CWDM/DWDM channel isolator up to 10.7Gbit/s
Connection checklist tester
OTDR and power level testing
PMD and spectral attenuation profile
Chromatic Dispersion (CD) testing
Full spectrum OSA
Complete Fiber Characterization tester

The MTS-8000 optical test platform can be configured with numerous application modules and a variety of storage media, including floppy disk, USB memory stick, and Read/Write CD-ROM
All application modules are field-installable - existing MTS-5000 users can simply field install the optical plug-in by adding an extender
Large color display with touchscreen available - transreflective option available for improved visibility for use in direct sunlight
Extended battery life with up to 2 Lithium-Ion cells
Base unit can house Visual Fault Locator (635nm), Power Meter (800 to 1650nm), and Optical Talkset (45dB) options
Optical talkset allows both communication and file transfer
Comprehensive suite of PC Software Tools for post-processing of test results via FiberTrace (OFS-100) and FiberCable (OFS-200)

To Return To Our Fiber Test Page
American Data Supply Carries A Full Line Of Fiber Optic Test Equipment Products from several leading manufacturers. We have a complete line of Power Meters, Light Sources,OTDR's, Test Kits, Optical Power Meters, Inspection Scopes, and many more.
If you do not see your product listed, please call our sales office for additional information.American Data Supply also carries refurbished fiber optic test equipment at greatly reduced prices. Call us for additional details.
We carry manufacturers from Advanced Fiber Solutions,Noyes, Fluke, Seikoh Giken, Ideal, Exfo, Perkin Elmer, Ocean Optics and more. We carry a full range of OTDR's, Optical Loss Power Meters, Laser and LED Light Sources,Fiber Optic Splicing Kits, and more. We Have Hundreds Of Fiber Optic Test Equipment Products- Too Many To List Here- If It's Fiber Optic Related Test Equipment- We Have It- For LESS!
FIBER OPTIC TEST EQUIPMENT
Light Sources-Optical Power Meters-Optical Loss Test Kits-Backreflection Meters-Inspection Scopes-
Identifiers-OTDRs-Network Sims or Pulse Suppressors-Fiber Optic Talk Sets-Interferometers-Reference Cables
Spectrum Analyzers-Fiber Certification Test Kits-Environmental Test Systems--Test Kits-Adapter Caps and much more!