Smart Coil-Load Coils-Load Coil Cases-RFI Suppression Networks-Severe Service- RFI Suppression Networks-Fiber Splice Closures-RFI Suppression Networks
.
Load Coils
Load Coil Cases
For over 30 years, Charles (formerly Coil Sales) has pioneered load coil technology to develop the highest performing, most reliable coils available anywhere. Our very first product manufactured was the revolutionary single-entry load coil. Today, our coils serve in the vast majority of RBOC, CLEC and IOC networks, helping bring phone service to every corner of the globe.
Charles Load Coils are furnished with a high permeability, nickel core made to our precise specifications to guarantee lower DC resistance. Matched bifilar quadruple-insulated windings ensure nearly perfect DC and inductive balance. Mechanical connectors have replaced solder connections, acting as a heat sink and eliminating intermittency in transmission due to cold solder joints. Charles Load Coils provide a non-expanding encapsulant with the lowest viscosity available. This encapsulant ensures total penetration, provides a superior pressure dam, and absorbs thermal shock.

How Load Coils Work
All subscribers and trunk cable facilities consist of resistance and capacitance. The resistance is determined by the length and gauge of the cable conductors. The capacity is determined by the length of the cable conductors and the spacing between the conductors
The capacitive effect of the cable conductors has a direct relation on the voice band (300 Hz to 3000 Hz) from any given point. The higher the frequency, the greater the loss or attenuation (3000 Hz would be attenuated more than 300 Hz). By adding inductance (load coils) periodically into the cable facility, the capacitive effect can be cancelled, thus causing the attenuation across the voice band to be equal. Non-loaded subscriber loops should not exceed 18,000 ft. of cable. It is recommended that loops longer than 18,000 ft. be conditioned with load coils.
Optimum loading can be achieved by selecting the desired loading coil, measured in millihenries (mh), and placing them in the cable plant at prescribed intervals. For example, an 88mh coil will cancel 6000 ft. of capacity. Therefore, the recommended spacing would be at intervals of 6000 ft., with the first coil place 3,000 ft. from the start of the cable run.
The standardized Charles Load Coil is the mini H88 (88mh inductance, 1.3 diameter, 6,000 ft. spacing). Custom coils can be special ordered from Charles for inductances not shown (i.e. 66mh, 44mh, 22mh, etc.) by contacting your Charles Sales Representative. Physically, Charles Load Coils are available in two sizes, standard (1.72 inch diameter) and mini (1.3 diameter)
Kwik Kase® Load Coil Cases
Every modular component, load coil, build-out capacitor, saturable inductor, etc., is exactly the same diameter: 1.3 inches. They are standardized so that you can snap them into our midget B-152 Kwik Kase according to your needs rather than having to order specially built combinations. Kwik Kases encapsulate load coils within a tough ABS plastic shell, providing perfectly sealed protection. They are then easily mountable to pedestal brackets and backboards for convenient splicing access and quick installation.
With Kwik Kase Load Coil Cases, you'll save not only time on deliveries and installations, but also on overall costs too, because the modules can be returned to stock for future use. With all these cost advantages, it's gratifying to know that the module also improves electrical and physical properties. Kwik Kases can be special ordered for non-standard sized load coils in addition to the standard mini H88 coil.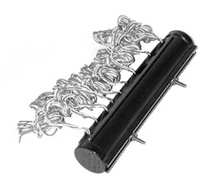 Load Coils and DSL Deployment
Because load coils add inductance to the line, they must ordinarily be removed in order to provision the line for deployment of DSL services. Load coils act as low-pass filters; thereby preventing the use of higher frequencies such as DSL signals.
Charles offers an innovative solution to the challenge of load coils and DSL deployment. For new installations, the Switchable Load Coil Case allows easy turn-up of copper pairs from analog to digital service, and vice-versa. In situations where load coils are already installed, the Digital Access Switch may be installed to easily provision lines for DSL deployment with a simple turn of a switch. These solutions reduce engineering and construction costs, service activation lead-times, multiple dispatching and labor group conflicts.
Call (866) 342-3721 Or Click On The Chat Button At The Top Of The Page To Talk To One Of Our Representatives