Wall Mount Racks- Wallmount Racks-19" Wallmount Rack- 19"Wallmount Rack- Wallmount Rack-Wall Mount Rack
American Data Supply carries a complete line of Wall Mount Racks, Wallmount Racks, 19" Wallmount Rack, 19"Wallmount Rack, Wallmount Rack, Wall Mount Racks Wallmount Enclosures, relay racks,ladder racks, data cabinets, raceway systems, distribution racks, cable management racks and enclosures for very application from the telephone closet to the network room to your co-location data center. We carry wall mount racks from ICC, Quest, Telect, ADC, Hoffman and more. We now have available Hendry rack systems and Newton racks for all you central office and data center needs. Call us today for a price quote at (866) 650-DATA. American Data Supply , founded in 1992, has become a leading supplier of quality telecommunication equipment including computer cabinets, server racks, LAN work centers, printer stands, data cabinets, computer workstations, wire racks and KVM switches to IT centers. With offices located throughout the United States, we serve all regions of the United States, Alaska, Hawaii, Canada and the world. American Data Supply specializes in providing quick solutions and quality products at discount prices that help organize and secure rackmount equipment. If you need a custom wall mount enclosure- call us today.
ICCMSWMR30- Wall Mount Rack
These self-squaring ICC wall mount racks can be used to wall mount virtually any data or telecommunications component onto a wallmount rack. The all-steel wall mount rack is quick and easy to assemble, and comes in a durable black powder coated finish. The racks are 18 inch deep and are available in 8, 15, or 30 rack mount spaces. All wall mount racks feature 125 lbs. load capacity. Thirty 12-24 x 5/8 inch rack screws included. The version with 30 RMS comes with 50 screws.

Call (866) 342-3721 Or Click On The Chat Button At The Top Of The Page To Talk To One Of Our Representatives
ICCMSWMR08 WALL MOUNT RACK-19.75 in. W x 17.75 in. H x 18 in. D, 8 RMS, 125 Lbs load capacity- COST- $119.84 each
8 RMS Wall mount racks are ideal for small data and telecom installations. They are easily assembled and come in a durable black powder coated finish to complement wall mount rack mounted products.
ICCMSWMR15 - WALLMOUNT RACK 19.75 in. W x 30 in. H x 18 in. D, 15 RMS, 125 Lbs load capacity-15 RMS racks are intended for installations that require more rack equipment.

ITEM NUMBER DESCRIPTION
ICCMSWMR08 8 RMS, W x H x D = 19.75 x 17.75 x 18 in.
ICCMSWMR15 15 RMS, W x H x D = 19.75 x 30.00 x 18 in.
ICCMSWMR30 30 RMS, W x H x D = 19.75 x 56.25 x 18 in.

RMS = Rack Mount Space, 1.75 Inches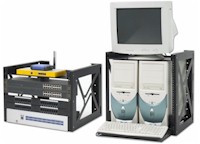 Example Of Our Kendall Howard 19" Wallmount Racks holding up to 250 Pounds of weight
We Now Carry Knur, Hoffman, Great Lakes, Chatsworth, B-Line, & Newton Racks and Accesories
Need Patch Panels?
Price $ 139.95 ATS 1915-3-001-08 (Shelf is additional) We Always Give Quantity Discounts!
8U Wall Mount Rack
The strength and durability of our modular rack line is now available in a new patent pending wall mount version. What is so great about this new racking system? We are glad you asked!

2 piece design installs in less than 5 minutes
Supports over 250lbs
Adjusts to ANY width 19" EIA, 24" Telecom, whatever spacing you need.
Under the desk mountable
Ceiling mountable
Universal mounting holes for most common wall hardware
Side cutouts for easy cabling
Standard pre-tapped 10-32 rail holes
Cable Routing Blank For Us With American Data Supply 1915 Series Wall Mount Racks
| | |
| --- | --- |
| PT# 1902-1-001-01A | 1U Cable Routing Blank |
The Kendall Howard series of Cable Routing Blanks is an excellent solution for your cable routing needs. These devices help to route cables from patch panels, routers, switches, and virtually any component that requires front mounted cables. Simply placing a Cable Routing Blank adjacent to your component allows you to route your cabling to the back of your racking system, conveniently and effortlessly. This simple component will take many of the problems of tangled and crimped cabling away.

Our Cable Routing Blanks are constructed from heavy 14-gauge steel. All corners feature radius corners for optimum safety and handling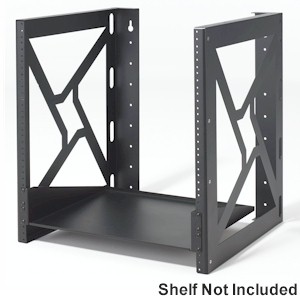 Price $ 149.95 ATS 1915-3-001-12 (Shelf is additional) We Always Give Quantity Discounts!
12U Wall Mount Rack
The strength and durability of our modular rack line is now available in a new patent pending wall mount version. What�s so great about this new racking system? Were glad you asked!

2 piece design installs in less than 5 minutes
Supports over 250lbs
Adjusts to ANY width 19" EIA, 24" Telecom, whatever spacing you need.
Under the desk mountable
Ceiling mountable
Universal mounting holes for most common wall hardware
Side cutouts for easy cabling
Standard pre-tapped 10-32 rail holes
The Compact 100 series wall-mount enclosures offers the installers an economical solution to 19'' wall-mount applications.
Made from 1-piece construction, this series provides a cost-effective solution for mounting electronic equipment and components.
For 19'' Rack-mount equipment

- 15 Year Limited Warranty -

Wall Mount Enclosures

100 Series

Wall Mount Racks

Construction

Compact 200 Series
Compact 300 Series
E Z Compact 600
Series


Structure: One-piece Construction / Cold Rolled Steel - 20 AWG
Rails: Laminated Steel - 16 AWG / Tapped with EIA Spaced #12-24
Front Door: Smoked Acrylic Door, Steel Frame With Key Lock
Paint: Electrostatic Microfinish

Colors Available: Ivory (use - 01 suffix) / Black (use - 02 suffix)
Custom colors available. Minimum ordering quantities apply.


| | | | | | |
| --- | --- | --- | --- | --- | --- |
| Stock No. | RMS | HEIGHT | WIDTH | DEPTH | LOAD CAPACITY |
| WM1019-05 | 5 | 11' | 20.5'' | 20'' | 30LBS |
| WM1019-07 | 7 | 15' | 20.5'' | 20'' | 50LBS |
| WM1019-09 | 9 | 18' | 20.5'' | 20'' | 70LBS |
| WM1019-11 | 11 | 22' | 20.5'' | 20'' | 90LBS |