OTDR-OTDRs- OTDR's- Nettest OTDR- Nettest OTDRs
American Data Supply Is Your One Source For All Your Test Equipment Needs
American Data Supply Carries the a complete line of OTDR, OTDRs, & OTDR's, from Nettest including their entire line of OTDR, Nettest OTDRs test equipment.Nettest manufactures other test equipment including Gigabit Ethernet Testers, DWDM Test Equipment, Fiber Optic Test Equipment, VOIP Test Equipment, Sonet, Multi-layer Test, Channel Test and other telecommunications Test Equipment.
Here's real OTDR performance in a handheld test set. The Nettest 5000 OTDR merges high performance with several key advantages: portability, modularity, and affordability- and mush more. It doesn't compromise on performance - this OTDR can locate fiber breaks, identify faults, estimate fiber attenuation, and verify back reflection. The Nettest OTDR platform offers a full suite of optical testing modules for a complete solution for Metro Networks, FTTx (PON) Networks and Enterprise Networks.
An "Auto Mode" makes the Nettest OTDR module easy to use. With the push of a button, you can completely identify any faults and events along the fiber under test. In "Advanced Mode" you can customize the measurement parameters, such as pulse width, averaging, and distance range.
Highlights
One of the best OTDRs in the world that has Automatic Fiber Test: One-Button for complete fiber testing Dual wavelength capability (1310 and 1550 nm)Designed for FTTx, Metro and Entreprise NetworksThe Micro OTDR, once associated with our extensive list of modules, provides the perfect toolkit for today's network needs:

Optical Test Toolkit series (Power Meters, Light Sources, Loss Test Sets, and VFLs)Variable AttenuatorOptical Channel Monitor (CWDM and DWDM)
Gigabit Ethernet and Fiber Channel

Intuitive user interface
West Coast Sales (866) 342-3721 East Coast Sales (866) 650-DATA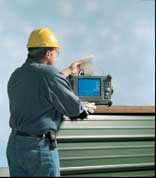 ----
Click on any of the below OTDR links for addditional information
CMA 4500 Optical Time Domain Reflectometer-
Combining the technology of the industry leading CMA 4000 OTDR with the CMA 5000 Multi-Layer Test Platform makes the CMA 4500 the Next Generation in OTDR Testing
Nettest CMS 5000 OTDR- Nettest CMA 5000 OTDR
Based upon NetTest's leading OTDR technology and its advanced CMA 5000 Multi-Layer Test Platform, the CMA 4500 takes fiber installation, maintenance and documentation of the network to the next level. Designed to provide exceptional performance at a price that fits most budgets, it's the ideal tool for Metro, CWDM, ultra-long haul and PON based, fiber-to-the-premise (FTTP) deployments.
Nettest CMA 8800 Nettest CMA 8800 OTDR
With its modular design, the CMA 8800 OTDR meets the most demanding test requirements for a variety of applications from fault location to testing high fiber count networks. It includes all of the features of the CMA 4000i Optical Test System plus a GPIB Interface, Optical Switch option and Built-In Printer option. In addition, it can be configured with a power meter, light source and Visual Fault Locator to handle any optical testing requirements.
OMETS OTDRs are available in several wavelength and dynamic range combinations to handle virtually any application - single-mode or multimode, "dark" or "active" fibers. All of the OMETS are designed for easy hardware integration with any standard PC featuring a PCI/PCI-x bus or rack-mounted PC chassis featuring a cPCI bus and feature a software developer's kit (SDK) to initialize and operate the modules. Simply create your own user interface, using the included demo utility
as a guide, to provide state of the art OTDR performance with your personalized GUI
Featuring an intuitive and user-friendly GUI, a powerful, Windows ® operating system, a large, high resolution color display with touch screen interface and rugged casework, the CMA 4500 can cover any testing requirements from single mode to multimode, from 10 meters to 250Km. Sophisticated analysis software then provides consistent and accurate fiber characterization automatically or with the press of a button. USB ports, a 10/100 Ethernet interface, modular I/O drives and dedicated testing modes further ensure unparalleled ease of use and flexibility.
As an added value, the CMA 4500 can be equipped with a stabilized light source, power meter and a Visual Fault Locator (VFL) that enables users to visually locate breaks within central offices and quickly identify specific fibers within a cable or splice tray. An available connector inspection microscope further reduces costly troubleshooting of connector related issues by quickly pinpointing the source of the problem, all without any of the risks associated with conventional microscopes.
Dedicated testing modes designed specifically for the task at hand.
Working in Fault Locate Mode, the CMA 4500 is ideal for reel testing or continuity verification. It allows you to quickly and easily identify faults, all at the touch of a single button. A built-in connection check verifies proper fiber connection and thus, completes fiber characterization in a matter of seconds.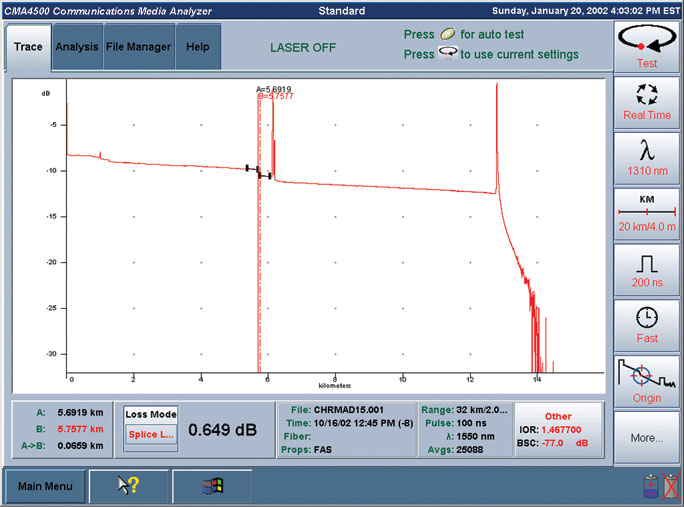 Designed for fiber installation and commissioning, the CMA 4500's Construction Mode automates frequently performed tasks, eliminating common user errors such as incorrectly named or missing traces. It allows users to test, analyze and save multiple wavelength traces with the touch of a single button.
The CMA 4500 Standard OTDR features the ability to manually set all, some or none of the testing parameters, providing unsurpassed parameter optimization. Key parameters such as wavelength, pulse width, range/resolution and averaging mode can easily be set via the CMA 4500's touch screen or dedicated hard key interfaces. The Standard OTDR's ability to overlay up to eight traces simultaneously, four display options and user selectable loss modes ensure that a user has all the tools needed to test their network.
The CMA 5000 Gigabit Ethernet application also facilitates the fast, efficient link certification of 10, 100 or 1000 Mbps Ethernet service.
A Ping application quickly and easily verifies connectivity and configuration. A Traffic Generation application provides end-to-end testing by having one CMA 5000 generate Ethernet traffic, up to full line rate, while a receiving network station or CMA 5000 monitors the traffic at the far end of the link under test. The Monitor with Traffic Generation application can be used to both generate and receive Ethernet traffic, thus all traffic sent and received can be simultaneously viewed on one display. The CMA 5000's Gigabit Ethernet application is in compliance with the data communications industry's RFC 2544 Benchmarking Methodology for Network Interconnect Devices by performing Throughput, Frame Loss, latency and Back-to-Back Frame Tests (Burstabiltiy).
VOIP Tester- and emerging services across GSM, GPRS/EDGE, UMTS, CDMA, SS7 and IP networks.
The InterQuest Analyzer is NetTest's advanced network and service performance analyzer for mobile operators and vendors enabling them to quickly provision, troubleshoot and optimize existing and emerging services across GSM, GPRS/EDGE, UMTS, CDMA, SS7 and IP networks.
InterQuest Analyzer is designed to make technology simple through a powerful top-down test methodology that allows you to enhance test and workflow procedures with a customer-centric view globally in the organization. This facilitates troubleshooting and optimization of even the most complex networks, makes more efficient use of network experts, and increases the overall productivity within the organization.
Nettest Test Equipment
LOW PRICE GUARANTEE:
American Data Supply will NOT BE UNDERSOLD. Just provide us with a written quote from any US competitor and American Data Supply will MEET or BEAT their price!
Call Us For Additional Details At (866) 342-3721
We're here to help you solve your business challenges and increase your ability to meet your own customers' growing expectations from their telecommunications service providers.