ICC Residential Wallplates- ICC Residential Faceplates- Wall plates- Faceplates- 4 Port Faceplates- Angled Faceplates- Angled Wallplates- 2 Port Wall plates- Four Port Wallplates- 6 Port Wallplates
American Data Supply has in stock a complete assortment of residential faceplates, wall plates, angled faceplates, angled wall plates that come in a variety of configurations including one port faceplates, two port wall plates, four port wallplates, and 6 port wallplates. We also carry entire selection of smart home products. ICC announces a new delux distribution center designed to fill the requirements for multi-unit, small homes and retrofit installations. American Data Supply has in stock a wide selection of delux smart home panels that have the flexibility to be configured for either CAT 5e, voice, data, video or fiber optic cable.This complete distribution system provides support for telephony, data and CATV. Designed to be surface mounted, the Mini Distribution Center has cable access openings on each side to accommodate cable routing.
Starting At .$75 each (CALL For Quantity Discounts (866) 650-DATA)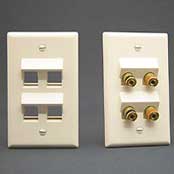 IC107AF2xx* 2-Port, Single
Faceplate is designed with an angled bottom and accommodates modular connectors.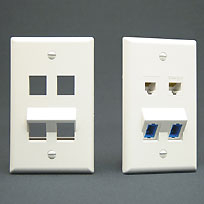 IC107AF4xx 4-Port, Single Angled Facplate

IC107AF2xx 2-Port, Single Angled Facplate

IC107DA2xx* 2-Port, Single NEW Angled Faceplate