cable, vdsl, patch
Telco Systems Switches- T-Marc® 280 Series- Ethernet Service Demarcation Solution- IP Switches-Nebs Compliant Switches

American Tech Supply is a distributor of TELCO SYSTEMS switches, Telco IP SWITCHES, 10/100/1000 nebs compliant ethernet switches. The IP platform provides a cost-effective, high-performance, ultra-compact Ethernet switch solution. T5 Compact is a fully managed, non-blocking, IP platform with support for a variety of interface modules that accommodate small and medium sized IP data communication requirements including 10/100 Ethernet and Gigabit Ethernet services. T5 Compact offers 48 10/100 Mbps Ethernet ports in a single rack unit, with dual Gigabit fiber uplinks.Telco Systems is a major provider of carrier-class transport and access solutions for public and private networks with over 30 years experience. The solutions include a large installed base of TDM, SONET, VoIP, VDSL, 10/100, and Gigabit Ethernet products.
T-Marc® 280 Series
Ethernet Service Demarcation Solution
Description:
The T-Marc® 280 is an intelligent, remotely-managed demarcation devices which has been purpose-built to integrate networking, testing and assurance capabilities. Like other members of the T-Marc family, the T-Marc 280 supports advanced Layer 2 networking using Telco Systems' AccessEthernet® technology to allow total flexibility in deployment, provisioning, and delivery of Carrier Ethernet services.

Two tri-speed customer access ports enable providers to support two separate customers on a single device. The second access port may also be used to create a DMZ (demilitarized zone or data management zone) to separate external (public) traffic from the customer's internal network. Each access port supports a single EVC and UNI with four traffic classes. Dual network uplinks include an SFP-based fiber and a combo tri-speed/fiber port. The dual network ports provide a rich set of protection options, including link aggregation, resilient, link, and Spanning Tree protocols.

Standards-based Ethernet OAM features include IEEE 802.3ah link OAM, IEEE 802.1ag connectivity fault management, and ITU-T Y.1731 fault and performance monitoring for end-to-end Ethernet services. Physical and virtual networking capabilities provide automated address management and discovery, bandwidth profiles, advanced traffic classes, and complete control over how subscriber traffic is transported across a service provider's network.
Features:
Managed demarcation for converged services

Flexible architecture supporting


2 x 10/100/1000Base-T ports

1 Combo 10/100/1000Base-T or 100Base-FX/1000Base-X port

1 x 100Base-FX/1000Base-X uplink



Extensive Layer 2 functionality with non-blocking wire-speed switching capabilities

Comprehensive OAM and management functionality supported by BiNOSCenterNG

Flexible management options for remote alarms/provisioning

Control, monitoring, line testing and loopback capabilities for remote fault isolation

Redundant uplinks for protected services and link aggregation

Enhanced security and protection mechanisms

Granular rate limiting for ingress and egress

Compact 1RU design with desktop, rack and wall-mounting options

Purpose-built technology for optimized CAPEX and OPEX
Specification:
Standards and Certifications
• MEF 9: EPL, EVPL, ELAN
• MEF 14: EPL
• IEEE 802.1D; IEEE 802.1Q; IEEE 802.1P
• IEEE 802.1p Priority Queuing; IEEE 802.1u-2001
• IEEE 802.3x PAUSE: flow control and back pressure
• IEEE 802.1x
• IEEE 802.3; 802.3u; 802.3z Ethernet
• IEEE 802.3ad; IEEE 802.1ag CFM
• IEEE 802.3ah OAM, Link loss return, and link loss carry forward
• Designed for NEBS Level 3 compliance

Interfaces
Flexible Ethernet combo-port interfaces
• Dual-speed (100M and 1000M) fiber interfaces
• Pluggable optics, including CWDM
• Tri-speed (10/100/1000M) copper interfaces
Jumbo frames
ASCII/DB9 management port

Security Features
Secure management protocols: SNMPv3, SSHv2
Management VLAN
RADIUS, TACACS+ and IEEE 802.1X authentication

Layer 2 Features
Layer-2 performance: 2.9762 Mpps
IEEE 802.1D and IEEE 802.1Q Bridging
• Transparent LAN Service (TLS): Q-in-Q-based
• 4095 system-wide VLAN space
• 8K MAC address forwarding table
• Port-based VLANs and Super VLANs
Layer Two Control Protocol (L2CP)
Per-port, flexible MAC-based loopbacks (MAC swap)
Response Time Reporter (RTR)

MEF networking features
Ethernet Service Definition, Phase 1
• E-Line (EPL and EVPL) and E-LAN (ELAN) services
• CE traffic bundling option: all-to-one
• Point-to-point topologies
• 1 EVC per subscriber/access port
• Per-UNI (per-port) single-rate ingress bandwidth profiles (policing) with programmable burst capability
UNI Type 1

Traffic Management Features
Four system-wide traffic classes with flexible hybrid
scheduling. Classification by:
• Ingress interface, or port
• Source and/or destination MAC address
• IEEE 802.1ad priority code points (PCP)
• IPv4 TOS/DSCP field

Protection Features
General Line Protection
Spanning Tree: STP, RSTP, MSTP

Management and OAM Features
Element management systems
• BiNOSCenter NG
Multiple management access protocols and tools
• SNMPv1/v2c/v3; Telnet, SSHv2, TFTP, CLI
• DHCP (client)
• Syslog
Direct IP-based management mode
Connectivity fault management, performance and
services management: IEEE.1ag; MEF SOAM
RMON Group 1, 3, 4, and 10

Regulatory Compliance
North America and Canada
EMI - FCC Part 15 Class B
EMC - FCC 47CFR part15:2005, subpart B, Class B (US)
EMC - ICES-003: 2004 Issue4, Class B (Canada
Safety - UL1950, cUL 60950 CSA 22.2 No. 950
International
EMI - EN55022 Class B
Immunity - EN55024:1998+A1(01)+A2(03)
EMC - VCCI V-3/2006.04,Class B ( Japan)
EMC - AS/NZS CISPR 22: 2004, Class B (Australia/ NZ)
EN300386 V1.3.3 : 2005
Safety - EN 60950 plus IECEE-CB-105a ( Japan)
Safety - AS/NZS 60950.1 : 2003 (Australia/ NZ)
Diagrams:
Foxboro, MA, October 3, 2003 -- Telco Systems, a leader in network edge technology and IP switching platforms, today announced the availability of their transport and access lines on the General Services Administration (GSA) Schedule: extensive carrier-class SONET, TDM, IP, VoIP, and VDSL lines well-suited for government agencies. "At Telco Systems, we understand and value the unique needs of our government customers by offering them a variety of carrier-grade products to suite their applications," said Ofer Bar-Ner president, Telco Systems.Telco Systems' multi-service transport product lines include: EdgeLink OTM1000, OC-3 Terminal Multiplexer; EdgeLinkSTS/T1, SONET STS-1-to-T1 Multiplexer; EdgeLink Hub, Multi-service SONET Distribution Hub; EdgeLink100, M13 Multiplexer; EdgeLink100XT, Temperature-Hardened M13 Multiplexer; T6Pro, Multi-Layer IP Switch; T6, Multi-Layer IP Switch; T5Pro, Multi-Layer IP Switch; T5G, Gigabit Ethernet Switch; T5/T4 Routing Switch, Routing Switches; T5 Compact, 10/100 Ethernet Switch; and EdgeLink V24S, VDSL Switch. Their multi-service access lines include: EdgeLink300, T1/E1 IAD; EdgeLink200, Fixed-Port T1/E1 IAD; EdgeLink410/810, T1/E1 DCC; Access60, T1/E1 IAD; EdgeGate CPE, VoIP Gateway; and EdgeLink VTU10, VDSL Modem. All of these products have been added to the GSA Schedule GS-03F-0043N.
Telco EdgeGate CPE GW-23 SeriesFiber-to-the-Home/Apartment (FTTH/A). The EdgeGate's flexible architecture enables it to be the only VoIP gateway platform that supports a variety of transmission technologies, such as 100Mbps copper or fiber single-mode, multi-mode and even bi-directional (single fiber usage) fiber optics. Fiber support, with 100Mbps bandwidth, enables the end user to enjoy any broadband bandwidth-hungry application, such as Video-On-Demand, and enables the service provider to provide this service in wide distribution area, while maintaining high quality of service.
The EdgeGate CPE GW-282
The EdgeGate CPE® GW-282 series, of fiber-to-the-home/business (FTTH/B) media gateways, is the most efficient, flexible, and powerful in its class. Successfully deployed worldwide, many satisfied end-users benefit from the EdgeGate CPE's superior voice quality and converged broadband services (video and data) over a single IP infrastructure.The EdgeGate CPE GW-282 supports various configurations; all with (2) analog voice ports, (8) 10/100BaseTX LAN ports, and an optical Fast/Gigabit Ethernet uplink for FTTH/B applications. The EdgeGate CPE GW-282 series of FTTH gateways is a cost-effective solution for residential and enterprise environments with higher port requirements. For lower-port requirements look to Telco Systems' EdgeGate CPE GW-232 SFP line - it offers (2) voice ports, up to (3) 10/100BaseTX LAN ports, and a 100BaseFX Ethernet uplink.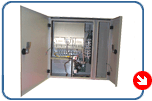 The EdgeGate CPE GW-282 can be deployed on a building's exterior in an environmentally controlled cabinet. This cabinet provides separate lock-secured access for the service provider and end user. It supports automatic meter reading (AMR) and battery backup and charger to provide lifeline POTS in the event of a power failure. The outdoor cabinet also has optional support of RF video.Small-to-Medium Enterprise (SME)The EdgeGate CPE GW-282 series is also perfectly suited for SME. With its unparalleled combination of reliability, functionality, and economy, users can quickly and easily route their phone calls through an IP network while simultaneously using it for a high-bandwidth enterprise network connection.
The EdgeGate CPE GW-482, a member of Telco Systems' active Ethernet FTTH/B product line, is a multi-service CPE device designed to reduce the cost of delivering voice, video, and data services to homes, SOHO, and small enterprise. It is based on Telco Systems' field-proven EdgeGate CPE GW-282, which is deployed in and outside thousands of homes and businesses worldwide. EdgeGate CPE GW-482 is available as either an indoor device or is equipped in an environmentally controlled enclosure, suitable for mounting on a building's exterior, for service provider access. It offers ILECs, utilities, and municipalities a cost-effective means to deliver triple play services while ensuring high reliability and availability of their networks. It's ideal for open access applications in which one service provider offers access and multiple providers deliver triple play services, as well as for cases were the service provider delivers both.
EdgeGate 483
Triple play all-in-one future-proof outdoor CPE for Active Ethernet (P2P) FTTH- Edgegate 483

EdgeGate 232
Mini EdgeGate Voice over IP and FTTH Media Gateway
EdgeGate 211
VOIP Residential Gateway
BiNOSCenter™ NG provides a carrier-class, comprehensive suite of integrated management tools allowing operators to simplify the configuration, administration, monitoring and troubleshooting of Telco Systems' BiNOS-powered networking equipment
The EdgeGate GW-232 series voice over IP and FTTH media gateways are the most efficient, flexible, and powerful devices in their class. With operations established worldwide, many satisfied end-users benefit from the EdgeGate family use by converging broadband services such as voice, video and data over a single IP infrastructure. The GW-232 supports various configurations of up to 2 analog voice lines and up to 4 10/100 Mbps Ethernet ports, including 100 Mbps Ethernet optical uplink. Thus, the EdgeGate GW-232 series VoIP and FTTH gateways cover the entire spectrum of requirements for both enterprise VoIP environment and remote office connectivity
The EdgeGate 242W is a multi-service residential gateway designed to reduce the cost and simplify the delivery of voice, video and data services to homes and small office/home office (SOHO).

The EdgeGate 483 family provides a triple play, all-in-one, future-proof outdoor CPE designed to deliver voice, video, and data services to homes, small office/home office (SOHO), and small enterprises.
The Magnalink 8000 is a high-performance, multipurpose service edge optimization appliance that utilizes high density gigabit Ethernet wire speed encryption to offer a combination of WAN optimization, encryption and SAN extension in a single device. It enables both enterprises and service providers to achieve their networking requirements by providing simple, high performing, secure and optimized connectivity between users and their applications.

Designed for desktop or wall mount use in any modern office, this versatile device auto-negotiates from 10Mbps to 100Mbps, allowing existing 10Mbps devices to communicate over a 100Mbps backbone. Network administrators enjoy the benefit of retaining existing 10Mbps devices while upgrading segments of the network as needed. As a media converter, the unit supports mixed media networks by enabling copper-to-fiber media conversion.

Singlemode RJ-45 and SC with fixed optics

Multimode RJ-45 and SC with fixed optics

Multimode or singlemode SX to singlemode LX, EX, SX, SC with fixed optics

Singlemode RJ-45 and LC with SFP optics

Multimode RJ-45 and LC with SFP optics

Singlemode or multimode LC with SFP optics

CWDM SFP Optics

The Radiance R1000 is a NEBS Level 3 certified 1U rack-mounted unit with dual, load-sharing AC or DC power, and accommodates two line cards.
The Metrobility® four-port 10/100Mbps copper Ethernet Layer 2 switch from Telco Systems provides a cost-effective solution for situations in which a simple switching option with few ports is required. The switch is form-compatible for installation in the Metrobility chassis-based platforms.
The Metrobility® T1/E1 interface provides cost effective high-speed integration and conversion of T1 (1.544Mbps) or E1 (2.048Mbps) serial copper telco communication lines to fiber optic links. The T1/E1 interface line card can connect to PBX's, multiplexers, ATM/Frame Relay devices, routers, network servers and video CODECS achieving extended distances, high density, high quality of transmission, and improved security.

The Metrobility Ethernet interface products offer versatile speed, media, distance, and redundancy options to cost-effectively distribute fiber optic connections. These units provide seamless connectivity within the LAN, or between the LAN and public or private networks. The Metrobility R111 and 2111 preconfigured media converters offer transparent integration of fiber optic connectivity or copper-to-coaxial integration for 10Mbps Ethernet networks.

The Metrobility® T3 interface by Telco Systems provides cost effective high-speed integration and conversion of T3 (44.736Mbps) serial copper telco communication lines to fiber optic links. The T3 interface line card can connect to PBX's, multiplexers, ATM/Frame Relay devices, routers, network servers and video CODECS achieving extended distances, high density, high quality of transmission, and improved security.

The Metrobility® R141 line card and 2141 standalone are transparent two-port, copper-to-fiber media converters that can be set to either 10Mbps on both ports or 100Mbps on both ports. The R141 line card is support in all Metrobility chassis options. When configured with a management card (R502-M), it may be locally managed through a web browser or with NetBeacon® ESP Element Manager
The R200 is a Class B certified standalone unit which accommodates a single line card. The R200 is equipped with an internal AC or DC power supply. Optional wall and rack mountable hardware is available for the R200 and R400 chassis.
The Metrobility RA21 Optical Network Unit (ONU) from Telco Systems® provides a copper-to-fiber service demarcation point at the customer premise for the delivery of optical Ethernet services. The ONU communicates to a R231 Access Line Card in a managed Metrobility chassis at the central office.

The Metrobility® Multi-rate Line Card (MRLC) by Telco Systems provides a transparent interface for multimode, singlemode, BWDM (single-strand bi-directional wavelength division multiplexing), and CWDM across a wide range of protocols with data rates ranging from 44.7Mbps to 2.7Gbps.
The R380 Multi-rate Line Card supports DS3, Ethernet, SONET/SDH, fibre channel, and ESCON protocols. Data rate is determined by DIP switch setting on the card, or by software auto-detection, or manual settings in the Metrobility NetBeacon® ESP or WebBeacon™ element management software
The R400 is a Class B certified standalone unit which, like the R1000, accommodates two line cards. The R400 is available with external single or dual AC power.
Optional wall and rack mountable hardware is available for the R200 and R400 chassis
Metrobility's Coarse Wave Division Multiplexing (CWDM) solution combines passive optical CWDM technology with Radiance Access Line Cards and Gigabit Ethernet line cards and superior network element management through NetBeacon® Element Manager to achieve maximum flexibility, scalability, and manageability.
The Radiance R5000 is a NEBS Level 3 certified 19" or 23" rack-mountable 2U platform which supports two rear-loading, redundant, load-sharing, hot-swap AC or DC power supplies, 16 slots for connectivity, and one slot for optional management access. The Radiance R1000 is a NEBS Level 3 certified 1U rack-mounted unit with dual, load-sharing AC or DC power, and accommodates two line cards. The R5000 and R1000 have separate bus paths for management, data and power for more efficient internal communications
The Metrobility R502 management card is the SNMP agent which enables management of Metrobility® chassis based systems by Telco Systems. Connected through the backplane to other modules in the platform, the management card is configured to gather statistical information from the entire chassis. Used in conjunction with the Metrobility NetBeacon® element management software, or any SNMP application, the management card delivers individual board status directly to the network administrator.
Metrobility's 10/100 AutoTwister® provides versatile connectivity for evolving network infrastructures being upgraded from existing 10Mbps copper-based networks to 100Mbps fiber networks. The AutoTwister provides media conversion and 10/100 rate adaption in a single unit, extending copper-based networks up to 100km over singlemode fiber. Now you can achieve all the features of 100Mbps fiber, such as distance and security, while minimizing costs in a mixed media environment
An essential connectivity tool for high priority and mission-critical applications, LPR provides fully redundant data
paths, as well as power supply redundancy, for Ethernet devices. If the primary connection fails due to a cable or hardware failure, the LPR interface switches the device's traffic to the secondary connections within 200 microseconds.
Patented* redundant interface provides redundant data paths for the Metrobility® Line Protection and Restoration (LPR) devices from Telco Systems. An essential connectivity tool for high priority and mission-critical applications, LPR provides fully redundant data
paths, as well as power supply redundancy, for Ethernet devices. If the primary connection fails due to a cable or hardware failure, the LPR interface switches the device's traffic to the secondary connections within 200 microseconds.

Metrobility® R821 Services Line Card by Telco Systems provides an intelligent optical Ethernet demarcation point for service providers who are deploying Ethernet in the First Mile. As a carrier-class device, the Services Line Card enables multi-service delivery across a provisioning framework. Applications are prioritized over different traffic-engineered paths; multi-level operations, administration and maintenance (OAM) is used to measure and ensure provisioned SLAs; and embedded security controls ensure protection against denial-of-service attacks.

Metrobility® Services Line Card for Gigabit Ethernet by Telco Systems provides an intelligent optical Ethernet demarcation point for service providers who are deploying Ethernet in the First Mile. The Services Line Card extends baseline VLAN technologies to enable delivery of multiple, converged services across the first-mile, optical access network. These services include transport (link-specific) OAM, interconnectivity (network-specific) OAM, and services (applicationspecific) OAM

As a carrier-class device, the Metrobility R861 Services Line Cards for Ethernet by Telco Systems provide an intelligent optical Ethernet CPE demarcation point for service providers who are deploying Ethernet in the First Mile. The R861 Services Line Cards are specifically designed to maintain the maximum isolation between the public and private network while offering the Operations, Administration and Maintenance (OAM) aspects of the IEEE 802.3ah standard as defined by both the IEEE and the Metro Ethernet Forum (MEF). These OAM management features provide loopbacks, MIB statistics, errored frame events, and "Dying Gasp" capabilities. These features allow keep-alives for transparent service monitoring.

NetBeacon® ESP Element Management System (EMS) is a comprehensive and extensible element manager that provides a scalable, secure and reliable hierarchical system approach for network deployments. NetBeacon ESP provides a user friendly, graphical point-and-click interface to provision, monitor and manage the Metrobility chassis-based devices and and remote demarcation devices. NetBeacon ESP supports hundreds of Metrobility® chassis across a geographically dispersed network. Authorized users can manage each Metrobility device from any designated NetBeacon ESP management station to provision services, monitor performance, and respond to alarms.

Telco Systems' T-Marc™ 250 is a family of cost-effective, fully-managed carrier Ethernet demarcation devices that provide service termination and demarcation over service providers' packet-based networks. As a multi-port customer-located intelligent demarcation device, the T-Marc delivers managed converged services (voice, video and data) over virtual Ethernet in a metro Ethernet network.
Advanced Layer 2 Networking using Telco Systems' AccessEthernet™ allows total flexibility in deployment and delivery of Ethernet services.

The T-Marc® 280 is an intelligent, remotely-managed demarcation devices which has been purpose-built to integrate networking, testing and assurance capabilities. Like other members of the T-Marc family, T-Marc 280 supports advanced Layer 2 networking using Telco Systems' AccessEthernet™ technology to allow total flexibility in deployment, provisioning, and delivery of Carrier Ethernet services.


The T-Marc® Ethernet Service Demarcation and Extension product line from Telco Systems provides intelligent and remotely managed, multiport customer-located equipment (CLE) to deliver managed converged services (voice, video and data) over virtual Ethernet, MPLS/VPLS and IP networks.

The T-Marc allows service providers to deliver multiple services on separate customer interfaces, including multiple services over a single customer interface. Because each service is isolated, providers can troubleshoot each individual service without impacting others. Applications are prioritized over different traffic-engineered paths, multi-level Operations, Administration and Maintenance (OAM) is used to measure and ensure provisioned Service Level Agreements (SLA), and security controls are embedded to ensure protection against denial-ofservice attacks

The T-Metro provides access to advanced data services such as virtual private LAN services (VPLS), virtual private wire services (VPWS) and IP virtual private network (IP-VPN) services. In addition, the T-Metro product line enables service providers to carry native TDM traffic transparently across the packet switched network (PSN), using various circuit emulation techniques. The TDM traffic is encapsulated in Ethernet or IP frames to emulate the functionality of a TDM circuit, ensuring that all original feature-set is preserved.
The T5C optical Fast Ethernet routing switch provides an optimal solution for mid and long distance intelligent Layer 3 broadband services. Ideal for Fiber-to-the-Home (FTTH) and centralizing remote sites applications. The T5C's super-efficient size, only 1RU in height, affords not only the capacity of physically larger backbone routing switches, but also the economy offered by workgroup switches.

Ultra-Compact High-Density Gigabit Ethernet Aggregation/Distribution Routing Switch

The T5C Gigabit Ethernet Routing Switch provides an optimal solution for Gigabit Ethernet Intelligent Layer 3 Aggregation and Distribution services.The T5C's super-efficient size (only 1RU in height), includes not only the capacity of physically larger backbone routing switches, but also the economy offered by workgroup switches.


Ultra-Compact High-Density Gigabit 10/100/1000BaseT Aggregation/Distribution Routing Switch

The T5C Gigabit Ethernet Routing Switch provides an optimal solution for Gigabit Ethernet Intelligent Layer 3 Aggregation and Distribution services for Enterprises uses such as datacenters, mini-core applications, and many more. The T5C's super-efficient size (only 1RU in height), includes not only the capacity of physically larger backbone routing switches, but also the economy offered by workgroup switches

"The results show that Telco Systems' T5 Compact outperforms Cisco's Catalyst 2950G-48 convincingly in every test performed" - Click for more info on our Telco Systems T5 Compact

The T5C 10/100 Ethernet Routing Switch provides high performance in a super-compact, super-efficient size. The T5C's small size, only 1RU in height, combines the capacity of physically larger backbone switches with the economy of workgroup switches.

Very high port density means that a single T5C Routing Switch can support 2 Gigabit Ethernet 10/100 ports, 2 Gigabit Ethernet plug-in (SFP) ports, and 24 or 48 auto-sensing 10/100BaseTX ports

Telco Systems T5C- 48T
The T5C 10/100 Ethernet Routing Switch provides high performance in a super-compact, super-efficient size. The T5C's small size, only 1RU in height, combines the capacity of physically larger backbone switches with the economy of workgroup switches. Very high port density means that a single T5C Routing Switch can support 2 Gigabit Ethernet 10/100 ports, 2 Gigabit Ethernet plug-in (SFP) ports, and 24 or 48 auto-sensing 10/100BaseTX ports.

The T5C-XG offers the carrier an ideal solution, incorporating high capacity in a compact size (only 1.5RU in height, 10 inches in depth). T5C-XG supports 24 Gigabit Ethernet plug-in (SFP) ports, two 10Gigabit XFP ports and an expansion slot that houses two 10Gigabit ports.


The T5C line of 10/100/1000 Mbps Ethernet switches provides high performance in a super-compact, only 1 RU in height, enclosure. This versatile product family is ideal for metro access rings supporting applications such as video, VoIP, and data aggregation which require high availability.

The T5C switches utilize Telco Systems® BiNOS field proven, carrier grade operating system. BiNOS features a robust and advanced Layer 2 - 4 software platform geared toward satisfying carriers' most stringent requirements for operations, administration, and management.
T5R-24GT Ruggedized Military Switch
The T5R-24GT 10/100/1000 Mbps ruggedized high performance Ethernet switches offer 18 auto-sensing 10/100/1000BaseT Fast Ethernet connections and four (4) Gigabit fiber uplinks in a compact enclosure. The T5R is tailor-made for high-density IP services in space-constrained airborne and ground communications environments.

Specifically designed for military and harsh environments, this hardened and sealed enclosure complies with mechanical requirements as specified in MIL-STD-810F. The switch can support IP connectivity for radar systems, signals intelligence, UAV data lines, and mobile communications
T5R-24T Ruggedized Military Switch
The T5R-24T 10/100 Mbps ruggedized high performance Ethernet switches offer 18 auto-sensing 10/100BaseT Fast Ethernet connections, two (2) Gigabit copper uplinks and two (2) Gigabit fiber uplinks in a compact enclosure. The T5R is tailor-made for high-density IP services in space-constrained airborne and ground communications environments.

Specifically designed for military and harsh environments, this hardened and sealed enclosure complies with mechanical requirements as specified in MIL-STD-810F. The switch can support IP connectivity for radar systems, signals intelligence, UAV data lines, and mobile communications

West Coast (866) 342-3721
------East Coast (866) 650-DATA