Telco T- 5 Routing Switch- Routing switches- Multilayer Telco Systems Switches- Nebs Compliant Switches- 10/100/1000 Nebs Compliant Switches
"The results show that Telco Systems' T5 Compact outperforms Cisco's Catalyst 2950G-48 convincingly in every test performed"
American Data Supply T5 Routing Switch deliver high-performance switching and multi-layer services for today's enterprise and carrier environments. T5 Routing Switch allows for 64 Fast Ethernet or 8 Gigabit Ethernet ports. Their unique wire-speed policy-based switching technology provides Quality of Service (QoS) for demanding applications.
Compact, modular, stackable routing switches. Up to 160 Fast Ethernet or 20 Gigabit Ethernet ports Ideal high-performance switching and multi-layer service solution for enterprise and carriers
Stackable systems for ease of management Wide variety of fiber interfaces available, eliminating the need for media converters
.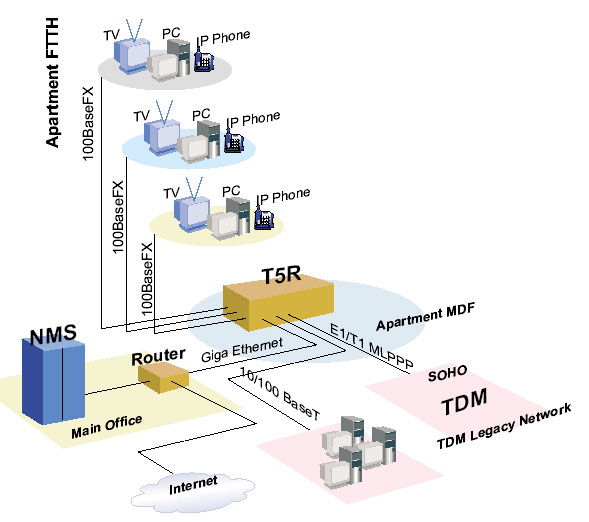 Interfaces
10/100BaseT/TX
Connectors: RJ-45
Transmission: Full/Half-Duplex
Range: 100 m
100BaseFX multi-mode
Connectors: LC, MT-RJ, VF-45
Transmission: Full/Half-Duplex
Optical Budget: 14db
Fiber: 62.5/125 micron, 1310nm
Range: 2km
100BaseFX single-mode
Connectors: Dual SC
Transmission: Full/Half-Duplex
Optical Budget: 14db/30db
Fiber: 9/125 micron, 1310nm
Range: 14km
1000BaseSX multi-mode
Connectors: Dual SC, LC, MT-RJ
Transmission: Full/Half-Duplex
Optical Budget: 9db
Fiber: 62.5/125 or 50/125 micron, 850nm
Range: 220m (62.5/125), 550m (50/125)
1000BaseLX multi-mode and single-mode
Connectors: Dual SC, LC
Transmission: Full-Duplex
Optical Budget: 9db
Fiber: 50/125 (multi-mode) or
9/125 (single-mode) micron, 1310nm
Range: 550m (multi-mode), 6km (single-mode)
1000BaseLX single-mode
Connectors: Dual SC, LC
Transmission: Full-Duplex
Optical Budget: 9db
Fiber: 9/125 micron, 1310nm
Range: 14km
Switching Characteristics
Technology: ASIC based parallel Store-and-Forward
Bridging: IEEE 802.1d Spanning Tree Algorithm
Address Table: 64K MAC addresses
Forwarding Rate:

Based in Foxboro, Massachusetts, Telco Systems is committed to leading the industry in the development of transport, access, and packet products for carriers' COs, Co-Los, and POPs, as well, enterprise solutions for FTTH, SOHO, hospitality, education, and MTU/MDU. Integrating circuit- and packet-switched technologies onto flexible platforms ensures cost-effective operation
Multi Service Access
VOIP
Channel Banks
T1/E1 Electrical-to-Optical Converters
Frame Relay
Integrated Access
Mini DCS
Multiplexers
FTTH
Battery Backup
Access
Channel Banks
FTTH
Multi-Service Distribution Hubs
IP Switching
Multi-Layer
M13 Multiplexers
Transport
SONET

Access
Access 201
Access 211
Access 60
Access 600
Battery Back Up
Edgegate CPE 23
Edgegate CPE 28
Edgelink 200
Edgelink 200 Integrated Access
Edgelink 200 Channel Banks
Edgelink 300
Edgelink 410
Edgelink 810
Edgelink T 1
Edgelink OTM 1000
Edgelink VDSL
Edgelink 100
Edgelink XT
Edgelink Fiber Transport
Edgelink T 1
Edgelink T1/E1
Edgelink T3/EO
Edgelink T3/EO Fiber Transport
T 2
T-4
T-5
T-6
T- 6 Pro
T Enterprise
T-Optics
Telco T- 5 Compact Switch
Cost-effective, high-performance, ultra-compact IP solution
NEBS Compliant
Dense 10/100 Mbps copper configuration provides high capacity in a small space
Choice of fiber interfaces for uplink
Cost-effective port trunking capabilities
Non-blocking architecture provides maximum data throughput
Standards

IEEE 802.1d Spanning Tree
IEEE 802.1p Priority Queuing
IEEE 802.1Q VLAN tagging
IEEE 802.1w Rapid Spanning Tree
IEEE 802.3x Flow Control
IEEE 802.3 Ethernet
IEEE 802.3u Fast Ethernet
IEEE 802.3z Gigabit Ethernet
RFC 768 UDP
RFC 783 TFTP
RFC 791 IP
RFC 792 ICMP
RFC 793 TCP
RFC 826 ARP
RFC 854 Telnet Client &
RFC 951 BootP
RFC 1112 IGMP
RFC 1122 Host Requirements
RFC 1305 NTP
RFC 1542 Bootstrap Extensions
RFC 1866 HTML
RFC 2068 HTTP
RFC 2131 BootP/DHCP Relay
RFC 2138 RADIUS
RFC 2474 DiffServ Precedence
RFC 2598 DiffServ Expedited Forwarding
GMRP
GVRP
Syslog
SSH2
Interfaces:
10/100BaseT/TX
Connectors: RJ-45
Auto-Negotiation
Transmission: Full/Half-Duplex
Range: 100 m
10/100/1000BaseT
Connectors: RJ-45
Auto-Negotiation
Transmission: Full/Half-Duplex
Range: 100 m
1000BaseSX
Connectors: LC, MT-RJ
Transmission: Full Duplex
Optical Budget: 9dB
Range: 220m for 62.5/125µ, 850nm
550m for 50/125µ, 850nm
1000BaseLX
Connectors: LC
Transmission: Full Duplex
Optical Budget: 9dB
Range: 6km for 9/125µ, 1310nm
Switching Characteristics
Technology: ASIC based parallel
Store-and-Forward
Bridging: IEEE 802.1d Spanning Tree Algorithm
Address Table: 8K MAC Addresses
Forwarding Rate: Up to 148,800 pps/ 100 Mbps ports
Up to 1,488,000 pps / 1 Gbps ports
Flow Control: 802.3x for full duplex and back-pressure for half duplex transmission
Management
SNMP Client
MIBs: RFC 1157 SNMP,
RFC 1213 MIB II,
RFC 1493 Bridge MIB,
RFC 1757 RMON,
BATM Enterprise MIB
Telnet: Telnet management
Internet: Java based Web management
Interface: In-Band

West Coast (866) 342-3721 ------East Coast (866) 650-DATA