Wallplates-Residential Wallplates- Residential Faceplates- Faceplates-Wall Plates-Stainless Steel Wallplates- Angled Faceplates- Angled Wallplates
American Data Supply has in stock a full line of telephone walljacks and data walljacks, inserts and "Smart Home Wall plates and Faceplates". We also carry a complete line of CAT 5e Cable, Fiber optic cable, residential cabling and wireless products for contractors, builders and custom home owners.
LOW PRICE GUARANTEE: American Data Supply will NOT BE UNDERSOLD. Just provide us with a written quote from any U.S. competitor and American Data Supply will MEET or BEAT their price!
We are currently working with the TIA and several other manufacturers and organizations to bring you the latest in technology offerings in this exciting new market. We help general contractors, cabling contractors and builders of homes with the design and supply of all their smart home product needs. For additional information visit our affiliiate site at ATEK for additional information on installation of smart home products.
Standard Wallplates-(Not Angled) As Low As $ .49 each- Minimum Quantity 100 pcs- Call For Special Contractor Pricing- We Have Thousands In Stock- Ready To Ship
Call for Quantity Discounts (866) 342-3721 or (866) 650-DATA or click on the chat button at the top of the page to talk to us.
ICRDSV05xx*

6 pos. 6 Cond. and CAT 5e

ICRDSVF0xx* 6 pos. 6 Cond. and CATV


ICRDS0F5xx* CAT 5e and CATV


ICRDS2F5xx* CAT 5e and CATV


ICRDSV25xx*

6 Pos. 6 Cond., CAT 5e and CATV




IC630E40xx*

6 Pos. 4 Cond.


IC630E60xx* 6 Pos. 6 Cond.





IC630E4Gxx* 6 Pos. 4 Cond. CATV


IC630EGOxx* CATV


IC630EGGxx* CATV


IC630S40xx* 6 Pos. 4 Cond.


IC630S60xx* 6 Pos. 6 Cond.

IC630S80xx* 8 Pos. 8 Cond.


IC630S44xx* 6 Pos. 4 Cond.


IC630S66xx* 6 Pos. 6 Cond.


IC630E44xx* 6 Po., 4 Cond.

IC630E66xx* 6 Po., 6 Cond.


IC630DB4xx* 6 Pos. 4 Cond.


IC630DB6xx* 6 Pos. 6 Cond.


IC630SS4xx* 6 Pos. 4 Cond.

IC630SS6xx* 6 Pos. 6 Cond.


IC630S4Gxx* 6 Pos. 4 Cond. and CATV


Stainless Steel-IC630DA4SS 6 Pos. 4 Cond.


IC630DA6SS 6 Pos. 6 Cond.





IC630SG0xx* CATV


ICRDSVF5xx* 6 Pos. 6 Cond., CAT 5e and CATV

IC107FWPxx* 1-Port

COLOR ID CAPS

IC107CICxx* Caps, 10 pcs./bag
IC107AF2xx* 2-Port, Single
Faceplate is designed with an angled bottom and accommodates modular connectors.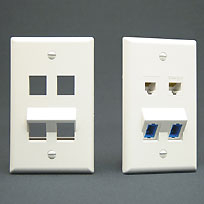 IC107AF4xx 4-Port, Single Angled Facplate

IC107AF2xx 2-Port, Single Angled Facplate

IC107DA2xx* 2-Port, Single NEW Angled Faceplate