Wilcom Fiber Optic Test Equipment-ADSL Splitters-Telecommunications Test Equipment-Optical Fault Locater-OTDR- Optical Power Meter-Optical Light Sources
ADSL Splitters- POTS Splitters-DSL Splitters- XDSL Splitters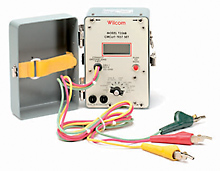 The T336B Digital Circuit Test Set has been designed to carry on a tradition: the tradition of utility, reliability, quality, and serviceability, set by the widely-accepted Wilcom Model T136 Series of Circuit Test Sets.

The Wilcom T336B Circuit Test Set now provides the features most wanted by installation and repair personnel- DIGITAL READOUT and AUTO-RANGING measurements. But the T336B provides MORE, dc Voltage and Resistance measuring capability. These capabilities, coupled with the ability to measure LOOP & GROUND CURRENT, CIRCUIT LOSS, CIRCUIT NOISE and POWER INFLUENCE, give the telecommunications service technician a powerful tool for total evaluation of circuit performance.

Measuring features built into the T336B Circuit Test Set will provide the telecommunication technician powerful circuit diagnostic and measuring capabilities. Technicians of the telephone operating companies, common carriers, inter-connect companies, and large telecommunications users will have many applications for the T336B Circuit Test Set.

Auto-Ranging Digital LCD


Dial-Hold & Monitor


Provisions


Push to Measure


Exclusive Auto-off


Extended Battery Life


Small-Lightweight


Portable, Carrying & Holding
Can't Get It To Work? Call Wilcom at (800) 222-1898 for immediate assistance

Telecommunications Test Equipment
Noise and transmission problems are constant battles in the best of worlds. With emerging technologies like IP-video over DSL delivered to the customer over existing copper pairs, it's more vital than ever for telephone companies to test and maintain their outside copper plants. Wilcom designs and manufactures a full line of copper loop test equipment, including subscriber loop test sets, a cable shield test set, digital signal probes, artificial test lines and more.