ICC 110 Hinged Wiring Block-110 Hinged Wiring Block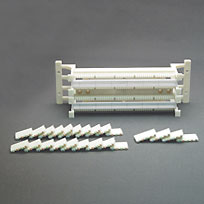 IC110WH100
ICC's hinged 110 wiring block part number IC110 system facilitates the installation of 110-type blocks and UTP cabling, while maintaining the standard 110 index strips and connecting blocks. The hinged design allows the positioning and installation of the IC110 wiring blocks first and UTP cable routing afterwards, by allowing total access to the cabling channel between the standoffs, even after the wiring block is mounted. The cable access openings on the wiring block make it easier to install UTP cabling by allowing the cable sheath to be stripped only a minimum distance, thereby maintaining minimum bend radius requirements. The base of the wiring block incorporates anchoring points for either cable ties or VELCRO® ties to improve cable control routing, and also incorporates a rear cable entry knockout. All wiring blocks come equipped with IC110 label holders and labels.


ITEM NUMBER DESCRIPTION
IC110WH100 Hinged Wiring Block, 100-pair
ICC Cat 5e 66 Blocks- List Price $ 5.95 each
We have modified our packaging of our 66 blocks to make them more contractor friendly. They are individually shrink wrapped and labeled for easy single unit sales. ICC now offers 66 blocks in quantities of 50 items per carton. This will help inventory concerns at most distribution channels, along with convenient shipping both for ICC and its customers. For additional information, please contact your customer service rep using the contact info below. Pricing is still based on unit quantities -suggested list is n 5.95 each. Product can be individually ordered or ordered in carton quantities.
Call Us Today Tollfree At (866) 342-3721 or (866) 650-DATA
Or Click On The Chat Button At The Top Of The Page To Talk To One Of Our Representatives