Smart Home Solutions and Fiber to the Home - Smart Home Cable and Panels- Smart Home Solutions-Smart Home Panels - Smart Home Mini- Distribution Center-Distribution Panels-Splitter modules- Telephone Modules- Audio Modules- Data Modules-Network Hubs-8 Port Network Hubs- 5 Port Network Hubs-
American Data Supply has been offering "Smart Home Solutions" including Smart Home Panels, Smart Home Cable and Smart Home Distribution Ceners including residential cabling and wireless products since 1998 to contractors, builders and custom home owners. We are currently working with the TIA and several other manufacturers and organizations to bring you the latest in technology offerings in this exciting new market. We have helped general contractors, cabling contractors and builders of homes with the design and supply of all their smart home product needs.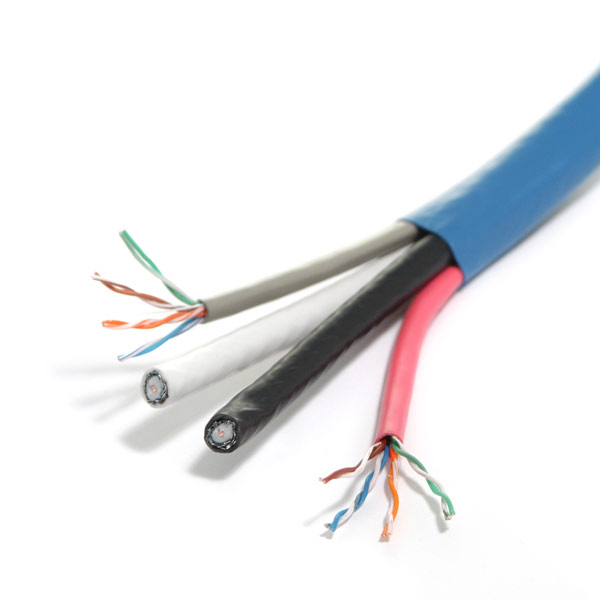 Typical Smart Home Cable- consists of 2 CAT 5e and 2 RG6 Cables
AS LOW AS $ 350 per 500' Roll! Part Number ATS202805-more info
You don't need to use hundreds of wire ties to run both coaxial cable and cat. 5 cable through your home. This 500-foot spool of jacketed coax and cat. 5e cable has two coax lines and two data lines, so you'll be able to cut exactly the length you need of each to reach every television or cat. 5 structured wiring outlet inimg src="your home. Wire strippers, crimping tools and cable connectors are sold separately. West Penn Wire's two coax lines feature quad-shielded solid bare copper conductors with gas-injected foam polyethylene insulation and PVC jackets in black and white for easy differentiation. The two cat. 5e cables are constructed of four pair 24-AWG solid bare copper wire with thermoplastic insulation and a PVC jacket.
Black Faceplates 1 Port - 12 Port
Complete Supply of Smart Home telephone/data modules
ICRESDC14E-14" Net.Media Center is designed to serve as the central distribution point for voice, data, video, audio, and security services. The 14.25" W x 14" H x 3.65" D center features up to 8 mounting spaces with 1 AC knockout for power, 3 top, 2 bottom, 1 per side, and 4 back 2" diameter cable access knockouts, and 4 cable tie anchor points per side. • Ideal for small installations with limited space in single family and multi-unit housing
ICRESDC21E-21" Net.Media Center provides more room to serve as the central distribution point for voice, data, video, audio, and security services. The 14.25" W x 21" H x 3.65" D center features up to 12 mounting spaces, designed for medium installations: 1 AC knockout for power, 3 top, 2 bottom, 2 per side, and 4 back 2" diameter cable access knockouts, and 16 cable tie anchor points • Great for medium installations in multi-family homes with small home offices
ICRESDC28E-28" Net.Media Center is designed for larger installations and provides more room to serve as the central distribution point for voice, data, video, audio, and security services. The 14.25" W x 28" H x 3.65" D center features up to 18 mounting spaces, 2 AC knockouts for power, 3 top, 1 bottom, 2 per side, and 6 back 2" diameter cable access knockouts, with 10 cable tie anchor points per side, and ample room for future upgrades and expansion.• Perfect for large installations with ample room for future upgrades and expansionimg src="images/"icc-2805.jpg" width="100" height="100">ICRESDC42E -- white-42" Net.Media Center is designed for major custom installations and provides maximum room capacity to serve as the central distribution point for voice, data, video, audio, and security services. The 14.25" W x 42" H x 3.65" D center features up to 26 mounting spaces, 2 AC knockouts for power, 3 top, 1 bottom, 2 per side, and 6 back 2" diameter cable access knockouts, and 14 cable tie anchor points per side, with ample room for cable routing, • Designed for high-end custom installations with ample room for future upgrades and expansion
Smart Home Solutions Home Page
For additional information visit our affiliiate site at ATEK for additional information on actual installation of smart home products. We represent several leading manufacturers including Commscope, Draka, Future Smart, ICC and others in this area. As for cabling,our UltraHome® cables meet the needs of voice, data, and video applications in one easy-to-install product. The UltraHome family consists of coaxial cable, Category 5e unshielded twisted pair, and multimode fiber in single, Siamese, and bundled configurations designed for delivering true multimedia inside the home.ICC Patch Panels and Smart Home Accessories