Data Tool Kits- Coax Termination Tools-Fiber Optic Termination Kits-Fiber Optic Tool Kits-Coax Tool Kits- Coax Testers- CAT 5e Testers-CAT 6 Testers- CAT 7 Cable Tools-Fiber Termination Tools- Fiber Terminations Kits and Accessories- Fiber Optic Test Equipment-Telephone Cable Testers- Data Testers-Testers-Test Equipment-Call Tollfree (866) 342-3721 or click the live support button below to talk to us.
American Data Supply Carries a complete line of cable termination tools, fiber optic test equipment, Coax Tools & Coax termnation Kits,coax test equipment, telephone test equipment and CAT 5e testers-CAT 6 testers to help you install, terminate and troubleshoot all types of communications cable. Whether you're looking for a specific product or planning a job, we have the supplies you can count on. Rely on our high-quality, innovative products and our exceptional sales and customer service teams to help you with all your cabling needs.
CAT 7 Cable Prep Tool # CPT-RGTP
American Data Supply also carries both copper terminations tools and fiber optic termination and preparation tools.the Neptec Fiber Optic Termination Kit as well as other Bellcore rated fiber optic termination kits including the Alcoa Fiber Field Termination Kits and the NOS EZFieldMate™ Field Termination Kit offers a simple, efficient, and cost-effective process for field connectorization of single mode or multi-mode fiber optic cable at the tightest factory specifications. Minimal training is required for installers and technicians to become proficient and certified. The kit includes all tools, parts and instructions needed to complete the termination of fibers in the field, which are compliant with GR-326-CORE & Telcordia GR-1081-CORE requirements.
Call For Pricing Today (866) 342-3721 or click on the chat button at the top of the page to talk to us.
SKU:

250102

Description:

6P/6C Crimp Tool for RJ12 Modular Plug

Price:

| | |
| --- | --- |
| 1+ | $15.59 each |
| 5+ | $14.36 each |
| 40+ | $13.14 each |

SKU:
250103
Description:
8P/8C Crimp Tool for RJ45 Modular Plug
Price:

| | |
| --- | --- |
| 1+ | $15.83 each |
| 5+ | $14.60 each |
| 40+ | $13.37 each |

SKU:
250101
Description:
6C & 8C Ratchet Type Crimp Tool for RJ45 Modular P
Price:

| | |
| --- | --- |
| 1+ | $25.67 each |
| 5+ | $24.11 each |
| 40+ | $23.57 each |
More Coax Cable Strippers- Test Equipment- Click
Raceway Cutter-Part Number- ICACSTPE60
ICACSPDT00-Punch Down Tool
ICACSPDT05
American Data Supply now carries Harris 110 puch down tool, Ideal 110 puch down tool and ICC's punch down tool. The ICC new 5-pair punch down tool is the perfect companion to the existing single IC110 punch down tool for multiple applications. The single tool includes a 110 blade and a 66 blade (compactly stored in the handle), and can be easily switched to either a high or low impact setting, suitable for punching down jacks on the Hand Held Termination Aid. For higher impact terminations, the 5-pair IC110 tool significantly reduces installation time. Both are well-designed tools, providing a sturdy, non-slip grip. Replacement blades may be purchased separately.
ITEM NUMBER DESCRIPTION
ICACSPDT00 110 Punch Down Tool, includes 110 and 66 Blade
ICACS110RB 110 Replacement Blade
ICACS066RB 66 Replacement Blade
ICACSPDT05 100 Punch Down Tool, 5-pair
ICACS05PRB 110 Replacement Blade, 5-Pair
Fiber Tool Kits, Cable Test Kits,Coax Tool Kits, Basic Data and Voice Kits,Tone Generators, LAN Test Kits, CAT 5e Test Kits
American Data Supply offers a variety of tools and accessories designed to help the quality-conscious installer work quickly and efficiently.
Our popular punch down tools are ergonomically designed to make punch-downs easier and more efficient. Please find below several popular tool kits from IDEAL, ICC,and several other manufacturers.This year, ICC is introducing a dual-purpose multi-pair punch down tool, which is designed to seat the IC110 connecting block to any one of the IC110 wiring blocks or patch panels. This tool can also be used to simultaneously punch down or terminate up to 5-pairs of single wire.
ICC's handy termination aid, which is ergonomically designed to fit in the palm of your hand, features a mount to conveniently hold IC107 modules and IC110-type patch plugs during hand-held termination.In addition, ICC offers CATV coax cable stripper tool for RG-59 and RG-6 coax cables. Also find convenient fiber optic installtion tool kits from IDEAL. Another new offering is the CATV connector crimp tool, which can be used to conveniently terminate RG-59, RG-6, and F-Type connectors onto coax cable.
ICC is also introducing its F-Type connector compression tool. This device is designed for accurate compression of F-Type connectors.
Item ID: American Data Supply 33-862 Tone Generator and Amplifier Kit Features:
Cable tracing kit with advanced new features to give a complete signal tracing solution
Kit includes: Tone Generator #62-160 Amplifier Probe #62-164 Hard Gray Storage Carrying Case Cable Assemblies and Flat Tip
Item ID: American Data Supply 33-864 Name: Tone Generator and Amplifier Probe Kit Features: Cable tracing kit with advanced new features to give a complete signal tracing solution
Kit includes: Tone Generator #62-160 Amplifier Probe #62-164 Soft Black Nylon Carrying Case Cable Assemblies and Flat Tip
Item ID:American Data Supply 33-861 Name: Cable Service/Termination Kit Features:
Tools needed to cut, strip, terminate and test CAT 5 cable
Kit includes; Data T®-Cutter Center Conductor Cutter UTP/Coax Stripper Coax Stripper Crimpmaster™ for RG-58/59 2,4,6-Position Die Set for RJ-11 Plugs 8-Position Die Set for RJ-45 Plugs Punchmaster™ II Punch Down Tool w/66 blade Punchmaster™ 110 Blade Only ABS™ Tester ABS™ Signal Thrower™ LinkMaster™ Tester
Item ID: American Data Supply 33-821
Name: Cable Installation Kit
Features: Basic kit for broadcast video and CATV applications
Kit includes; Data T®-Cutter Center Conductor Cutter UTP/Coax Stripper RG-59 Stripmaster Crimpmaster™ Frame Only 8-Position Die Set for RJ-45 Plugs F-Type CATV Connector Die Set F-Connector Tool 0# pt. Screwdriver Phillips Screwdriver ZipKit™ Carrying Case
Item ID: American Data Supply 33-400 Name: F-Type (CATV) Connector Kit Features:
For CATV terminations
Kit includes; Crimpmaster™ for CATV 20 F-Connector, Crimp-on RG-59 Plugs 20 F-Connector, Crimp-on RG-6 Plugs
Item ID: American Data Supply 33-854 Name: ABS™ Signal Thrower™ & ABS™ Tester Kit Downloads:
Instruction Sheet Features: Cable locating kit that checks polarity and dial tone
Kit includes; ABS™ Signal Thrower™ ABS™ Tester
Soft Nylon Carrying Case
Item ID: 33-852 Name: ABS™ Tester & ABS™ Signal Thrower™ Kit
Instruction Sheet Features: Cable locating kit that checks polarity and dial tone
Kit includes; ABS™ Signal Thrower™ ABS™ Tester Lead Set Cable Assembly
Durable hard case
Item ID: American Data Supply 33-750 Name: Economy 10Base-T Telemaster™ Kit Features:
Basic termination kit for 10Base-T
Kit includes; UTP/Coax Stripper Telemaster RJ-11/RJ-45 Tool 50 8-Position RJ-45 Non-Keyed Solid Plugs
Durable hard case
American Data Supply 33-855 Voice & Data Kit Features:
For voice and data
Kit includes; Tele T®-Stripper Data T®-Cutter UTP/Coax Stripper Crimpmaster™ for RJ-45 Plugs 2,4,6-Position Die Set for RJ-11 Plugs Punchmaster™ II Punch Down Tool w/110 blade Punchmaster™ II 66 Blade Only ABS™ Signal Thrower™ ABS™ TesterFor voice and data
Kit includes;
Tele T®-Stripper
Data T®-Cutter
UTP/Coax Stripper
Crimpmaster™ for RJ-45 Plugs
2,4,6-Position Die Set for RJ-11 Plugs
Punchmaster™ II Punch Down Tool w/110 blade
Punchmaster™ II 66 Blade Only
ABS™ Signal Thrower™
ABS™ Tester
American Data Supply 33-704
RJ-45, RJ-11 Telemaster™ Kit
Basic kit with multifunctional telephone tool to cut, strip, and crimp
Kit includes;
Telemaster™ for RJ-11/RJ-45 Plugs
15 4-Position, RJ-11 Stranded Modular Plugs
15 6-Position, RJ-11 Stranded Modular Plugs
15 8-Position, RJ-45 Stranded Modular Plugs
Durable hard case
American Data Supply 33-652
UTP/STP/TP/Coax Kit
Complete with tools and testing products for broadcast video, CATV, LAN, and basic phone applications
Kit includes;
Tele T-Stripper
Data T-Cutter
Center Conductor Cutter
UTP/Coax Stripper
Phillips Screwdriver
Crimpmaster™ for RG-58/59 Connectors
Crimpmaster™ for RJ-45 Plugs
2,4,6-Position Die Set for RJ-11 Plugs
CATV RG-59/RG-6 Die Set
RG-8/11 Ethernet Die Set
Punchmaster™ II w/66 Blade
Punchmaster™ II w/100 Blade only
PathFinder Tester
PathFinder™ Tester Remote A
PathFinder™ Tester Remote B
PathFinder™ Tester Remote C
PathFinder™ Tester Remote D
5 in Cable Assemblies
MiniTracker™ Tester w/4 F-Type Terminators
BNC Terminator (500 Ohm)
Smart6™ Modular Tester
Data8™ Modular Adapter
ABS™ Tester
American Data Supply 33-652
10Base-T Crimpmaster™ RJ-45 Kit
Termination kit for 10Base-T
Kit includes;
Data T®-Cutter
UTP/Coax Stripper
Crimpmaster™ Frame Only
8-Position Die Set for RJ-45 Plugs
200 8-Position RJ-45 Non-Keyed Solid Plugs
Durable hard case
American Data Supply 33-818
UTP Cable Termination Kit
Basic technician tools
Kit includes;
Data T®-Cutter
Electrician's Scissors w/Stripping Notch
Punchmaster™ II with 110 Blade
Punchmaster™ II 66 Blade Only
Nylon Case
American Data Supply 33-650
Twisted Pair, PremierT-Master™ Kit
Kit includes;
Data T®-Cutter
UTP/Coax Stripper
Premier T-Master TelCom Frame Only
2,4,6-Postion Die Set for RJ-11
DEC MMJ 6-Position Die Set
8-Position Die Set for RJ-45
8-Position Die Set for RJ-45, AMP
50 4-Position Solid Modular Plugs
50 6-Position Solid Modular Plugs
50 DEC 6-Position Solid Modular Plugs
50 8-Position RJ-45 Non-Keyed Solid Modular Plugs
American Data Supply 33-869
Twisted Pair/Coax TerminationKit
Includes products to cut, strip, terminate, and test CAT 5, phone and coax
Kit Includes:
Crimpmaster™ Frame Only
2,4,6-Position Die Set for RJ-11 Plugs
8-Position Die Set for RJ-45 Plugs
RG-58/59/62 BNC Die Set
Punchmaster™ II w/100 Blade
Punchmaster™ II 66 Blade Only
ABS™ Signal Thrower™
ABS™ Testerincludes;
Data T®-Cutter
Scissors w/Stripping Notch
Center Conductor Cutter
UTP/Coax Stripper
Coax Stripper w/Black Casse
ZipKit™ Carrying Case
American Data Supply 33-824
PathFinder™ Tester Kit
Great kit for testing and troubleshooting installed data, phone, and coax
Kit includes;
PathFinder Tester (Main Test Unit)
PathFinder Tester Remote A
PathFinder Tester Remote B
PathFinder Tester Remote C
PathFinder Tester Remote D
Four 8P8C 5 in. Cable Assemblies
Smart6™ Modular Tester
Data8™ Modular Adapter
ABS™ Tester
BNC Terminator (500 Ohm)
Durable hard case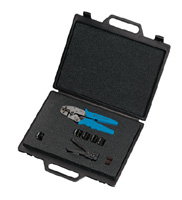 American Data Supply 33-201
Deluxe Crimpmaster™ Coax Kit
For coaxial terminations
Kit includes;
Coax Stripper
Crimpmaster™
Die Sets for RG-8/11 ethernet, RG-59/8281, RG-58 and 59/62, RG58/174
and thinwire
Durable hard case
American Data Supply 33-651
10Base-T Crimpmaster™ Kit
High quality termination kit for twisted pair
Kit includes;
Data T®-Cutter
UTP/Coax Stripper
Crimpmaster™ Frame Only
2,4,6-Postion Die Set for RJ-11
DEC MMJ 6-Position Die Set
8-Position Die Set for RJ-45
8-Position Die Set for RJ-45, AMP
50 4-Position Solid Modular Plugs
50 DEC 6-Position Solid Modular Plugs
50 8-Position RJ-45 Non-Keyed Solid Modular Plug
Durable hard case

American Data Supply 33-303
RG-58, RG-59 Crimpmaster™ Coax Kit
Basic broadcast video connection kit with added strain relief
Kit includes;
Coax Stripper
Crimpmaster™ for RG-58/59
BNC RG-58/U Connectors, Specification Grade
BNC RG-59 Connectors, Specification Grade
RG-58 Black Boots
RG-59/62 Black Boots
RG-58 Blue Boots
RG-59/62 Blue Boots
Durable hard case
American Data Supply 33-402
CATV F-Connector Termination Kit
For RG-59 or RG-6 CATV terminations
Kit includes;
Coax Stripper
Crimpmaster™ for RG-59/62 CATV F-Connectors
20 F-Series, Crimp-on RG-59 Plugs
20 F-Series, Crimp-on RG-6 Plugs
Durable hard case
American Data Supply 33-863
Deluxe PathFinder™ & Tester Kit
Designed for professional installers and maintenance technicians
Kit includes;
Data T®-Cutter
UTP/Coax Stripper
Crimpmaster™ for RJ-45 Plugs
2,4,6-Position Die Set for RJ-11 Plugs
BNC Terminator (500 Ohm)
Punchmaster™ II Punch Down Tool w/66 blade
Punchmaster™ II 110 Blade Only
ABS™ Tester
PathFinder™ Tester
PathFinder Tester Remote A
PathFinder Tester Remote B
PathFinder Tester Remote C
PathFinder Tester Remote D
ZipKit™ Carrying Case
Cable Assemblies
American Data Supply 33-806
Twisted Pair/Coax Termination Kit
Kit includes
Tele T®-Stripper
Data T®-Cutter
UTP/Coax Stripper
Coax Cable Stripper
Replacement Cassettes
Crimpmaster™ Frame Only
RG-8/11 Ethernet Die Set
Thinnet BNC Die Set
RG-58/59/62 BNC Die Set
2,4,6-Position Die Set for RJ-11 Plugs
8-Position Die Set for RJ-45 Plugs
6-Position DEC MMJ Die Set for RJ-11 Plugs
8-Position Die Set for RJ-45, AMP Plugs
Punchmaster™ II Punch Down Tool w/66 Blade
Punchmaster™ II0 Blade Only
Durable hard case
American Data Supply 33-807
Twisted Pair/Coax Termination Kit
For Twisted Pair and Coax
Kit includes;
Data T®-Cutter
Center Conductor Cutter
Tele T®-Stripper
UTP/Coax Stripper
Coax Stripper w/Black Cassette
Coax Stripper w/Red Cassette
Replacement Brown Cassette
Crimpmaster™ for RJ-45 Plugs
Crimpmaster™ RG-58/59 Tool
2,4,6-Position Die Set for RJ-11
8-Position Die Set for RJ-45, AMP
RG-8/11 Ethernet Die Set
American Data Supply 33-812
PathFinder™ Tester Kit with Four Remotes in Hard Case
Designed for professional installers and maintenance
technicians for mapping, testing and troubleshooting
Kit includes;
PathFinder™ Tester (Main Test Unit)
PathFinder Tester™ Remote A
PathFinder Tester Remote B
PathFinder™ Tester Remote C
PathFinder™ Tester Remote D
Four 8P8C 5 in. Cable Assemblies
BNC Terminator (500 ohm)
American Data Supply 33-815 PathFinder™ Tester Kit with four Remotes in soft case
Kit includes;
PathFinder™ Tester (Main Test Unit)
PathFinder™ Tester Remote A
PathFinder™ Tester Remote B
PathFinder™ Tester Remote C
PathFinder™ Tester Remote D
4 8P8C 5 in. Cable Assemblies
BNC Terminator (500 ohm) in soft zipper
Carrying Case
American Data Supply 33-203 LAN Installation Kit
For networking and broadcast video applications
Kit includes;
Data T®-Cutter
Center Conductor Cutter
Coax Stripper
Round Cable Slitting and Ringing Tool
Crimpmaster™ with Die Sets for RG-8/11 ethernet, RG-58/59/62 and thinwire
Durable hard case
American Data Supply 33-505 Technician's Service Kit
Basic technicians tools
Kit includes;
Punchmaster™ II Punch Down Tool with 110 blade,
66 blade
Electricians Scissors w/ stripping notch
UTP/STP Stripper
Screwdriver
Probe Pic and Spudger
Nylon Case with Belt Clip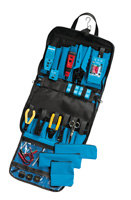 American Data Supply 33-870 UTP/Coax Service Termination Kit
Includes products to cut, strip, terminate, and test CAT 5, phone and coax
Kit includes;
DataT-Cutter
Scissors w/Stripping Notch
Center Conductor Cutter
UTP/Coax Stripper
Coax Stripper w/Black Cassette
Crimpmaster Frame Only
2,4,6-Position Die Set for RJ-11 Plugs
8-Position Die Set for RJ-45 Plugs
RG-58/5/62 BNC Die Set
Punchmaster II w/110 Blade
Punchmaster II 66 Blade Only
ABS Signal Thrower
ABS Tester
PathFinder Tester
PathFinder Tester Remote A
PathFinder Tester Remote B
PathFinder Tester Remote C
PathFinder Tester Remote D
ZipKit Carrying Case
Cable Assemblies
American Data Supply 33-816 VideoTracker™ Kit
Video Tracker Coax Tester with 8 Terminators
in carrying case
Designed for mapping and testing of coaxial cable installations
Provides testing for continuity, opens or shorts
Identifies different termination points
Tone mode sends a tone signal
Single run mode tests and identifies individual cables within a
group. Multi-run mode tests coax cables joined with a splitter
Designed specifically for cable TV, security video, broadcast and
building/home automation system applications
American Data Supply 33-210 Basic Coax Termination Kit
For basic mcoaxial terminations
Kit includes;
Data T®-Cutter
Center Conductor Cutter
Coax Stripper
Crimpmaster™ for RG-59/59
Durable hard case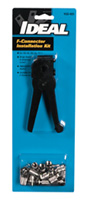 ATS3 33-401 Twist-on F-Connector Kit
For CATV
Kit includes;
Coax Stripper
20 F-Connectors
Twist-onRG-59 plugs
American Data Supply 33-300 RG-58, RG-59 BNC Kit
Crimping solution for broadcast and video applications
Kit includes;
Crimpmaster™ for RG-58/59
BNC RG-58/U connectors, specification grade
BNC RG-59/U connectors,specification grade
American Data Supply 33-636 Basic Data Kit
For basic data installations
Kit Includes;
Crimpmaster™ for RJ-45
LinkMaster™ Tester and Remote
UTP/STP Stripper
RJ-45 Solid Modular Plugs
Cable Assembly
ZipKit™ Carrying Case
American Data Supply 33-636 Basic Data Kit
For basic data installations
Kit Includes;
Crimpmaster™ for RJ-45
LinkMaster™ Tester and Remote
UTP/STP Stripper
RJ-45 Solid Modular Plugs
Cable Assembly
ZipKit™ Carrying Case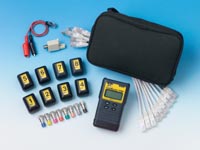 American Data Supply 33-825 LinkMaster™ PRO Large Kit – Unshielded Cables
Tests for shorts, opens,
miswires, reversals, split pairs,
and shield continuity
Measures length on UTP, ScTP,
and coax with or without remotes
Identifies up to eight twisted pair
and coax remotes
Tone generator sends up to four
different tones
Test results displayed in wire
map format
Snap-off battery cap allows
for easy battery change
Two size kits with unshielded
and shielded cable assemblies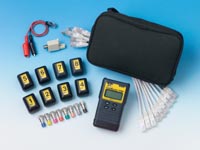 American Data Supply 33-826 LinkMaster™ PRO Large Kit – Shielded Cables
Tests for shorts, opens,
miswires, reversals, split pairs,
and shield continuity
Measures length on UTP, ScTP,
and coax with or without remotes
Identifies up to eight twisted pair
and coax remotes
Tone generator sends up to four
different tones
Test results displayed in wire
map format
Snap-off battery cap allows
for easy battery change
Two size kits with unshielded
and shielded cable assemblies

American Data Supply 33-835 LinkMaster™ PRO Economy Kit – Unshielded Cables
Tests for shorts, opens,
miswires, reversals, split pairs,
and shield continuity
Measures length on UTP, ScTP,
and coax with or without remotes
Identifies up to eight twisted pair
and coax remotes
Tone generator sends up to four
different tones
Test results displayed in wire
map format
Snap-off battery cap allows
for easy battery change
Two size kits with unshielded
and shielded cable assemblies

American Data Supply 33-836 LinkMaster™ PRO Economy Kit – Shielded Cables
Tests for shorts, opens,
miswires, reversals, split pairs,
and shield continuity
Measures length on UTP, ScTP,
and coax with or without remotes
Identifies up to eight twisted pair
and coax remotes
Tone generator sends up to four
different tones
Test results displayed in wire
map format
Snap-off battery cap allows
for easy battery change
Two size kits with unshielded
and shielded cable assemblies
Call Tollfree (866) 342-3721 for Latest Pricing
Or Click on the Chat Button At The Top Of The Page To Talk To Us
- 2012 All Rights Reserved -