Vanguard Managed Solutions, Vanguard Routers, Vanguard Switches
American Data Supply has teamed up with Vanguard MS who since 1962, has pioneered a variety of superior networking technologies including routers and switches for your home office to the central office. We can help you build the foundation of a new network — or integrate converged video, voice and data technologies into your existing network. That's because we engineer extraordinary functionality into all of our products. Our technologies can seamlessly incorporate your legacy protocols — and scale easily to handle emerging applications. been designing, implementing, monitoring, and managing, cost-effective innovative global networks since 1986. We have designed and developed networking products for over 40 years culminating in our award-winning line of Vanguard multiservice routers. Today, combining our products and services with top quality products and tools from across the industry we deliver complete managed network solutions to hundreds of customers around the world.
Vanguard's Award Winning Family Of Routers and Switches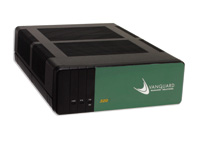 Small Branch/Home Office- Vanguard 320
The Vanguard® 320 is a compact, flexible Network Access Router designed to enable Ethernet LANs and a diverse combination of Terminals, PCs, Workstations and Controllers to access public or private network services such as ISDN, Frame Relay and X.25.
Vanguard 340 Series - The Vanguard® 340 series of high performance RISC based multi-service routers is designed for small branch offices and small office/home offices.
Medium Branch/Regional Office Vanguard 6400 Series
The Vanguard® 6400 series is an award-winning member of the Vanguard product portfolio targeted at medium-size enterprise branch offices.
Large Branch/Central Office Vanguard 7300 Series
The Vanguard 7300 series of high performance, high density, modular and redundant multi-service access and concentrator devices, extends the award winning Vanguard family of low to mid-range multi-service routers.
Call For a Custom Quote Today For All Your Vanguard Product Needs
Call (866) 342-3721 Or Click On The Chat Button At The Top Of The Page To Talk To One Of Our Representatives